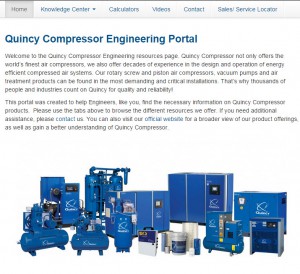 In 1920, Quincy Compressor established its reputation for engineered solutions. Its flagship products, QR-25 and QSI are proven reliable choices for users in some of the toughest conditions like mining, drilling, concrete production and shipbuilding. Nearly 40 percent of rotary sales are considered one-of-a kind configurations ranging from electrical specialties to freeze-protection options. Utilizing this New Engineering Firm Website Zone will provide you with the knowledge to specify the right Quincy Compressor to meet your compressed air needs.
To access the Engineering Zone, visit Quincy Compressor's website at quincycompressor.com and click on the Engineer Login button found at the top of the homepage. Please click register to gain access to this valuable zone.
Find necessary information about Quincy Compressor products including white papers, dimensionals, bid specs, case studies, brochures and much, much more. Delivers fast and convenient information all in one location.