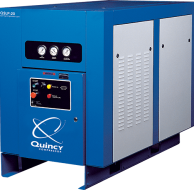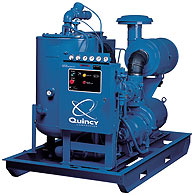 QSLP 10-200 hp Low Pressure Compressors
Do your work processes require a reliable source of low-pressure compressed air? You could choose a rotary vane compressor, although the high oil carryover typically associated with these models does not result in the cleanest air. And while oil-free and two-stage units produce clean air, the former offers extremely high upfront costs while the latter are susceptible to pressure fluctuations. A better low-pressure air compressor alternative is the Quincy QSLP.
Designed especially to deliver 25-40 psig with maximum energy efficiency, the QSLP is an innovative rotary screw compressor perfectly suited for low-pressure applications. The QSLP uses between 10% and 25% less energy than similar units. Not only does it cost less to buy and install a QSLP, but it continues to pay you back with every hour of installation.
At a Glance
Most energy efficient at 7 cfm/hp
Air or water cooled
300,000 hour L-10 bearing life
Positive displacement pump
Modulating inlet valve
Up Close
Only 2-3 ppm carryover
Standard heavy-duty inlet filters
Full instrumentation panel
TEFC and NEMA options
5 & 10 Year Warranty Programs
Learn More About the Quincy QSLP Low-Pressure Compressor