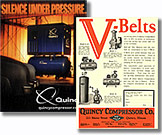 Advertisement Archive
A comprehensive history of Quincy print advertising from 1923 – 2009.
As Seen On Two Guys Garage
Press Releases
Quincy Compressor Acquires Five Scales Technologies, Inc. Northeastern Branches
April 14, 2016 – Quincy Compressor has acquired Scales Industrial Technologies based in Carle Place, NY and operating from five locations in New York, New Jersey, Pennsylvania, Connecticut, and Massachusetts.
---
Quincy Compressor to Acquire Compressed Air Assets of Texas Distributors
April 15, 2014 – Quincy Compressor has agreed to acquire the compressor related assets of National Pump & Compressor's (NPC) and the assets of McKezie Compressed Air both with multiple locations in Texas.
---
Quincy Compressor Acquires Four National Pump & Compressor Midwest Branches
April 11, 2013 – Quincy Compressor had agreed to acquire the assets of four National Pump & Compressor's (NPC) branches in the state of Illinois.
---
Quincy Compressor Presented Governor's Trade Excellence Award
March 6, 2013 – Alabama Governor Robert Bently recognized Quincy Compressor along with seven other companies for excellence in exporting goods, promoting exports and successfully engaging in the global marketplace.
---
Company Announcement: Quincy Compressor Acquires Air Perfection
Quincy Compressor has acquired Air Perfection, a privately-held company. Air Perfection is the first Quincy Compressor company store.
---
Quincy Compressor Unveils Efficiency Quotient (EQ) App for Apple iPads
January 20, 2012 – There's an app for that! The newly released EQ Energy Efficiency Analyzer app for iPads allows users to easily calculate the efficiency of their compressed air systems.
---
Product Announcement: QGB-V Belt Drive Variable Speed Compressor
This latest addition to the VSD family is available in 25, 30 and 50 hp models with flow capacities ranging from 21-232 cfm.
---
Quincy Compressor Helps Customers Go Green
June 6, 2008 – Quincy releases a new line of compressed air system purifiers, condensate drains and high-tech modular desiccant air dryers to help industries comply with local environmental laws and produce high quality, clean and dry compressed air.
---
Product Announcement: QGV®️ Variable Speed Rotary Screw Compressor
October 31, 2007 – Quincy Compressor Inc., an EnPro Industries company, today announced the release of its newly designed variable speed drive compressor into North America.
---
Product Announcement: QGS Belt Drive Rotary Screw Air Compressor
November 15, 2006 – The competitively priced Quincy QGS is available in 5-15 hp with or without the optional mounted dryer. The QGS achieves sound levels ranging from 62–68 dB(A), making it ideal for any application.
---
Product Announcement: QGB Belt-Drive Rotary Screw Compressors
January 15, 2006 – Featuring sound levels as low as 59 dB(A), a small footprint and powerful performance, QGB compressors are available from 7.5 – 60 horsepower.
---
Quincy Compressor Introduces Royal Blue Warranty
October 25, 2005 – Quincy Compressor is proud to offer its Royal Blue Warranty program, designed to be the industry's most comprehensive, standard rotary screw compressor warranty program.
---
Quincy Compressor Introduces Revolutionary Air Auditing Process
March 17, 2005 – By creating the Efficiency Quotient™ (EQ) process, Quincy Compressor has made it possible for plant engineers to identify energy-saving opportunities.