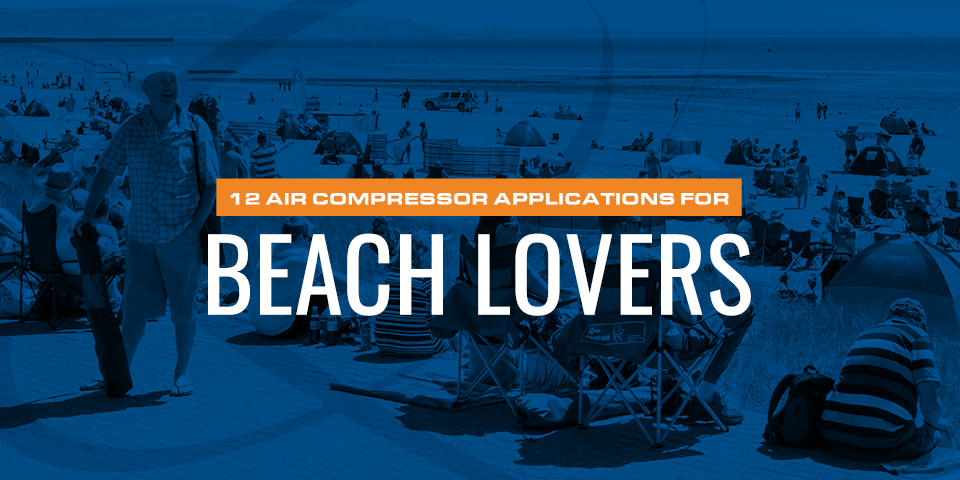 As the fourth utility, compressed air is one of the driving forces of modern-day life in the cities, suburbs and even at beaches. If you go to the beach to fish, surf or dive, you may see some form of air-powered activity, from air compressors for scuba diving to pneumatic boat-cleaning tools. Keep reading to see ways you can use air compressors at the beach, like how to blow up a raft with an air compressor!
Contact Us Learn More Find a Dealer Near You
12 Compressor Applications at the Beach
For the beach enthusiast, air compressors offer more than a dozen different uses from cleaning boats to fishing to scuba diving. An air compressor can help make your next beach trip safer, easier and more fun. Some of the ways you can use an air compressor at the beach include:
1. Surfboard Customization
Surfboards are one of the most individualistic of all the various types of sports equipment. At any given beach, you are unlikely to see two boards with the same color, pattern, decal or design. With an air compressor and the right pneumatic tools, you could customize your surfboard in any style that suits your fancy. It only takes a small, portable reciprocating compressor to power an airbrush, giving you the ability to paint your board in any pattern that comes to mind.
You can also use an air compressor to power sanding tools that would allow you to smooth out rough edges on your board. If the board gets a nick or chip along one of the edges, you could use a pneumatic sanding tool to smooth away that imperfection and make it look as if nothing happened. Pneumatic tools make it possible to maintain the life and aesthetic appeal of your surfboard.

With a small, portable air compressor, you can even power a polishing tool that could give your surfboard a sleek, revitalized look. After you use the tool to buff the surfaces and edges, the board will have a renewed shine that will stand out amid the sand and waves.
2. Boat Cleaning
If you have a motorboat that you take to the coast each summer, the boat will likely require maintenance at least once per year. With an air compressor, you can accomplish all of the maintenance that a boat might require in the span of minutes, as opposed to hours.
On the inside of the boat, the seats and floor will inevitably need to be cleaned from time to time. To use a reciprocating air compressor for cleaning your boat, attach pneumatic blowing and suction tools, which will easily clear away the dust and gunk that line the boat's passenger compartment.
After you've taken your boat onto the water several times in a row, the paint is liable to become peeled or cracked in select spots. With a pneumatic paintbrush, you can restore the paint to its original look and luster and make the boat look as if it just rolled off the production line.
An air compressor is also useful for maintenance work on the motor of your boat. When you change the fluids and replace ailing interior parts, pneumatic-powered wrenches and sockets make it easy to remove the old parts and fasten on the new ones. With an air compressor, you could save significant sums of money each year that might otherwise get swallowed up by boat repairs.
3. Raft Maintenance
If you typically go rafting along the coast, an air compressor could simplify tasks that could otherwise consume vast amounts of your time. Regardless of the size of the raft, pneumatic tools can help preserve the raft's appearance and condition for as long as you use it.
As with boats, rafts can get dirty in the seating area. However, since rafts sit low above the ocean's surface, they will inevitably get more water splashing into the passenger area. Therefore, a raft can come away smelling like saltwater unless you clean it after each trip to the beach. With a pneumatic-powered cleaner, you could have the raft clean and odor-free in a matter of minutes.

Rafts can also get damaged from time to time due to bumps against rocks and objects along the shore. To repair these abrasions and maintain the raft's sleek appearance, you could use some of the same pneumatic maintenance tools that you would use on a boat or surfboard.
As you raft about on the waves, your paddle might incur marks from constant use. If the paddle becomes discolored or sustains a nick or scratch, you could use an air-powered spray painter or sander to correct these imperfections.
If you take an inflatable raft out to the beach, an air compressor could easily perform the most important task of all — inflation. Instead of using a manual air pump, attach a hose between the air compressor and the nozzle on the raft and watch the plastic expand into a floatation device.
4. Kayak and Canoe Maintenance
As with boats and rafts, kayaks can collect dirt and incur damage while out on the waves. If you regularly take a kayak or canoe onto the water of your favorite beach, an air compressor could help you save money on maintenance costs.
After several trips to the beach, you will likely notice some scratches along the body of your kayak or canoe. If you have a canoe made of wood, the sight of a scratch could be quite an eyesore. With pneumatic woodworking tools, you could sand away any imperfections and restore the varnish to like-new condition.
With air-powered cleaning tools, you could also simplify the cleaning tasks associated with your kayak or canoe. In a matter of minutes, a quick once over with an air-powered brush could leave the seats and floor spaces clean and odor-free.
5. Scuba Diving
An air compressor can also be used to dry and clean any object that you bring back from the deep, such as sea urchins and starfish. If you spot any ruins that you would like to retrieve, such as ship parts or treasures, you could bring those pieces back to shore and use pneumatic tools to remove the rust and barnacles from them.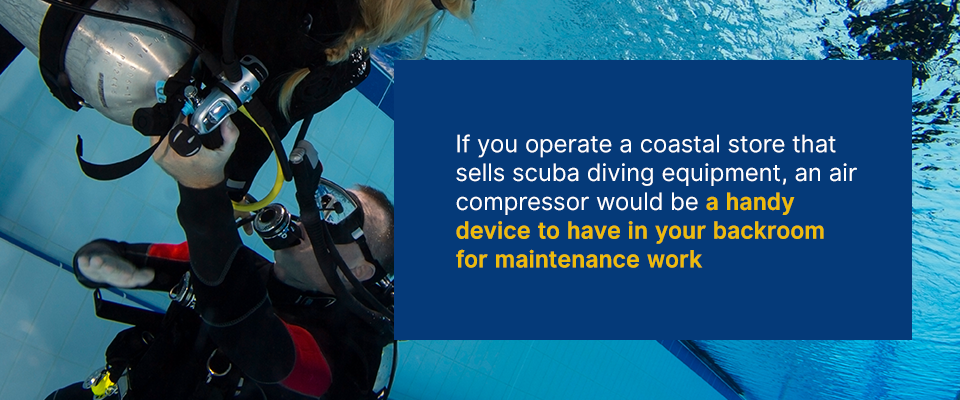 If you operate a coastal store that sells scuba diving equipment, an air compressor would be a handy device to have in your backroom for maintenance work. If divers come into your shop to purchase oxygen refills and new goggles before they head back into the water, you could use a pneumatic air blower to refill each tank and to clean new pairs of goggles before placing them on the display racks.
6. Surf Fishing
Thanks to the power of air compressors, you no longer need to take a boat out on the water to catch large fish at the beach. With air-powered surf fishing equipment, you can launch a long fishing line way out into the water, all from the comfort and safety of your favorite sandy beach.
Depending on where you surf fish, you could catch a variety of edible and trophy fish. With a reciprocating air compressor, you could launch casting bait as far as 300 yards out from where you stand and allow the bait to attract its prey. Sooner or later, you are bound to feel that tug, indicating that you have a catch at the end of the hook.
Fly fishing can be done on sandy beaches as well as on rock jetties by the seaside. As long as you come equipped with the right equipment and a portable air compressor, you could cast your line out into the water from the seaside, perhaps equally as far as you would if you took a boat offshore and cast your line straight down into the water.
Once you reel in your catches for the day, an air compressor can also be used to power the refrigeration unit that will keep the fish fresh for the amount of time that it takes to drive back home and cook the fish for supper. Overall, air compressors for surf fishing can make the pastime more fruitful, fun and potentially lucrative if you go into the commercial side of the activity.
7. Rock Polishing
An air compressor can also come in handy for hobbies such as rock and shell collecting. If you scan the beach for rare and unique rocks, air-powered tools could help you bring out the luster and shine in these special finds. This could come in especially handy if you collect rocks to use in jewelry items and homemade crafts.

With an air-compressor, you could attach a pneumatic polishing tool to buffer a rough rock into a smooth and shiny household fixture. If you sell these rocks online, an air compressor could make the preparation work easier and less time-consuming. An air compressor could even help you improve the overall quality of the stones you sell online.
An air compressor could be used to improve the quality of any find that you retrieve off the coast or from the shallow waters offshore. If you collect clam pearls during your next visit, you could dry and shine them with a pneumatic blower and buffing tool.
If you retrieve lost treasures or valuable items from the water, such as old watches, rings and necklaces, you could restore these items with air-powered tools. Once you have these newly restored items appraised, you might net a hefty sum of money from your finds.
8. Food Refrigeration
An air compressor could be used to power a mobile refrigeration unit during your trips to the beach. If you camp out on the coast for several nights and days with a tent and sleeping bags, you could plug that compressor into a power generator and then use the compressed air to refrigerate your perishable food items and beverages.
Compressed air could also power your mobile freezer during stays on the coast. This can be especially handy in the warmer months when you'll need cold refreshments. With an air compressor, you could keep your cold foods frozen far longer than a traditional cooler would allow.
If you host a picnic or party at the beach, an air compressor would significantly reduce the work and hassle that would otherwise be associated with food preservation. With so much food and people to please, an air-powered refrigeration unit would make it a lot easier to keep everything fresh, preserved and sanitary.
If you operate a food stand on the beach, air-powered refrigeration could make it easier to provide quality products to the people who frequent your stand. An air-powered refrigerator and freezer would allow you to sell a broader array of food items and beverages. For small refrigeration units, you can generally get plenty of air power from a compact, portable air compressor.
9. Beach House Maintenance
If you own a cottage by the beach, an air compressor could be one of the handiest tools at your disposal when you visit your getaway. With an air compressor, you could power various tools to keep your rooms and windows clean with a few simple attachment tools.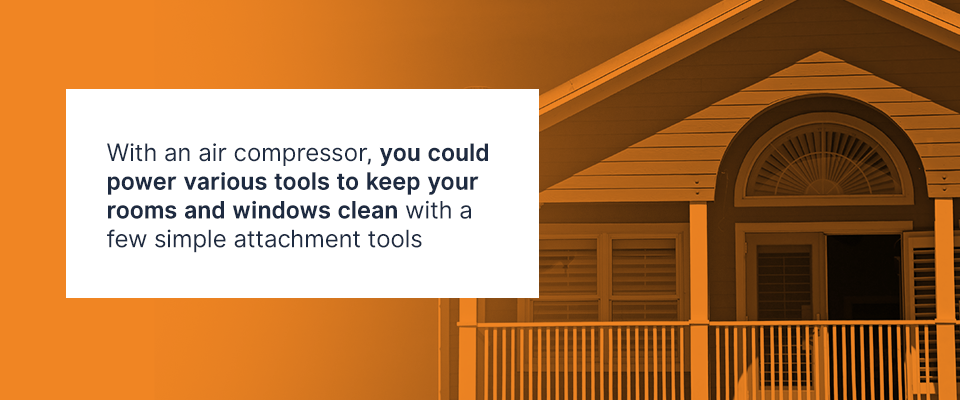 When you prepare meals and host parties at your beach house, an air compressor could help you make a variety of treats and snacks. At bakeries, for example, compressed air is often used to fill pastries and drive frosting equipment. With a small, portable air compressor, you could learn to make professional-quality desserts for your house guests.
An air compressor could also help you clean your windows and wooden walls. Pneumatic tools are especially handy when it comes to restoring wood and varnishes on cabins walls and trimmings. If a scratch appears on the wood within your beach cabin, you could first use a pneumatic sander to remove the flaw and then take an air-powered sprayer to reapply the glossy, protective outer coating.
If you want to renovate your beach house, an air compressor could make your job a whole lot easier, even if you have little prior experience in home renovation. With a reciprocating air compressor, you can power everything from pneumatic nailers and sanders to fasteners and buffering tools.
10. Amusement Park Rides
If you run an amusement park at the beach, you could power some of your rides with a rotary screw air compressor. At amusement parks across the country, air compressors are used to power everything from roller coasters to Ferris wheels. Compressed air is responsible for the timing functions that stop and move the carts along the tracks of some of the many of the world's most popular rides.
On a Ferris wheel, compressed air is used to make the wheel turn at a steady pace. Air compressors provide an efficient form of power for these large rides. Compressed air is an even bigger energy saver when it comes to the operation of roller coasters. For operations of this magnitude, you will need a large rotary screw air compressor, complete with a secondary unit to serve as a system backup.
Air compressors are also important for the various food stands that you see at amusement parks. At frozen treat stands, compressed air is used to power the freezers and refrigeration units for a range of tasty treats and drinks. Compressed air is also used for some of the food prep that is done at the eateries that sell hot foods like pretzels and elephant ears.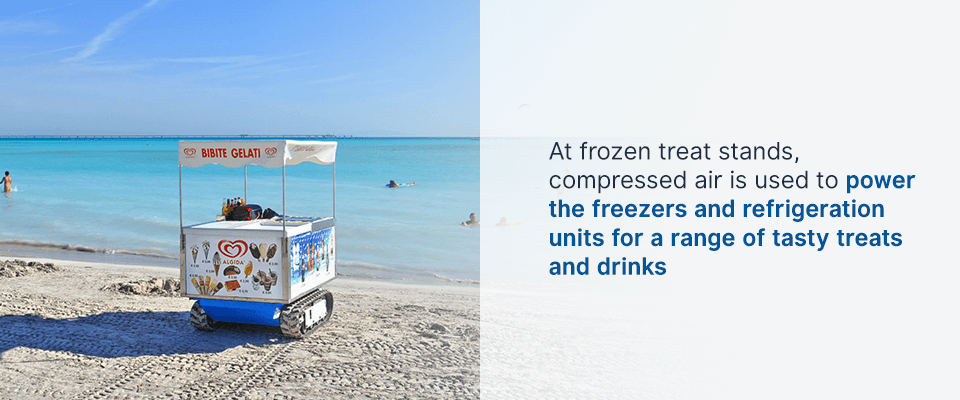 11. Ice Cream Storage
Beaches are a prime destination for ice cream trucks and ice cream stands. If you operate such a business on the sand or along a beachside promenade, a portable air compressor could make your operations easier and more efficient. Air compressors are the best way to run portable freezing units.
Anyone who sells ice cream in a hot, outdoor environment must have a reliable freezing unit that keeps temperatures at optimal levels. Depending on the intensity levels of the ambient temperature, the setting of the freezer must be adjusted to offset the excess heat. With a portable air compressor, these setting are easy to manage because you can adjust the pressurization level to accommodate the changes.
With a reciprocating air compressor, you can drive around with a portable freezing tank in tow, stocked full of wrapped ice cream bars and popsicles, as well as tubs of different flavors for cones and sundaes. If you operate a stand, the air compressor could keep the tub cooled to an ideal temperature for all the various ice cream flavors, each in their own container.
An air compressor is also convenient for the personal storage of ice cream and other frozen foods. If you spend several nights camped out by the seaside, you could preserve a tub of ice cream for several days with no outlets in sight, even during a heatwave.
12. Cotton Candy Machines
One of the mainstays of beachside food strips and amusement parks, especially during the summertime, is the cotton candy machine. If you set up a cotton candy stand along one of the street corners near the beach, an air compressor could help you run the centrifugal unit that spins the liquefied sugar into fluffy candy. You could even set up one of these stands on the sand if you have the right equipment and license.
An air compressor would also be an invaluable machine if you set up a stand that sells a variety of other food items, such as pretzels, cinnamon rolls, elephant ears or pizzas. To make pizzas from scratch, you would need to have the right tools to mix together the dough ingredients into the proper thickness and flexibility. The same holds true with pastries and fudge.
An air compressor can also make the process of putting frosting and glazing on assorted foods easier. With air-powered dispensing equipment, you can easily measure each application with the proper volume and consistency for the food item in question.
With a portable air compressor and an array of cooking tools, you could run one of the most popular food stands at your nearest beach.
Air Compressors for Beach Use From Quincy Compressor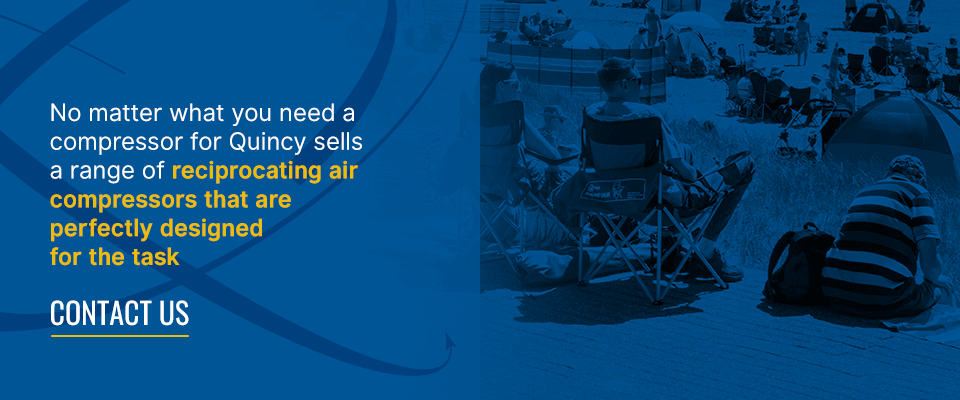 No matter what you need a compressor for — cleaning boats, diving, surf fishing or any of a host of other recreational activities — Quincy sells a range of reciprocating air compressors that are perfectly designed for the task. Explore our catalog or contact Quincy today to learn more about how our air compressors can improve your experiences at the beach.