QT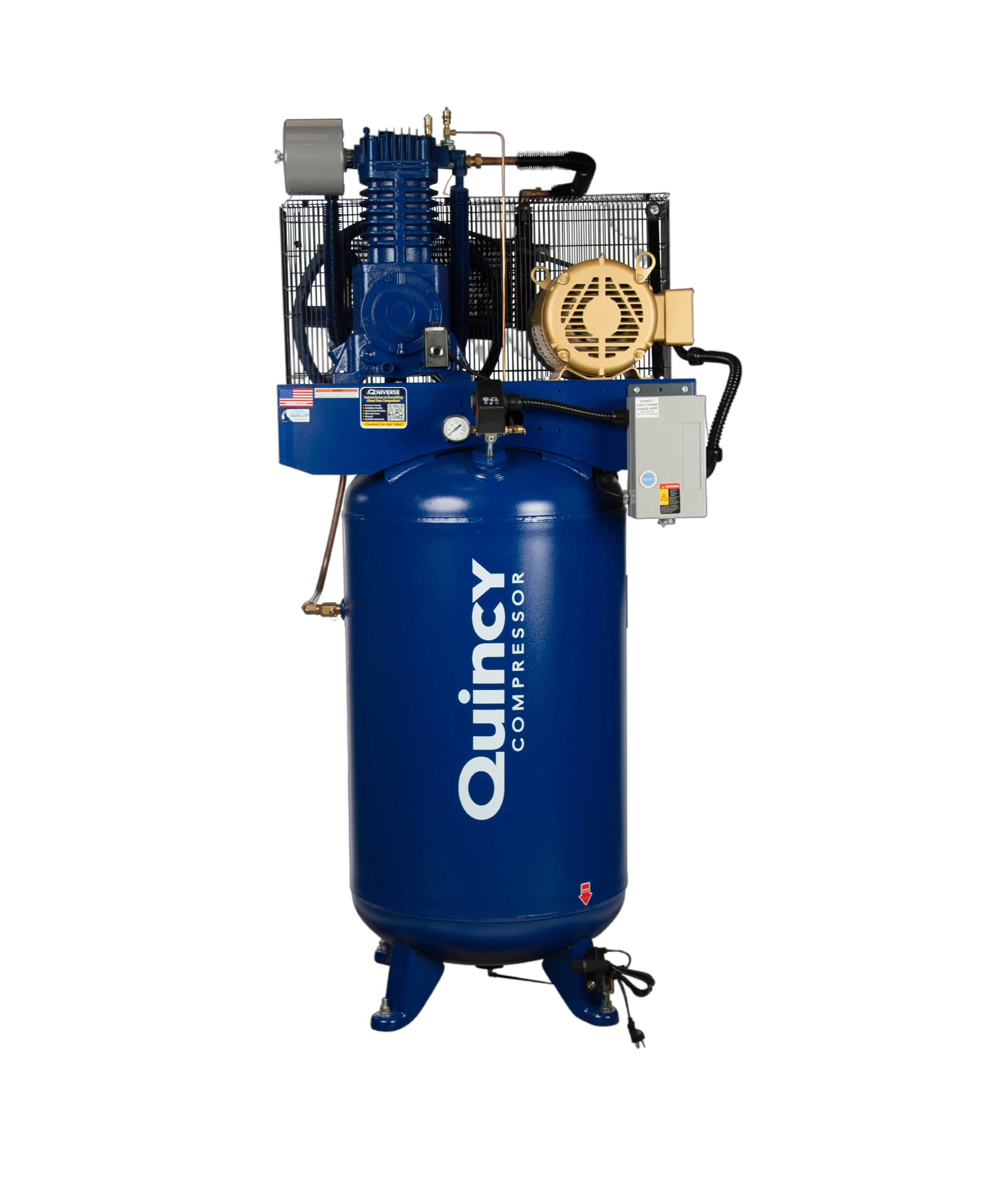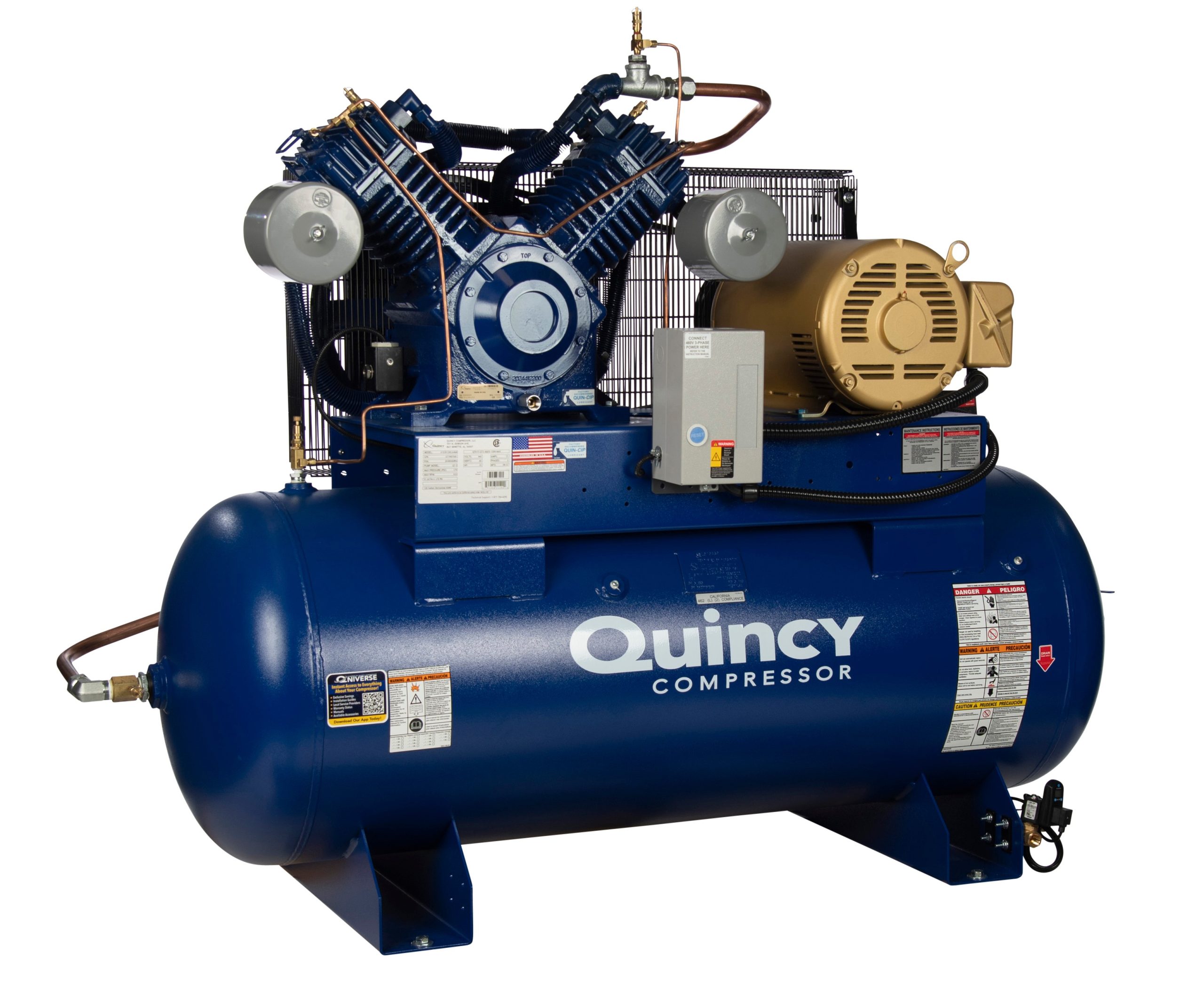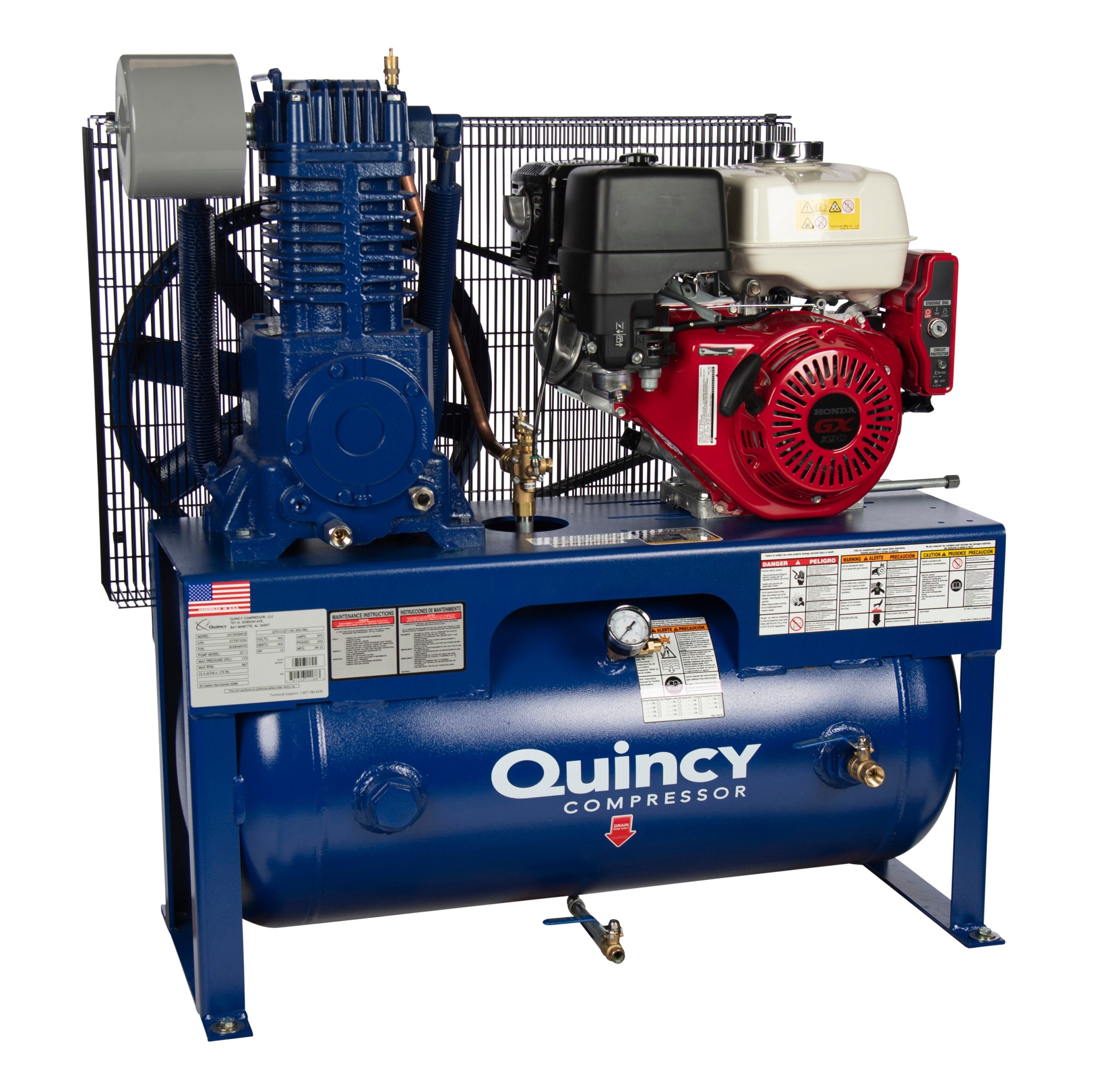 QT
QT 5-15 hp Standard Duty Two Stage
Leading the industry with the most acfm per brake horsepower, the Quincy QT™ ensures more air while consuming less energy in the production process. A one-piece aluminum head optimizes strength and dissipates heat, while Quincy's unique valve design provides the highest volumetric efficiency available.
The reciprocating Quincy QT is a standard duty air compressor designed to deliver more CFM per brake horsepower, ensuring the powerful, reliable performance you demand. Basic QT models include:
QT-5 inline 2-stage 5 hp compressor
QT-7.5 inline 2-stage 7.5 hp compressor
QT-10S inline 2-stage 10 hp "Streetfighter" compressor
QT-10 V-style 2-stage 10 hp compressor
QT-15 V-style 2-stage 15 hp compressor
At a Glance
Two-piece connecting rods
High efficiency intercoolers
Industrial class bearings
Loadless auto stop/start
Cast iron crankcase/cylinders
Pro Unit
"Standard" configuration Units
Shorter Lead Time-Stock Units
Extended Warranty Available

Two-Year Package and
Three-Year Pump vs. One-Year on configured units

Easier to Order – Preassigned Part Numbers
Pro+ Unit
"Professional" Units

Electronic Drain
Low Oil Protection

Shorter Lead Time Stock Units
Extended Warranty Available

Two-Year Package and Three-Year Pump vs. One-Year on configured units

Easier to Order – Preassigned Part Numbers
Up Close
5-15 hp, 175 psig maximum
Two Stage
100% duty cycle rated
Splash lubrication system
Max Unit
"Fully Loaded" Units

Air Cooled After Cooler
Electronic Drain
Low Oil Protection
Vibration Isolators (Horizontal units only)

Extended Warranty Available

Two-Year Package and Three-Year Pump vs. One-Year on configured units

Easier to Order – Preassigned Part Numbers
Key Features of the QT Reciprocating Air Compressor
Designed to deliver high-efficiency operation, maximum strength and minimal downtime, the Quincy QT is built for lasting performance. When you invest in our state-of-the-art QT reciprocating air compressor, you'll enjoy the benefits of superior components and premium capabilities you won't get with standard models.
Our two-stage air compressor has over a dozen innovative features, including:
An aluminum head for superior heat dissipation.
High-efficiency cast-iron cylinders with rigid tolerances.
ASME-standard interstage pressure relief valves.
Industrial bearings for operating longevity.
Graphite head gaskets and cylinders for reliable seal integrity.
A high-capacity oil reservoir to ensure low temperatures.
Built-in two-piece connecting rods for easier servicing.
A counterweighted crankshaft for smooth, simple operation.
Stainless steel valves for maximum strength and volumetric efficiency.
A fin and tube intercooler for reduced interstage air temperature, increased valve life and reliable performance.
A fan-type flywheel for powerful air delivery and efficient unit cooling.
Common Applications of Two-Stage Air Compressors
Our versatile reciprocating piston air compressors are suitable for both personal and professional use, making them valuable resources in countless industries:
Dental
Automotive
Agriculture
Manufacturing
Pharmaceuticals
Food and beverage
Dry cleaning
Construction
Chemical plants
Home use
Quincy QT-54 Performance
The Quincy QT-54 reciprocating piston air compressor is known for its rugged construction and dependable performance. This machine rises above standard splash-lubricated two-stage air compressors by delivering considerably more air per brake horsepower while consuming less energy.
The Quincy QT-54 features a robust cast-iron and aluminum build for greater strength, optimal cooling and longer service life. It also includes industrial-grade bearings equipped to take on the most demanding applications.
Quincy QT Model Information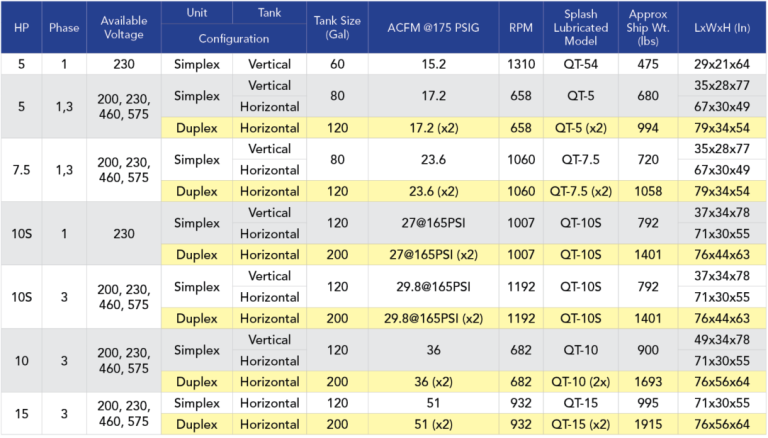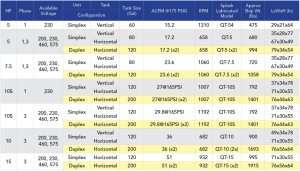 Maintaining Quincy QT Air Compressors
To ensure that your air compressor performs with maximum efficiency and service life, it's essential to develop a regular maintenance schedule based on the nature of your intended application. When performing preventive maintenance for your Quincy compressor, you should tend to all of the following components:
Air filter
Lubricant
Oil filter
Belts
Motor bearings
Intake vents
Amps
Air dryer
Temperatures
Voltage
Vibration
You can optimize your maintenance routine with genuine parts and lubricants from Quincy Compressor. Our dependable compressor parts are designed to increase uptime and efficiency while minimizing the cost of ownership and service frequency. We also offer reciprocating fluids and lubricants that provide maximum demulsibility and heat protection in high-humidity applications.
Product Warranty
All Quincy Compressor QT products come with a standard one-year warranty. You can purchase our NO BULL Extended Warranty kit to double your package warranty to two years and pump warranty to three years. This package also includes all the components you'll need for regular compressor maintenance for your first three years, saving you 10%-15% compared to purchasing them individually.
Invest in Powerful and Dependable Air Compressors at Quincy Compressor
For reciprocating piston air compressors you can rely on in the toughest conditions, choose Quincy Compressor. Established in 1920, we've upheld our legacy of innovation for over a century.
Find your local Quincy distributor to inquire about the Quincy QT-54 today.