Contamination from compressed air is a major source of concern for the food and beverage industry. Modern manufacturing and production facilities use compressed air in multiple ways, increasing the potential for contamination if the machinery is not working properly.
These processes require compressed air to be clean, dry and free of contaminants to ensure your production is running smoothly. Your goods need to meet rigorous safety and quality inspections, and dirty air can introduce problems at almost any point in your process.
Why Put Contamination Risk First?
Eliminating contamination is your primary concern when including any new system into your operations. Your air compressor decision should be the same.
In the United States alone, foodborne illnesses are expected to cost roughly $55.5 billion each year in medical treatment costs, lost productivity and illness-related mortality, impacting about 9 million Americans. If any foodborne illnesses are traced back to you, chances are likely your operation could suffer from product recalls and potential litigation.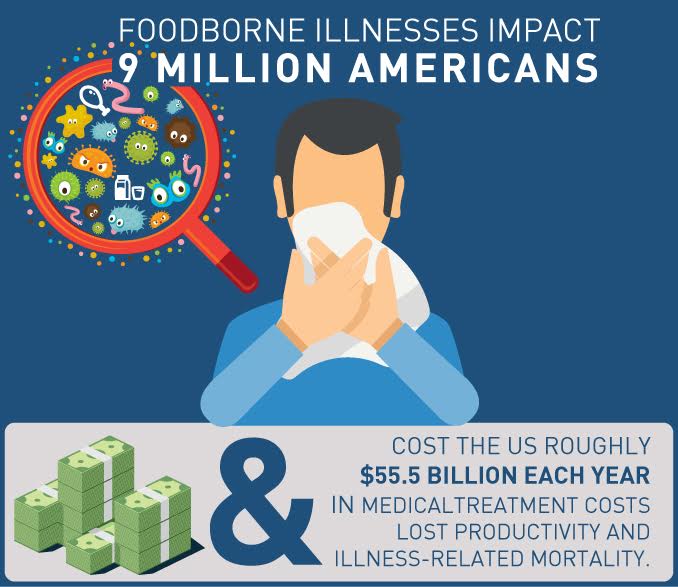 The risk to you is often extremely expensive. Roughly half of all food recalls will cost a company more than $10 million, and losses of up to $100 million have been reported.
In 2016, there have been major recalls for pet food products. Food recalls happen for a variety of reasons, from major contaminations to improper labels, all of which may occur throughout a supply chain. Take care to guard against it.
To ensure you have a safe air compressor system, work with Quincy Compressor to locate the best air compressor for food and beverage applications.
Comparing Beverage Plant Air Compressor Solutions
To address the unique challenges of your food and beverage air compressor needs, Quincy recommends that you judge compressors on at least three categories:
Quality — Quincy relies on its foundation of satisfied food and beverage industry clients to ensure our air compressor systems are designed and properly deliver consistently clean, dry air.
Dependability — Stable air pressure is a chief requirement for the food and beverage industry. Quincy ensures its compressors are designed specifically for industry needs, especially rotary screw compressors that support a variety of production methods. Quincy vacuum pumps also provide solid solutions for low-pressure applications such as conveying.
Energy Savings — By making use of a patented EQ/ Efficiency Quotient process, Quincy can determine energy-saving potential across almost any food and beverage application. The EQ process quickly and accurately determines what efficiencies and energy savings you can achieve. It also helps you define steps to reach those savings by bringing your facility in line with industry best practices.
Air Compressor Uses for Food and Beverage Industry Operations
The food and beverage industry has a variety of practical applications for compressed air. Reading through this list will help guide your compressor decision. Each application has its own top models and methods to give you the best in performance while maintaining a clean environment.
| | |
| --- | --- |
| | Packaging — Compressed air is a chief way to make packaging consistent and efficient, as well as provide a clean method to move food, ingredients and other elements across the line. |
| | Food Fillings — Many foods that use a filling, such as pastries, cakes and pies, as well as liquid products use compressed air to enforce a proper fill. |
| | Fluid Pumping — Diaphragm pumps that move liquids into products or specific configurations during the filling or production process also require compressed air for even filling and pumping. |
| | Nitrogen Generation — When nitrogen is used for the packaging process, it often requires filtered compressed air from a very strong compressor. |
| | Air Knives — Compressed air is often used as the clean medium when cutting or peeling foods such as nuts, onions, fruits and vegetables. |
| | Pilot Air — Compressed air is often used by food and beverage producers as pilot air to control grippers, valves, cylinders and other components. Pneumatic components interact with the air but still have high-purity requirements for proper use. |
| | Mixing Foods — Many dry foods can use compressed air for mixing and movement. It is an efficient mixer, but quality controls must be more stringent. Ask Quincy how we can help you meet those standards. |
Contamination Sources for the Food and Beverage Industry
Every industrial application of compressed air faces sources of contamination, but safety and cleanliness are even more important in the food and beverage industry. Contaminants fall into a few major source categories, and you should discuss protections for each with your air compressor partner.
Quincy can walk you through many of the common contaminants that your industry faces. We'll also help you develop a plan to eliminates contamination in both your air compressor and other aspects for your operation.
Atmospheric Contamination
A compressor must rely on significant quantities of atmospheric air. This presents possibilities for contamination that is hard to detect, especially with the naked eye. Some of the most common atmospheric air impurities include:
Dirt
Water vapor
Oil vapor
Microorganisms
We'll ensure your compressor can be kept safe from environmental concerns including some that may be site-specific. Oil vapor is a common production concern. It most commonly occurs from other manufacturing equipment that operates inefficiently or vehicles you may use on your shop floor.
Air Compressor Concerns
The air compressor itself can be a source of contamination if it is not properly produced, installed and maintained. Oil-lubricated air compressors for the food and beverage industry are common in some applications, and they can generate a small amount of oil during use. Oil, in this case, can pose a risk, as can its aerosol and vapor forms.
Choosing the wrong compressor for your needs can also result in water concerns after the compression stage. The internal cooling system will often condense water vapor that can mix with the compressed air as either a liquid or aerosol. Remove these concerns by partnering with Quincy. We can review how our compressors maintain internal integrity to protect your systems from contamination or poor air quality.
Piping, Storage and Distribution
The final source of contamination to consider is your compressed air distribution system. As air moves through your air receiver and then piping to various points in your line, it can pick up additional contamination such as pipe scale and rust. Microbial growth can also occur in piping that has severe bends where vapor may cool and condense.
Based on your deployment, Quincy can help you understand what contaminant risks you face and ensure a system that addresses them. This will likely be a combination of water separators, coalescing filters, dust-removal options, absorption filters and an adsorption dryer to remove moisture.

Where You Should Be Most Careful
Using an air compressor in the food and beverage industry can be especially tricky when they have more contact with the product or are closer to their final stage before consumption.
The biggest risk area is often ready-to-eat (RTE) foods. Most RTE products use compressed air for packaging, filling or mixing a final set of ingredients, such as cereal and marshmallows. Any contaminants introduced by the compressed air platform will stay on the food and arrive right in your customers' hands or mouth.
RTE products rarely have extra elements that purify or clean it after it is exposed to compressed air, so bacterial risk is especially high.
To combat this, Quincy helps all of our customers look at sterile air filtration systems that operate at the point-of-use, minimizing the contamination possibilities and areas of contact with the RTE foods.

Best Air Compressor Type for Food and Beverage Use
Oil-lubricated and oil-free compressors both can work well in consumer packaged goods applications such as food and beverage manufacturing. Selection should depend on your needs for total air compression, consistency over time and how many people will be using your system at once.
Both oil and oil-free systems can be properly applied with filtration and safety precautions to prevent contamination and deliver high-quality compressed air for you. It is worth noting that oil-free compressors can help minimize microbial content and often support high-temperature compression methods that can further reduce contamination risks.
Quincy Compressor recommends reciprocating and rotary screw air compressors because of the consistent performance they provide in food and beverage plant use.
Rotary screw models are the most common beverage plant air compressor type. They provide a clear and consistent operation with ease-of-use and low maintenance costs. You'll get a significant volume of air in a tight space, giving you a simple deployment option no matter where your line needs the compressed air.
Reciprocating air compressors will be common in larger settings and heavy-duty deployments, such as large-scale canning and packing. They're your big performers in continuous-use situations and often work well with existing piping.
Look for ISO 2200
The food and beverage industry has its own set of recommendations and standards to ensure products are properly and safely created. Because problems with food and beverage can cause significant harm, the International Standards Organization (ISO) has created a special set of standards for maintaining quality.
The ISO 22000 certification is available to any company in the supply chain, so it can cover food and beverage plant air compressors as well as your other machinery.
You can view ISO 22000 certification as a confidence booster when looking at manufacturers of the best air compressors for food and beverage application. That's because the management processes needed to achieve certification include a complete and well-documented food safety management system that inspects processes throughout production. Companies also need to prove that their facilities are properly sanitary and follow industry-established HACCP (Hazard Analysis Critical Control Point) platforms to mitigate hazards.
Air compressors are at the core of almost all food and beverage manufacturing and processing applications, so it's always a good idea to look for an ISO 22000-certified partner. When available for your air compressor, you can see the certification as a sign that your machines will maintain your clean environment.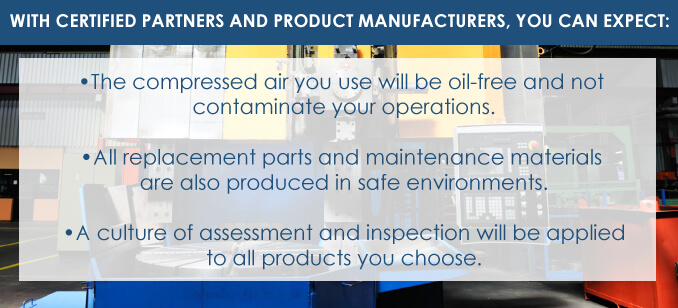 Beyond the ISO 22000 certifications, you should also ask about what local and national certifications your partners hold. There are multiple EU hygiene regulations, Food and Drug Administration specifications and other country specifications. Specifically, for compressed air, there are regulatory bodies such as the British Compressed Air Society that also govern the use of compressed air in many industrial and processing settings.
For more than a century, Quincy has been providing the food and beverage industry with safe and industrially sound compressors. For even greater peace of mind, we also offer industry-leading warranty programs that protect many of our core compressor components.
Quincy Partnerships Worth Noting
Every compressor brand can say that it is secure. At Quincy, we think that is best proven by just a sample of our current customers. Some of the top food and beverage brands that turn to Quincy products for their safe and secure operation include:
Chattanooga Bakery – Moon Pie
Clos du Bois – Wine
Dixie Crystal – Imperial Sugar
HEB
Hershey Confections
Mecilhenny Company – Tabasco
The Best Quincy Air Compressor for Food and Beverage Applications
Quincy Compressor has been delivering air compressors for food and beverage industry since we first opened our doors in July 1920, with a vacuum-pump design to milk cows. We've turned that experience into major wins for our customers across the world.
You can bank on that expertise by selecting one of the many great compressors available from Quincy. For the food and beverage industry, we have compressors that our customers say operate efficiently and save them money, including:
The Quincy QR-25 is a high-capacity air compressor designed to meet demanding applications. Pressure lubrication helps it maintain a clean operation, and its cast-iron body ensures you'll have a long life of service delivering up to 500 psig.
The QSI line from Quincy is an industrial-environment powerhouse that offers one of the best returns on investment for most companies in the food and beverage industry. Our products range from 90 to 1,500 CRM, offer a variety of casing options and can use both air and water for cooling. We've got a model to fit any need.
Quincy's QGV variable speed compressor delivers constant pressure and is specially equipped to guard against power surges. Along with a significant reduction in energy consumption, the unit is quiet, making it easy to include on your line and maintain an enjoyable, safe workspace.
Whether you have questions about which compressor is right for you, or if you're ready to improve your operations and start saving on expenses, contact Quincy Compressor today. We've been around for nearly a century because we offer reliable and hardworking air compressors, as well as expert advice and support.
Visit our sales and service locator to find a dealer near you!