QGDV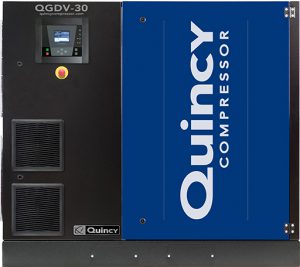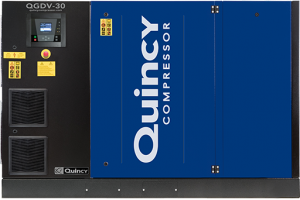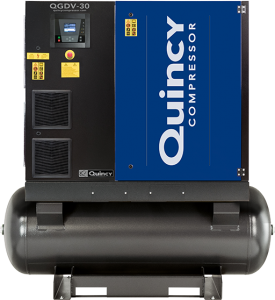 QGDV
QGDV 15-30 hp Gear Drive Compressors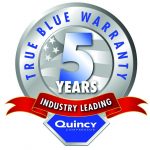 A variable speed air compressor is equipped with a specially designed drive that controls and adjusts the operating speed. This offers a number of benefits, including delivering more constant pressure, protecting against power surges and lowering energy consumption. Many variable speed air compressor owners experience a significant reduction in their energy costs over time.
With a premium airend design, industrial-grade enclosure and simple, intuitive controls, the Quincy QGDV is designed to provide reliable compressed air under the most demanding conditions. Backed by Quincy Compressor's 5-Year True Blue Warranty, the Quincy QGDV carries the same rugged construction that has inspired customer loyalty for generations.
At a Glance
Airlogic 2 Advanced control
NEMA Premium TEFC Motor is standard
Ease of serviceability
Sound level as low as 66 dBA
Up Close
70-141 acfm @ 125 psig
150 psig
No belts
Network up to 6 machines
Premium Efficiency Airend
Key QGDV Features
The Quincy QGDV line includes:
Standard NEMA Premium TEFC Motor
Microprocessor Controls featuring networking up to 6 units and remote monitoring
Long life consumables intervals
Quite Enclosure to 66 dBA
True Blue 5 year warranty
Airlogic2 Control Options
Quincy's Airlogic2 controller delivers key information for easy monitoring and intuitive control with an intelligent unload cycle to optimize energy use for maximum efficiency.
• Automatic restart after power failure
• Dual pressure set point
• Program up to four different week-schedules for 10-week period
• Graphic service plan indication
• Remote control and connectivity functions
• Software available to control up to six compatible compressors
The QGDV Is Designed for Easy Serviceability
As with every Quincy Compressor model, the QGDV is engineered and built with the user in mind. In addition to the microprocessor control capabilities, you'll find that our rotary screw compressors provide hassle-free maintenance and serviceability. Filters are easily accessible and can be replaced without the use of tools. The oil fill and site glass are at the same level, which eliminates the risk of overfilling. The 15-30hp range feature a spin-on separator filter is designed to make changing a fast and easy process.
5-Year True Blue Warranty Is the Best in the Industry
The QGDV is backed by the comprehensive True Blue Warranty, which is a leader in the air compressor industry. For no additional cost, you get 5 years of coverage for the airend, drive motor, drive coupler, receiver and other vital parts and components. Our True Blue Warranty gives you total peace of mind. Owners simply register the unit upon startup, sample fluids accordingly, and use only Genuine Quincy parts for maintenance.
Contact Us to Learn More About the QGDV Rotary Screw Air Compressor Line