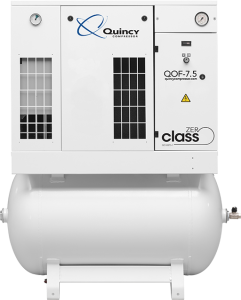 Class Zero represents the best air quality possible. In critical environments, it is essential that the compressed air is 100% oil-free. Contamination by even the smallest quantities of oil can cause costly production downtime and product spoilage, resulting in product recalls and loss of reputation. The new Quincy QOF 2-30 oil-free scroll compressors meet the Class Zero standard and also provide top class performance, premium efficiency and quality. Outstanding reliability, low maintenance and operating costs make oil-free compressors a sound investment.
Download Brochure
Request a Quote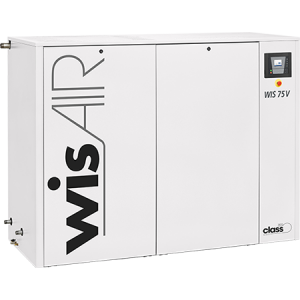 WISAIR's water injected screw offers the most innovative oil free technology and improved energy efficiency thanks to the superior cooling capability of water. Removing the wasted energy that heat represents gives more air per kW of power. The low temperatures of the compressed air reduces the stress on components ensuring long life. The WISAIR range is certified to ISO 8573-1 Class 0.
At the heart of the wisAIR, there is the water-injected screw airend producing highly efficient near isothermal compression. The polymer ceramic rotors with their optimized rotor profile are supported by water-lubricated bearings, ensuring that no oil contaminates the compression element, thereby producing pure oil-free air. The wisAIR comes standard with an advanced graphic controller. Configurations include air and water-cooled versions, multiple pressures and an optional integrated dryer.
Download Brochure
Request a Quote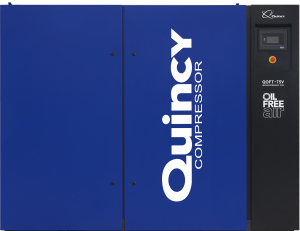 The Quincy QOFT & QOF Series rotary tooth and screw compressors deliver 100% oil-free air with Industry leading reliability. Ideal applications include food and beverage processing, pharmaceutical manufacturing, chemical and petrochemical processing, fermentation, wastewater treatment, pneumatic conveying, non-woven textile manufacturing and many more.
The Quincy QOFT and QOF Series rotary screw compressors delivers advanced controls and networking capabilities along with a robust design that's easy to service.
Download QOF 75-400 HP Series Insert
Download QOFT 20-75 HP Insert
Request a Quote
Benefits of Oil-Free Air Compressors
Oil-free air compressors come with several benefits that can boost your production:
Eliminate product contamination: In many industries, cleanliness standards are mandatory for quality production. Oil-free air compressor technology eliminates the possibility of oil compromising food, pharmaceutical or electronic products.
Low cost: Oil-free compressors typically cost less than their traditional counterparts and often have a long life because of a limited number of components that can break down.
Low maintenance: Traditional oil compressors require routine oil changes and oil disposal. It's also necessary to remove oil aerosols, which require filtration and air separator elements. Oil-free air compressors eliminate these time- and money-consuming repetitive tasks.
Eco-friendly: Oil-free air compressors can also lower your carbon footprint because they don't release oil contaminants into the air.
Applications for Industrial Oil-Free Air Compressors
Oil-free compressed air is a powerful production method for companies that need to create products with air purity and product safety in mind. Oil-free compressors always meet the ISO Class Zero certification for 100% oil-free air supply for sensitive applications. A few examples of industry applications include:

Automotive: Oil-free compressed air creates high-quality vehicle paint finishes with smooth processes.
Food and beverage: Oil-free methods create healthier food products while also eliminating any possibility of oil contamination.
Chemical: The chemical industry benefits from oil-free air compressors because these machines improve purity, reduce waste and increase safety.
Electronics: Oil-free methods are crucial to electronics because they provide an uninterrupted control system in ultra-clean conditions for producing delicate equipment like motherboards.
Pharmaceuticals: Oil-free air compressors reduce the risk of oil contamination in medicinal products and help improve production with high efficiency.
When you want to create products while working in an environment where oil contamination can lead to damaged equipment or cause costly spoilage and recalls, the oil-free air compressor is the perfect solution to reach the highest standards of air purity.
Learn More About Quincy's Oil-Free Compressors
Quincy Compressor is a one-stop shop for five-star oil-free compressor solutions.
Ready to start your journey with superior compressor solutions? Reach out to our team today to explore more information about our oil-free air compressors. If you'd like to order Quincy compressor systems, contact your local authorized Quincy Compressor distributor.