QV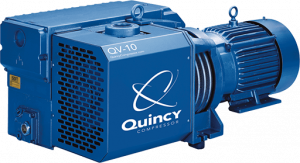 QV
QV 1.5-1.0 hp Direct Drive Rotary Vane Vacuum Pump
The Quincy QV line ranges from 1.5 hp-10 hp vacuum pump models that feature a compact yet powerful design. The Quincy QV series vacuum pumps are designed to deliver enough volumetric capacity to meet the requirements of the most demanding applications. Each vacuum pump is a stand-alone supply system with the versatility to be easily relocated when needed. The Quincy QV can also be supplied as part of a simplex, duplex or triplex package.
At a Glance
Non-metallic vanes = long life
13 models available
Multistage separation system
Ideal OEM replacement pump
Optional TEFC motor available
Up Close
1.5-10 hp, 19-212 acfm
Direct Drive NEMA motor
Air cooled
Integral inlet check valve
Inlet screen/filter
Quincy QV Vacuum Pumps Are Engineered and Built for Long Service Life
Whether you choose a 1.5 or 10 hp Quincy vacuum or anything in between, you're assured of getting an expertly engineered and well-constructed pump that will provide many years of dependable service. The QV is capable of continuous operation over the course of its lifetime, and the high-grade industrial bearings found in the pumping module can withstand heavy use in the most demanding applications. The wide range of available control options can meet the needs of applications requiring on/off or load/no-load operations.
The Quincy QV Features a Highly Advanced Separation System
A QV highlight is the efficient multi-stage separation system, which features one of the highest media-surface air-to-volume flow ration in the vacuum industry. A technologically advanced lubricant is used to provide an airtight seal in the compression chambers. Lubricant-entrained discharge air passes through the separation system, ensuring the cleanest possible discharge of compressed air.
No Worries About Excessive Noise With a Quincy QV
Noise is always a concern with rotary vane vacuum pumps. The Quincy QV is designed to emit a low decibel level to ensure quiet operation. You can install the QV in areas of your facility where your employees are working in close proximity, and they'll be able to communicate effectively. You also won't have to worry about pump noise disrupting other areas of your operation.
You'll Appreciate the Hassle-Free QV Maintenance
The QV is designed to make maintenance a breeze. The preventative maintenance process is limited to changing the oil and filter on an annual basis. There are no parts to disassemble or components to remove and reinstall. The ease of maintenance saves you a substantial amount of time and keeps your labor costs to a minimum.
Wide Variety of Standard and Optional Features
As with all Quincy Compressor products, the QV is equipped with an assortment of cutting-edge features. Standard features include a direct-drive NEMA motor, closed-loop oil recirculating system and an inlet screener/filter. Available optional features include an integral inlet check valve and TEFC and Hi-E motors. You can also select from a large offering of pump accessories.