Careers
Imagine what you could do at Quincy Compressor!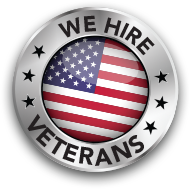 If you're as tough, dependable and efficient as the compressors we make, then you're the right fit for Quincy Compressor. We're looking for talented people to be part of our team to build reliable, exceptional quality air compressors for demanding applications. With solid roots as an American-grown company, we welcome veterans to apply to join our team.
Headquartered in Bay Minette, Alabama a southern hometown beauty, we've grown into an international company. Yet in every language, the Quincy brand is built on a reputation of quality and rugged reliability, delivering "Performance You Demand. Reliability You Trust." If you have the grit, determination and passion for this industry, apply today and become part of the Quincy Compressor Team!
Quincy Compressor LLC is an equal opportunity employer and complies with all applicable federal, state and local fair employment practices laws. Quincy Compressor LLC strictly prohibits and does not tolerate discrimination against employees, applicants or any other covered persons because of race, color, religion, creed, national origin or ancestry, ethnicity, sex, gender (including gender nonconformity and status as a transgender or transsexual individual), age, physical or mental disability, citizenship, past, current or prospective service in the uniformed services, genetic information, or any other characteristic protected under applicable federal, state or local law. All Quincy Compressor LLC employees, other workers and representatives are prohibited from engaging in unlawful discrimination. This policy applies to all terms and conditions of employment, including, but not limited to, hiring, training, promotion, discipline, compensation, benefits and termination of employment.
Quincy Compressor LLC complies with the Americans with Disabilities Act (ADA), as amended by the ADA Amendments Act, and all applicable state or local law. Consistent with those requirements, Quincy Compressor LLC will reasonably accommodate qualified individuals with a disability if such accommodation would allow the individual to perform the essential functions of the job, unless doing so would create an undue hardship. Quincy Compressor LLC will also, where appropriate, provide reasonable accommodations for an employee's religious beliefs or practices. If you believe you need an accommodation, please send an email to careers@quincycompressor.com or call 251.937.5900.