QGV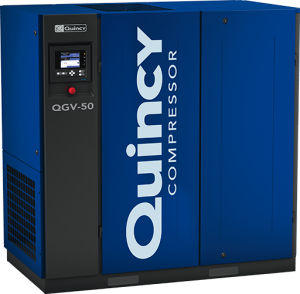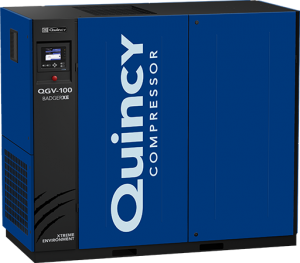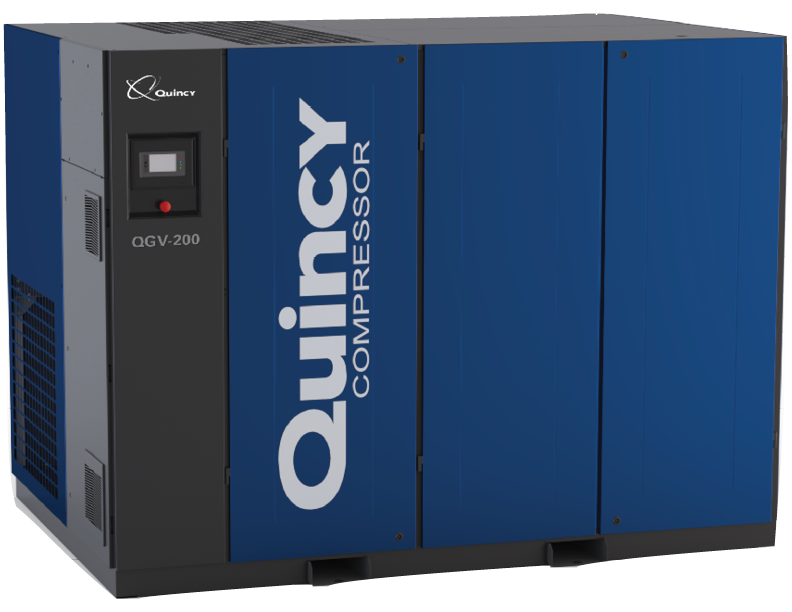 QGV
QGV®️ 40-300 hp Variable Speed Compressors
A variable speed air compressor is equipped with a specially designed drive that controls and adjusts the operating speed. This offers a number of benefits, including delivering more constant pressure, protecting against power surges and lowering energy consumption. Many variable speed air compressor owners experience a significant reduction in their energy costs over time.
The Quincy QGV®️ variable speed rotary screw air compressor provides among the most stable of pressures available from a compressor with up to 85% turndown. At the heart of all QGV®️ compressors is a flex-drive airend with 100,000 hour design, providing low cost of ownership, easy maintenance and reliable operation. Enjoy real-time performance monitoring with graphical analysis and full-color, touch-screen control.
At a Glance
Heavy duty intake filter
Holds pressure +/- 2 psi
Unique low demand mode
Low power consumption
Up Close
82 – 1821.7 cfm, 75-150 psig
Sound levels as low as 68 dBA
Standard low sound enclosure
Full color touch-screen control module
At a Glance
Higher Turndown
Higher Flow
Lower Specific Energy
Less Competition
Higher Rebates
Lower Service Cost

Lower Oil Volume
Longer Consumable Life

Perfect for Engineered Specifications…
Up Close
NEMA 4 Electrical Enclosure
Vortex Cooler (Mounted and Piped)
Enclosure Temperature Sensor (Actuates Vortex)
Ambient Temperature Sensor (Warnings)
Internal Enclosure Fan
Solenoid Value
Badger XE Extreme Environment Package
The QFD (Quincy Frequency Drive) is designed specifically for compressor applications and features a unique thru-the-wall mounted design. This design separates the drive heat from the enclosure and protects the drive electronics to an IP5X protection degree. All components in the drive are protected from dust and moisture, thanks to a robust, NEMA4 rated enclosure. The QGV Badger XE NEMA4 VSD will operate trouble-free in the harshest conditions.
Special Low Demand Mode
A highlight of QGV®️ air compressors for variable speed use is the highly efficient low demand mode, which performs the valuable function of preventing rapid cycling during intermittent periods of low compressed air demand. This low demand mode permits the pressure to rise above a predetermined point prior to stopping the unit when demand falls below turndown capacity. In addition to ensuring the compressor never operates unloaded, this feature also prevents the pressure dropping below an acceptable level. For multiple networked compressors, this mode allows the pressure to rise to a level at which the additional pressures will automatically shut down during periods of low demand.
Q-Control Module
The regulating system features the Q-Control module ensuring efficient control through the application of sophisticated regulation algorithms.  The Q-Control provides all required compressor protection functions and monitors components subject to service using service timers.
Low Cost of Ownership
The QGV®️ air compressor used for variable speed is less expensive to own than comparable units on the market. The highly efficient airend design will significantly reduce your energy costs, and with a bearing life that's up to three times that of competing models, you're assured of reliable performance and lower maintenance costs.
The Quincy QGV®️ Comes With a 10-Year Warranty
We're so confident in the quality, performance and reliability of the QGV®️ that we back it with our Royal Blue Warranty. This industry-best warranty provides 10 years of coverage for the airend and five years for other major compressor components including the drive assembly, cooler, motor and reservoir. Best of all, this coverage is available for all QGV®️ models at no extra cost. Owners simply register upon startup, sample fluid accordingly and use only Quincy Genuine parts for maintenance.