How Amusement Parks Use Air Compressors
Amusement parks are a place for family fun and excitement. But behind the scenes, it's reliable compressed air systems that keep things safe and operational. Quincy Compressor is proud to be a partner to theme and amusement parks across the country. Our diverse lineup of products includes several air compressors ideal for use in amusement parks. Keep reading to learn more!
Compressed Air in Today's Amusement Parks
As amusement park attractions become more sophisticated, and both visitors and regulators require additional safety measures, having the right equipment is essential. Some of the various places you'll find compressed air in today's amusement parks include:
In roller coasters, where it powers gates, brakes and other critical safety features
In the hydraulic launch systems present on certain rides
In the actuators that make props and animatronic figures move
In concession stands and catering operations, where it helps mix, package and produce food
In maintenance operations, where power washers and other tools help keep facilities looking their best
These are just a few of the many applications for compressed air systems and hydraulics in amusement parks.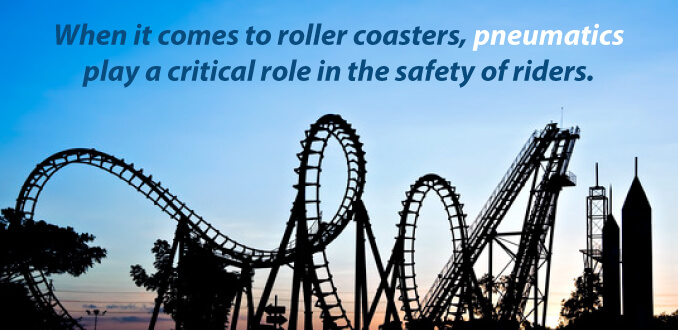 Why Compressed Air?
A diversity of potential applications is just one of the reasons why air compressors are increasingly essential at amusement parks. Other benefits they offer include:
Comfort and convenience. Compressed air provides a natural cushion that makes roller coasters, Ferris wheels and other rides more comfortable for guests. This reduces the risk of injury, and subsequently your liability, while making attractions more accessible to everyone.
Electricity-free operation. In water attractions, compressed air is a safer alternative to electric power that's used to generate currents and power spray hoses that add to the fun and thrills. Air compressors are also simpler and therefore easier to maintain than electric-powered systems.
Fast cycling. Quickly moving visitors through attractions is essential to both a positive experience and to your profits. Hydraulic gates and other systems offer faster operation that makes it easy to run things in a streamlined, efficient manner.
Quincy Compressors for Amusement Parks
If you're looking for a reliable compressed air solution for your amusement park, look no further than Quincy Compressor. We have one of the largest inventories air compressors that can be used to power rides, safety equipment and tools. Whether you need a heavy-duty industrial air solution or a portable compressor that can be stored and moved easily, we've got a product for you.
Some of our most popular air compressors for amusement parks include the QR-25 reciprocating compressor, an industry standby since 1937, as well as a wide range of rotary screw and other models. Let us help you assess your compressed air needs and select the right product for the job. Get in touch with a Quincy representative to get started today.