Climate Control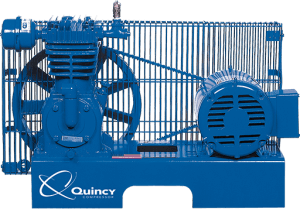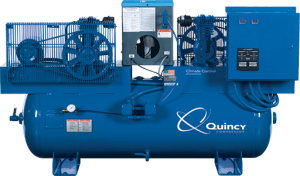 Climate Control
HVAC/Climate Control
Climate control is a very demanding market with diverse operating conditions, custom performance expectations and bottom-line accountability. An efficient climate control air compressor is essential for ensuring that an HVAC system produces clean, dry, low-oil (<2 ppm) air. Quincy Compressor offers complete climate control compressor systems that can meet your unique air system demands, regardless of your industry or application.
At a Glance
Ultra-dynamic gap rings
Cast iron construction
Two-piece connecting rods
ASME-coded receiver tanks
Balanced flywheel
Up Close
½ – 20 hp, up to 100 psig service
Single & Two Stage
2 ppm carryover factory certified
High efficiency intercooler
Intake filter/silencer
A Quincy HVAC Air Compressor Will Exceed Your Expectations
Of course, consistently exceeding these stringent expectations has positioned Quincy Compressor as the leader in this market. Quincy Climate Control Systems are easy to quote, order, install and service. Our climate control compressors are manufactured to meet the same high standards for quality and reliability that have made us an industry leader for nearly 100 years.
Complete Climate Control Compressor Systems
Our climate control air compressor options include our Simplex and Duplex Splash Lubricated Base-Mount models that are equipped with features such as cast-iron cylinders, crankcase, crankshaft and flywheel, stainless steel reed valves, beveled gap piston rings and an oil carryover of 2 ppm or less. They also include enclosed belt guards and pressure switches as standard features. The Simplex model offers an optional starter, while the Duplex enables you to choose the optional Duplex Control Panel.
You can also select our Simplex and Duplex Splash Lubricated Tank-Mount climate control compressors. Our tank models include ASME coded and National Board approved receivers as well as ASME pressure relief valves, all in addition to pressure gauges, manual tank shutoff and manual tank drains.
Standard and Optional Climate Control Air Compressor Features
All of our climate control air compressor models are state-of-the-art and include a wide variety of standard features such as:
A one-piece, double-throw, copper-weighted crankshaft
Automotive-style two-piece connecting rods
An innovative valve plate design featuring replaceable stainless steel valves
A high efficiency intercooler, specifically designed to improve compressor operating efficiency
In addition to the starter and Duplex Control Panel, optional features include refrigerated dryers, automatic tank drains, PRV stations and isolation pads. Combination and non-combination duplex panels featuring a two-source power supply are also available.
HVAC Air Compressor Replacement Packages
If your existing climate control air compressor fails, a Quincy climate control replacement package can provide a hassle-free, cost-effective solution. Our replacement packages are manufactured to the same high standards as our other air compressor products, which means you'll sacrifice nothing in terms of quality and reliability. Replacement packages include a durable cast iron compressor and special lap gap rings. You also get the benefit of a specially designed and engineered base plate that can be mounted to the top of any compressor tank top plate, which saves time and eliminates the need to purchase additional replacement parts.