Climate Control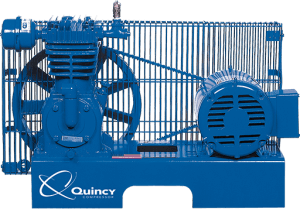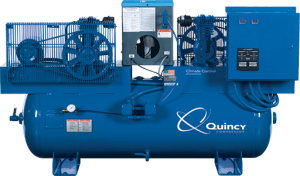 Climate Control
HVAC/Climate Control
Climate control is a very demanding market with diverse operating conditions, custom performance expectations and bottom-line accountability. An efficient climate control air compressor is essential for ensuring that an HVAC system produces clean, dry, low-oil (<2 ppm) air. Quincy Compressor offers complete climate control compressor systems that can meet your unique air system demands, regardless of your industry or application.
At a Glance
Ultra-dynamic gap rings
Cast iron construction
Two-piece connecting rods
ASME-coded receiver tanks
Balanced flywheel
Up Close
½ – 20 hp, up to 100 psig service
Single & Two Stage
2 ppm carryover factory certified
High efficiency intercooler
Intake filter/silencer
Quincy Climate Control Key Features
Indoor air quality is a growing concern in many industrial, commercial, education and retail environments. A high-performing air compressor is crucial for enabling a building's HVAC system to produce clean, dry, oil-free air.
Quincy Compressor is your headquarters for reliable, efficient compressed air equipment that can fulfill your building's climate control requirements. Trust our more than 100 years of compressed air equipment expertise to deliver the best solution for your business.
Our HVAC air compressors are available in base-mount and tank-mount options. Examples of the many standard features include:
Bearing-supported counter-weighted crankshaft that ensures precise alignment and a smooth operation.
High-tech computer-aided design that increases efficiency and delivers more cfm per kilowatt input.
Cast-iron cylinders with deep cooling to optimize performance and maximize the equipment's life span.
Slotted bedplate mounting to simplify motor and belt adjustments.
OSHA-compliant metal belt guards to ensure safe compressor operation.
A Quincy Compressor climate control air compressor can help to improve air quality in all types of structures, including manufacturing plants, distribution centers, office buildings, retail stores, schools and many others.
Climate Control Compressors Feature Solid Construction and Reliable Performance
Every Quincy Compressor climate control product features a rugged design and construction to withstand the rigors of challenging operating conditions. We custom-engineer every air treatment component to optimize effectiveness and efficiency and meet your unique system demands. You can feel confident that your compressor will eliminate contaminants before they reach your HVAC unit's controls.
Enhance your system's performance by adding the refrigerated air dryer option. Our powerful dryers help remove moisture from compressed air, preventing wear, rust and frozen pipes that can damage HVAC controls.
Climate Control Simplex Splash Lube Technical Specs
| | | | | |
| --- | --- | --- | --- | --- |
| Model  | HP | RPM | CRM @80 PSIG | Unit Shipping Weight (lbs) |
| QC005BBS | 0.50 | 357 | 4.40 | 160 |
| QC007BBS | 0.75 | 357 | 4.40 | 160 |
| QC010BBS | 1.00 | 450 | 5.00 | 160 |
| QC015BBS | 1.50 | 596 | 6.50 | 160 |
| QC020BBS | 2.00 | 420 | 8.60 | 309 |
| QC030BBS | 3.00 | 630 | 13.00 | 314 |
| QC050BBS | 5.00 | 692 | 18.20 | 360 |
| QC075BBS | 7.50 | 775 | 31.00 | 568 |
| QC100BBS | 10.00 | 731 | 41.20 | 675 |
| QC151BBS | 15.00 | 950 | 56.00 | 750 |
Maintain HVAC Air Compressors With Genuine Quincy Parts and Fluids
Even a long-lasting Quincy air compressor requires regular maintenance to keep it running efficiently and reduce the risk of mechanical failures. We've designed our climate control compressors to ensure easy access to all essential parts and components, making service a breeze.
You can order all the parts and fluids you'll need to maintain your compressors online at your convenience. Our network of authorized distributors is available 24 hours a day to handle routine and emergency repairs and meet your other service requirements promptly.
Warranty Coverage for Your Quincy Climate Control Air Compressor
At Quincy Compressor, we have adhered to the highest standards for quality, performance and durability since our founding in 1920. We manufacture all our compressors in the USA in a tightly monitored and controlled environment. You can purchase any Quincy Compressor product with complete confidence.
Our HVAC air compressors also come with warranty protection, giving you extra assurance that the equipment will perform well and deliver long-lasting results. Your Quincy Compressor distributor can discuss your warranty options and help you choose the best coverage for your situation.