A Quincy air compressor is designed, engineered and built to provide many years of reliable service. You also get the benefit of industry-leading warranty programs for your protection and peace of mind, as well as 24-hour service via the extensive network of authorized Quincy dealers. What's more, we also provide top-notch air compressor parts. We offer a wide selection of genuine Quincy compressor parts and air compressor fluid products so you'll never have to worry about finding the air compressor parts you need to keep your compressor up and running.
Available only from an authorized Genuine Quincy Parts distributor.
Our Air Compressor Parts Are Built to the Highest Standards
Genuine Quincy Compressor parts are selected because they are manufactured to the same quality standards as our compressors. They are designed to keep your compressor or vacuum pump running at peak performance and have been proven to provide the best protection of your investment. Maintain or extend the life of your warranty by using only genuine Quincy Compressor parts and consumables.
Count on Quincy for Reliable Service
Your business demands reliability and efficiency from the technology that powers it, and your compressor must stay maintained against today's increasing production demands; and that is precisely what Quincy service can do for you. We together manage your assets, operations, and risk to deliver the desired business results needed to excel.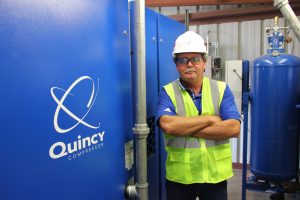 To ensure you can meet your demands at all times while keeping operational costs under control, your equipment needs to run reliably and efficiently throughout its lifecycle. Investing in high quality machinery is a first logical step. The second crucial step is having the right maintenance solution. If compressed air is a vital component of your production process, Quincy Compressor maintenance solutions and Guardian Plans are your best choice.
Getting air compressor parts you need is as easy as contacting the authorized Quincy Compressor dealer in your local area.
Only Quincy fluids and oils are approved for use in Quincy Compressors and Vacuum Pumps. These high-performance products have also been field tested and approved for use in other OEM brands of compressors.