Please fill out the form below and our dedicated team will reach out to you within 24 hours.
Local Sales & Service
Find an authorized Quincy Compressor Sales & Service Representative in your area.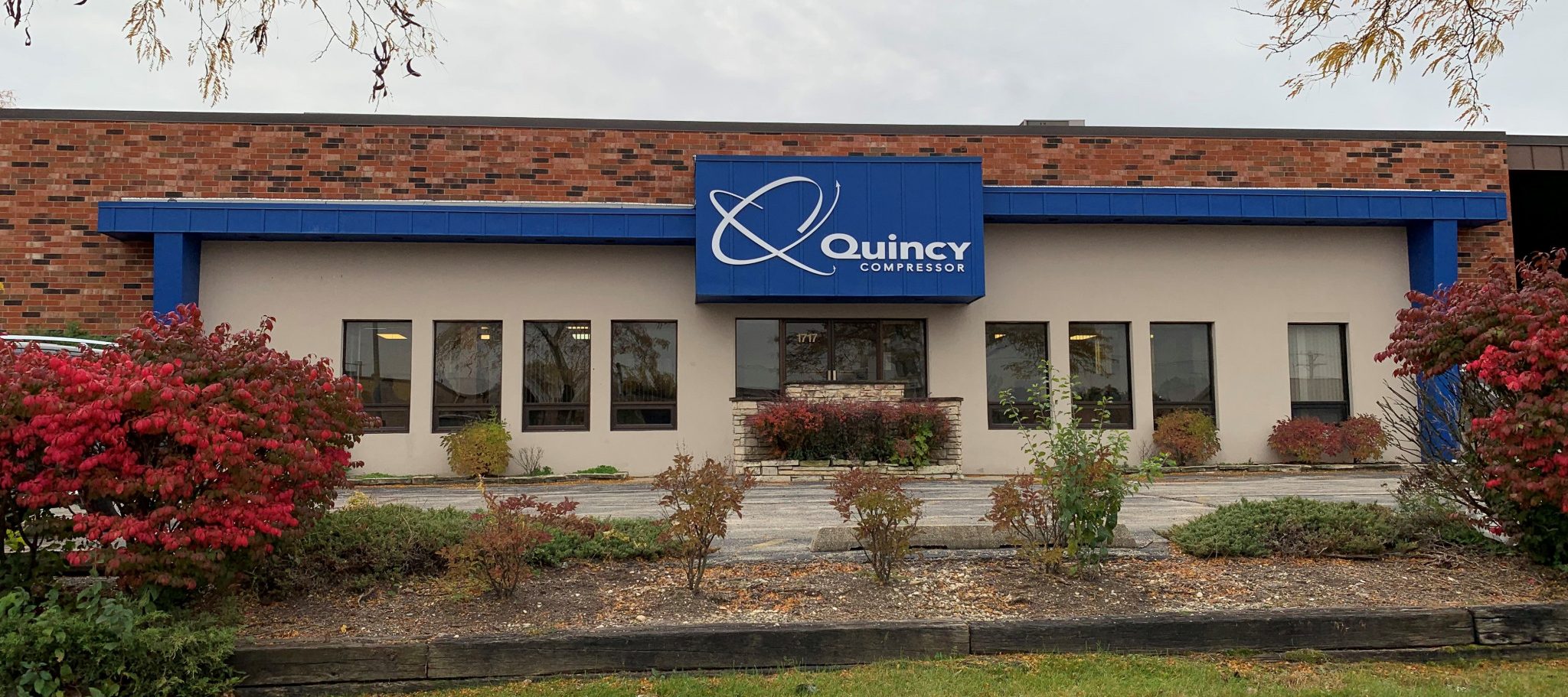 Locate Air Compressor Sales and Service
These days, many companies rely on the Internet for most, if not all, of their sales. While this makes a purchasing a product extremely convenient, it doesn't always allow for a personal connection between the company and its customers. And in many cases, prompt and reliable service after the sale can be hard to come by, if it is even available at all.
With Quincy Compressor services, we make a large volume of information about our products readily available online. You'll find everything from complete product descriptions and specifications to helpful brochures, manuals and much more. You'll also find everything you need to know to make an intelligent air compressor purchasing decision.
However, we understand air compressors are complex machines that aren't necessarily easy to understand. That's why we provide an extensive network of authorized Quincy air compressor distributors located throughout the United States and around the world. Your authorized dealer rep can answer all of your questions and help you navigate every step of the compressor sales process. You'll get the guidance and reassurance that can only be provided by a live human being.
Our Variety of Air Compressor Products
At Quincy Compressor, we know everyone needs something different out of their industrial air compressor. That's why we provide a large selection of different models, so you can always find the best option for your needs. Whether you need a portable compressor or a rotary screw model, we're the source you can trust.
Rotary Screw Compressors
Rotary screw compressors are positive displacement compression systems with two matching helical screws. When you purchase an oil-flooded model, lubricant will fill the gap in-between the rotors, which makes an airtight seal. Then, mechanical energy moves between the two rotors, the screws rotate, and air moves through. Finally, the two helical screws force the air through the whole compressor.
We carry a variety of rotary screw types, from the QGS to the QSI.
Reciprocating Air Compressors
This positive displacement compressor features a piston and cylinder that work together to compress air. You have two options — a single-stage or two-stage compressor.
A single-stage compressor transfers air into the cylinder, where one piston compresses it with strokes around 120 PSI and sends it to a storage area. A two-stage compressor works the same, except that another, smaller piston also compresses the air at around 175 PSI.
Portable Air Compressors
Sometimes you need a smaller air compressor with all the power and efficiency of a larger model. Most of these air compressors use a single-stage reciprocating piston design that forces air through an inlet valve and into a cylinder. Then, a piston uses a reciprocating movement to compress it and send it through a discharge valve.
Our portable air compressors are great for home and DIY uses, while still giving you the power of commercial models. We back all of our portable compressors with industry-leading extended warranty options to ensure it lasts for years to come.
Oil-Free Air Compressors
For industries that require clean environments such as the food, beverage and pharmaceutical industry, an oil-free air compressor may be necessary to minimize the risk of contamination.
The QOF oil-free scroll compressor meets Class Zero requirements for air purity while delivering reliable performance.
Personal Assistance in Selecting the Best Air Compressor for Your Applications
With so many high-quality air compressors to choose from, selecting the best one for your applications can be a challenging task. Your authorized Quincy distributor has the experience and expertise to make your decision so much easier. Your rep will take the time to gather information about your business and applications, then recommend the best product for your needs and budget.
Your Quincy Distributor Is Your One-Stop Source for Air Compressors Sales, Service and Parts
In addition to serving as a valuable compressor sales resource, your authorized distributor can also provide comprehensive compressor service. You can count on your distributor rep to perform timely repairs of your compressor to keep any downtime time to a minimum.
Your distributor can also provide useful maintenance and troubleshooting tips to keep your compressor up and running. Your distributor will quickly become your trusted advisor for anything and everything pertaining to your compressor.
Use Our Online Locator to Quickly Find the Quincy Compressor Sales and Service Provider in Your Area
We've made finding your local Quincy air compressor sales and service producer a fast and simple process. Just use the convenient Sales & Service Locator found on this page to enter the requested country/city/state/zip code, and you'll instantly gain access to the authorized distributor(s) in your local area. You can also contact us directly if you have questions or concerns.
Our Customers Say It All
Quincy provided the equipment choices we needed within our available budget. This is our 2nd Quincy unit that we have in our facility. I'm sure it will not be our last.
– Brian
Great sales staff that considers your needs and financial requirements.
– Bruce
The best all-around compressor built. Quincy has been a name of reliability for my compressor needs for over 30 years.
– Kirk