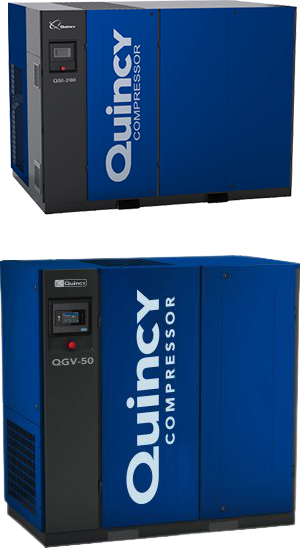 Quincy's premium QSI and QGV product line ranges from 40-400 Hp and is regarded as the most reliable family in the market.
Maximum Uptime, Minimum Disruptions
Coolers designed for ambient temperatures up to 122°F (50°C)
Airend bearings engineered for a life of 100K hours
Market Leading 10-Year Warranty
Lowest Total Cost of Ownership
Vertical draft cooling reduces the cost and complexity of ducting, when needed
Quincy controller technology enables constant communication between machines, allowing them to work in harmony as a group rather than as individuals.
A needle valve allows oil sampling during operation
Flexibility To Do It Your Way
A huge array of pre-engineered options means that you can have the machine your way without the investment or lead time of a custom build.
We can provide all kinds of attractive purchase options, including long term rental, leasing, financing and even providing the package as a service.
We can support your maintenance goals, from supplying parts to becoming completely accountable for your system availability levels.
BADGERXE Xtreme Environment Variable Speed
A unique variable speed compressor because it's designed to be installed outdoors and in harsh environments.
The integrated electrical panel cooling system with NEMA4 protection allows the BadgerXE to thrive in conditions where most other machines would fail.
Download QSI 50-400 HP Series Insert
Download QGV 40-400 HP Series Insert
QGV
QSI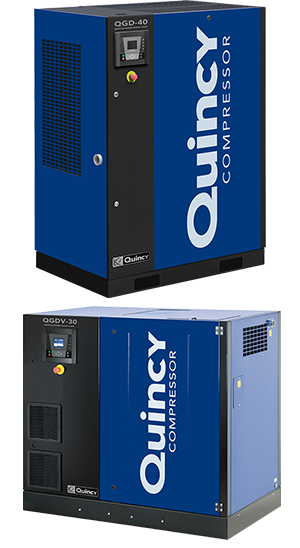 QGD and QGDV
The QGD rotary air compressor line is specifically designed to provide reliable compression in the most challenging applications. The Airlogic 2 advanced control enables the compressor to operate with maximum efficiency. With a sound level as low as 66 dBA, you're assured of quiet operation. The QGD is also designed for easy serviceability.
The Quincy QGDV series is a high-performance variable speed rotary screw compressor package that can be used in a wide range of applications. All QGDV units from 15 horsepower to 30 horsepower feature industry-leading efficiency and serviceability. The models can be configured as basic units or can be equipped with some basic options to fit your application best. All QGDV models have low sound levels, small footprints and the lowest total cost of ownership in the industry.
Download Brochure
QGDV
QGD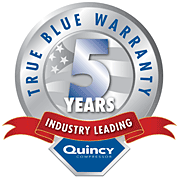 15-30 hp, Gear Drive
70.8-141.3 acfm @ 125 psig
Airlogic2 advanced control
Ease-of-maintenance design
Industrial-grade enclosure
QGS and QGSV
The QGS product line includes 5-30 horsepower belt screw air compressor models that include a long-life V-belt drive, high–efficiency intake filter and a robust TEFC motor. The standard quiet enclosure is designed to reduce vibration and noise levels. The eight-thousand-hour premium synthetic fuel features a low oil carryover. An integrated dryer and tank mount option is also available.
The QGSV series of rotary screw variable speed compressors are available from 10 horsepower to 50 horsepower. QGSV units include direct drive transmission for energy savings & reduced maintenance cost. This unit includes options for tank mount and an integrated dryer configurations. Units are available at 175 PSI (QGSV 10 150PSI).
Download Brochure
QGS
QGSV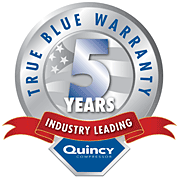 5-30 hp, Belt Drive
40-150 hp, Gear Drive
16-700 acfm, 125-150 psig
62-69 dBA
Integrated dryer option


Benefits of Rotary Screw Air Compressors
There are many advantages of rotary screw compressors. They are the compressor of choice for a wide range of compression applications across many industries:
Continuous airflow and pressurization: Many air compressors generate excess heat and need to cycle off to maintain the machinery. Rotary screws can turn continuously and experience little to no downtime.
Easy maintenance: Some rotary screw systems are manufactured with up to 70% fewer parts than other compressors. This design drives down maintenance costs.
More power: Rotary screws have extremely high airflow rates. They can run tools and heavy equipment efficiently with impressive horsepower.
Safer at extreme temperatures: Many rotary screws can pressurize air in both high and low temperatures.
Energy-efficient: Rotary screws produce less heat, conserve more energy and consume less oil than most compressors. These features preserve the machinery for many years and keep the lifetime cost of the compressor low.
How Do Rotary Screw Air Compressors Work?
All compressors work using a mechanical element that physically reduces the volume air takes up, compressing it. In a rotary screw compressor, that mechanical component is a pair of screws. These two screws are meshed together and turn continuously. Air enters and is then compressed in the gap between the screw threads. Most rotary screws are oil-flooded, although oil-free screw compressors are available.
Here's how oil-flooded rotary screw compressors work:
Air enters the compressor through the inlet valve.
Air then travels through the pressure control line and into the regulator valve. This process sets the air pressure for the system.
Both oil and air enter the compressor, where they combine into a mist. Air travels the length of the matching rotary screws and becomes compressed.
After exiting the compressor, the air and oil mist enters the primary oil separator tank. The tank uses centrifugal force to make the oil molecules come together, forming droplets that fall to the bottom of the tank. The oil can then be recycled into the air compressor for the next batch of air.
The air then enters a secondary separation filter, which further purifies the air and removes more of the oil.
The oil-free air then exits the system, into a reserve tank or the connected air tools or machinery.
The oil travels from the separator tank to an oil cooler. Next, it goes through a filter that removes any debris and is then returned to the air compressor.
Learn More About Quincy Rotary Screw Compressors
Contact us today to find out more about high-pressure screw air compressors, as well as our other compressor models and how a Quincy rotary screw air compressor can provide continuous pressurized air for your applications. To order Quincy Compressor systems, reach out to your local authorized Quincy Compressor distributor in your local area. See for yourself what makes Quincy Compressor a top rotary screw air compressor manufacturer.