QCV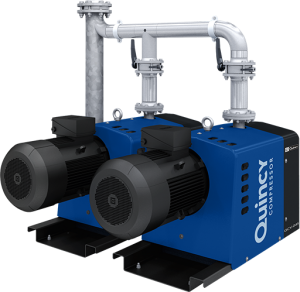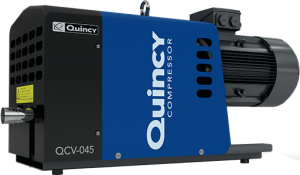 QCV
QCV – Dry Claw Pump
The new range based on Quincy Compressor's QCV – Dry Claw technology features an innovative design which creates a new benchmark in the claw pump market. The simplicity, robustness, efficiency and contaminant handling capability of these pumps make them the smart choice for your application. Built to the exacting standards and quality demanded by our customers, the new dry claw pump provides you with a trouble-free and cost-effective solution to meet your needs.
Quincy QCV Key Features
The Quincy QCV vacuum pump features an innovative design that creates a new standard in the claw pump industry. The QCV's simplicity, efficiency, durability and contaminant-handling capabilities make it ideal for your operation. We build these vacuum pumps with the highest quality standards to provide you with a cost-effective and trouble-free solution to meet your needs.
The QCV vacuum pump includes impressive design features, including:
A heavy-duty intake filter for smooth, quiet operation.
An oil-free pumping chamber.
An efficient IE3 motor with a variable speed option for complete controllability.
A compact design with a small footprint.
Upgraded seals and bearings for long, trouble-free life, even in the harshest applications.
An AirLogic II controller and a variable speed drive.
Our QCV dry claw pumps are perfect for various applications across a broad industry range, including CNC routing, central systems in hospitals, pneumatic conveying and milking parlors. In operations with conveyors and pneumatic equipment, QCV vacuum pumps are highly beneficial for their optimal performance with minimal noise and maximum safety. We engineer these pumps with your needs as a priority, striving to streamline your processes and operations while driving productivity.
Quincy QCV Dry Claw Vacuum Pump Performance
Dry claw vacuum pumps contain twin rotors that turn in opposite directions, one clockwise and the other counterclockwise. The rotors never come into contact. The vacuum's claw crosses a suction connection in each revolution, bringing gas into the compression chamber.
When we designed the QCV rotary screw vacuum pump, we aimed to create a variable speed machine with superior energy efficiency. Our top priorities were higher productivity, simple operation, lower life cycle costs and less energy consumption.
Among the many performance features are:
Sustainable productivity.
Market-leading performance.
Unrivaled ultimate vacuum level.
Best-in-class power consumption.
Low noise levels.
Minimal machine life cycle costs.
Cool running and simple air-cooling.
Maintaining Your QCV With Quincy's Genuine Parts and Lubricants
Manufactured with the primary fundamentals of Quincy's vacuum pump design, the QCV features cutting-edge construction materials and coatings for dependable operation over a lifetime of use, even in harsh conditions, including built-in corrosion resistance to offer even higher reliability. Long-life seals and bearings, a separate and isolated pumping element and quick access to the pumping chamber allow for easy cleaning in the event of product carry-over.
It's vital to establish a routine maintenance schedule based on the demands of your specific application to ensure your vacuum pump performs with maximum efficiency and productivity. Simple maintenance with contact-free internals eliminates wear.
Quincy QCV Vacuum Pump Warranty
At Quincy Compressor, we have adhered to the highest performance, durability and quality standards since our founding in 1920. The Quincy QCV vacuum pumps are backed by our 10-Year Royal Blue Warranty. You can invest in any Quincy Compressor product with complete confidence.
Our QCV dry claw vacuum pumps meet the strict requirements of industry standards like ISO 9001, ISO 14001 and OHSAS 18001. We back our QCV vacuum pumps with a comprehensive warranty and a market-leading service support network. The result is 24/7 assurance that your products stay in the best possible working order.