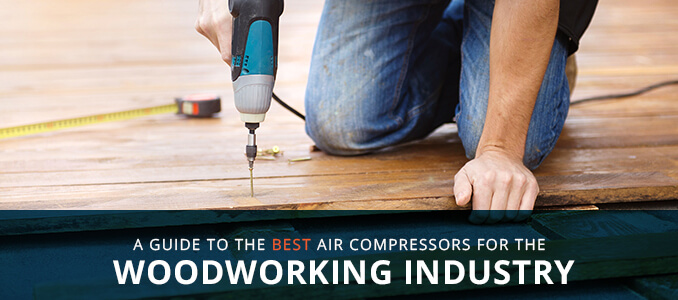 A Guide to the Best Air Compressors for the Woodworking Industry
Challenge
Air compressor and vacuum pump dependability, efficiency and energy savings are all key in every woodworking operation. OEMs, furniture manufacturers, millwork operations and a host of other wood product businesses recognize that compressed air and vacuum pumps must be cost-effective to operate.
Solution
Dependability: Through quality engineering and rigorous manufacturing, Quincy makes equipment that is reliable whether it is operating industrial rotors and saws or powering spraying equipment for a refinishing shop.
Stable Air Pressures: No other compressor delivers more consistent air pressure or more efficient low-pressure air for open blowing than a Quincy compressor.
Energy Savings: Through the application of its patented EQ/ Efficiency Quotient, Quincy can quickly and accurately define the potential energy savings a substantial woodworking operation can expect to capture by bringing its facility more into line with Best Practices.
Our Recommended Woodworking Air Compressor Solutions
We recommend the following products for your woodworking air compressor applications:
QSI
QGV®
QGS
QR-25
QT
QP
QSVI  (vacuum)
On-site generation gives compressed air a definite advantage over other powers sources.
The majority of companies that manufacture and process products use compressed air in some form because of the ability to have more control over usage and quality. For instance, different companies that perform woodworking and lumbering processes need dependable, high pressure air to move heavy loads and conduct spark-free operations.
For smaller-sized companies, like those doing custom woodworking, a reciprocating air compressor is a popular choice. For high-volume furniture manufacturing and for sawmills, the rotary screw design is what gets the job done.
With so many ways that compressed air is used in the woodworking industry, we've highlighted the applications of pneumatics for wood processing, then described some possible options for air compressor systems in both sawmills and furniture manufacturing. We've also given some recommendations and references for a full system assessment that will identify areas of improvement to have your air compressor system running as lean as possible.
Pneumatic Reliability for the Harsh Environment of Wood Processing
Compressed air is used in many industries for power when the alternatives are unsafe and unclean. Wood processing involves considerable temperature fluctuations, high power demand, dirty environments and continuous operation. The advancements in compressed air technology has made it the ideal source for equipment and tool power — especially when it comes to electronic controls and hardware.
A sawmill uses pneumatic air cylinders for a variety of applications. Our modern sawmills work at high-speed production rates and depend on the stable air pressure for the fast-paced and demanding environment. Some of the uses of air cylinders are:
To sort lumber by size and length into bins with a bin-diverter air cylinder.
To cut the lumber for maximum value using a "cant optimizer" to position the cant (lumber) appropriately.
To cut logs to the standard lumber length with a conveyor and log-kicker to push the log off at just the right time to the transfer deck.
To hold down a log with hold-down rolls and activate the lift.
In furniture manufacturing, cabinetry and many other manufacturing industries, air compressors work mainly to power production lines of air tools and factories that have light and heavy air needs. Some of the uses of woodworking pneumatics are:
To power hot melt dispensing applications.
To coat surfaces with automated sprayers or air-powered hand tools.
To automate nailing.
To control movement of wooden boards.
To power drill feed systems.
To monitor various aspects of production for quality control.
The quick, efficient operation and versatile cushioning that comes from pneumatics makes it an ideal solution for the high-production needs of lumber processing and detailed needs of furniture manufacturing. Yet it is also ideal for fine craftsmanship and precision work. The wide array of production-enhancing applications that can be implemented through an compressed air system is what makes it ideal in woodworking and any other manufacturing facility.
The Best Air Compressors for Every Woodworking Application
From the start of wood processing in sawmills to the finishing line in a furniture manufacturing plant, compressed air is vital to various steps in production. Pneumatics play an important role in felling trees, operation of tools and automating operations. Blowers can be designed to create a low-vacuum, high-flow setting to reduce product rejections. Vacuums can be used to secure wood for accuracy.

The advancing technology in air compressor designs and applications makes them highly reliable and flexible for the woodworking industry to be a favored solution for a number of manufacturing inefficiencies.
Upgrading your air compressor system or choosing the best air compressor for your industry needs to be done with professional assistance to evaluate your intended processes or expansion. However, we have a basic outline of some of the possible options geared to sawmills and furniture manufacturing.
Our Testimonials
Great sales staff that considers your needs and financial requirements.
– Bruce
Quality of a product and the excellent customer service. My first compressor was damaged due to shipping. Quincy was there to help and I received a replacement shortly after. Thank you!
– Clark
The best all-around compressor built. Quincy has been a name of reliability for my compressor needs for over 30 years.
– Kirk
The Best Air Compressor for Lumber Processing
 The typical compressed air system in a sawmill will be the highest user of electricity. A large sawmill will have a number of air compressors that deliver 600-1000 horsepower. The majority are oil-flooded rotary screw designs that provide a reliable and high-performing power source.

When freezing temperatures hit, sawmills need to deal with system issues related to the freezing air / water from compression. A major factor in efficient operation of a compressed air system are desiccant air dryers that dry the system air to a -40 F dew point. With dryers in place, there is no freezing happening in air valves, and the performance of air cylinders is enhanced.
Another helpful system element for sawmills is an air receiver to act as a trim receiver. In a high-production sawmill, there could be a 10,000-gallon air receiver tank to store air that is immediately available when airflow is in peak demand. With the various compressed air operations that take place in a sawmill, the need for short supply of high volumes of air can happen often enough that the lag time for an air compressor to reload takes valuable time away from production and profit.
Working in tandem with large storage tanks is the demand controller that levels out the pressure swings in the mill and can instantly supply the plant with large amounts of air when there is a sudden demand. A sequencing control system is also installed to manage the whole system with several sensors to monitor temperatures, pressures and the flow and wattage used by the compressor motors.
Advancing electronic controlling has made air compressor systems more efficient, especially with specific customization for the mill operations and unique system setup. The control system can provide mass volumes of data that can be used to identify various metrics like how each compressor runs loaded and unloaded. You can also have the control system maintain a desired PSI throughout and have full control over pressure to be able to safely experiment with lower pressure rates.
 The Best Air Compressor for Furniture Manufacturing
 As a furniture manufacturer grows over the years, so too will its air compressor system. A company that starts out in a single building with one air compressor can eventually expand their operations with any number of different air compressors and dryers operating in separate buildings. Large manufacturers will be mainly depending on rotary screw air compressors for their source of air, but they may also be using reciprocating air compressors for certain areas of production. Custom woodworking shops and small manufacturers can be adequately supplied with one or more reciprocating piston compressors.
Since air tools are often the main source of air demand, compressed air needs are determined by the air usage needed for each tool. In a system assessment performed for an expanding furniture factory, they determined that the air tools needed to expand their framing and upholstering operations would increase their air usage by 400 CFM. They were operating one of their buildings with 13 framing tools, 27 upholstering tools and 25 sewing tools, each rated at 5.2 cfm. This would be increasing to 34 framing tools and 83 upholstering tools, while the sewing line would remain the same.
Whether you're looking at starting up as a furniture manufacturer or expanding an existing operation, there are various calculations that can help you establish how big your air compressor system needs to be in terms of pressure, air usage and storage. You'll also need to determine what other elements are needed like dryers, blowers and vacuums.
Full System Assessment for a Cost Effective Operation
Improve your bottom line through energy assessments and upgrades that look at all areas of your compressed air system. Wood processing plants spend a significant amount on energy consumption. By analyzing energy use on an annual basis, you can benefit from improved efficiency in various areas.


Considering that around 76% of the lifetime operating cost of an air compressor is from electricity, a complete compressed air system assessment will produce a number of options from eliminating air leaks to major system upgrades. By making some or all changes from a system analysis, the savings in energy can give you an attractive long-term return on investment.
Here is a brief list of some areas related to your compressed air system that could help you reduce energy costs in your woodworking facility:
Pneumatic tools and accessories. Proper maintenance and operation of air tools is one of the simpler ways to improve efficiency. Changes could include:
Using the right tool for the job.
Ensuring operators are trained properly on efficient tool operation.
Cleaning and adjusting tools properly for the application on a regular basis.
Installing local pressure regulators adjusted to the lowest pressure needed for the job.
Having dedicated storage at the end-use equipment to prevent pressure loss system-wide.
Implementing a preventative maintenance plan to regularly check hoses and quick-disconnect fittings that are a common source of air leaks.
Buying new tools that are appropriately sized for the application — not oversized and using more air than needed.
Inappropriate end use. Eliminating wasteful applications of compressed air can offer quick savings with little expense. Some of the typical inappropriate uses are:
Unregulated and unnecessary blowoff.
Diaphragm pumps.
Venturi vacuum pumps.
Leak detection and repair. Unplanned leaks in your compressed air system could be wasting a significant amount of air. Up to 30% of air produced has been attributed to leaking systems in industrial facilities that don't perform regular leak detection and repair checks. In one furniture factory, 55 leaks were detected with 90 to 95% of leaks happening in the pneumatic circuits — not in the lines.
Your leak management program should include:
A trained operator using an ultrasonic acoustic detector.
Checking for leaks during production time and during off-hours.
Identification (with tagging), tracking, repairs and employee awareness.
Air storage. Short surges in air demand can be efficiently handled by properly sized air storage. This will reduce the frequent occurrence of wasting air through compressor unloadings. With pressure regulators and adequate storage (for oil-flooded compressor: 4 gallons of storage for every 1 cfm of compressor capacity) you will be in the position to run a lean production line.
Equipment and controls. Upgrading your compressor or air system equipment may have you thinking about the major cost. While the price of new equipment and installation is certainly a considerable investment, it just may be the route you need to take for an efficient system. Even though you may have high upfront costs, the biggest expense of compressed air is mainly from the electricity needed to operate your compressed air system.
If you have an older system, you may not be getting the benefits of energy saving features like:
Automatic sequencing.
Multiple stages of compression.
Part-load controls (variable speed drive, turn valves, load / unload).
Getting a thorough compressed air system assessment done will give you a plan to be able to reduce your costs and have a more dependable production facility. Ideally, you'll be able to use existing equipment more efficiently and implement practices and procedures that will reduce unnecessary demand.
The Best Quincy Compressors for the Woodworking Industry

We've been supplying the woodworking industry with the finest air compressors and vacuum pumps for generations. Our uncompromising reliability is especially suited to the demanding environments of many sawmills and furniture manufacturers. As a solutions provider, we've designed several of our compressors and vacuum pumps with the specific challenges in mind that are experienced in wood processing and manufacturing.
Here are a few ideal options:
Our QSI line is a direct drive industrial compressor that has been optimized to provide the industrial sector with the best return on investment. Our three QSI models offer:
90 to 1500 CFM
TEFC (Total Enclosed Cooled Fan) and other NEMA (National Electric Manufacturers Association) motor casing options
Air- or water-cooled design
a 5.7" color display screen
Our QGV®️ model is a variable speed compressor that offers beneficial features to deliver constant pressure, protect against surges in power and reduce energy consumption. This model offers:
82 to 982 CFM
Reduced operating noise (as low as 68 dBA)
A full color touch display screen
Our QR-25 is a heavy-duty reciprocating model that will stand up to the various high-demand applications in a woodworking factory. Capable of producing a high CFM per brake horsepower, this series is well known in the industry for low energy consumption and reliable performance. This line offers:
1 to 25 hp motors
Up to 175 PSIG
Single- and two-stage compression
A rating for 100% duty cycle
Our QSVI is one of our direct drive industrial vacuum pump lines that is a top choice for high-capacity applications. This is a stand-alone system that adjusts the flow as demand changes and can be set to run on a start/stop basis or continuously. This vacuum pump offers:
25 to 200 hp direct drive motors
SCFM ratings of 365 to 3000
High discharge temperature shutdown
A fully equipped control panel
With many more models to suit your needs, we can have you running an efficient and reliable compressed air system for any size of manufacturing facility or shop. Contact one of our professional sales and service representatives to learn more about the legendary performance and reliability of Quincy Compressors, or contact us directly. We've been trusted in the market for nearly a century now and are looking forward to many more years of building the highest performance products.
Struggling to determine your specific air compressor needs? Check out this useful infographic:



This work is licensed under a Creative Commons Attribution-NoDerivs 3.0 United States License.