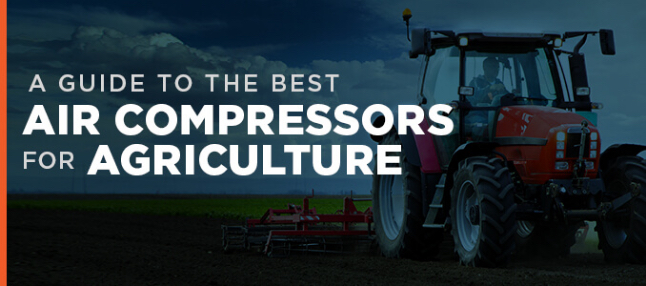 For more than 10,000 years, humanity has cultivated the land, bred livestock and harvested what nature provided in order to feed themselves, allowing our ancestors to abandon a nomadic way of life.
Today, agriculture is still a vital part of human existence, and has become far more advanced over centuries. Much that was once done by hand, or required tools powered by human energy, has been replaced by sophisticated machines, providing higher yields and improving the way crops are harvested for higher efficiency.
As with many industries, to produce the best produce per labor, utilizing the latest, most durable and sophisticated technology of the day is essential.
In farming, machines including water pumps, crop sprayers, tractors, conveyors, pneumatic handling material machines and even dairy machines require compressed air. This makes a reliable air compressor a vital component to a successful farm.
With nearly a century of expertise, Quincy Compressor provides reliable air compressors for farming operations of all types and sizes. We're your source for a reciprocating or rotary screw air compressor for agriculture business use, and we can also provide dependable portable air compressors for agriculture business field operations.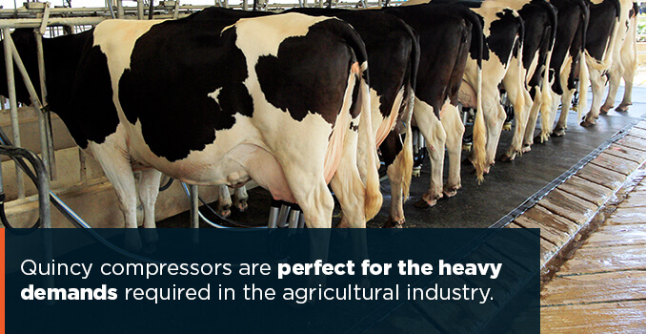 Quincy Air Compressors for Agricultural Use
As technology has advanced, air compressors also have become more efficient and easier to use. In addition to allowing more control over output, Quincy's modern air compressors offer clean, pressurized air while utilizing less energy, making them far more economical than other models used in the past.
Whether you own a small family farm or have a larger operation, there is an essential need for an air compressor that's economical, reliable and trustworthy. Quincy's line of compressors offer the quality needed for farming, and can weather the heavy demands of the industry with longevity.
Quincy compressors are designed to offer compressed air on demand, either for intermittent or continuous use, and are perfect for the heavy demands required in the day-to-day operations of the agricultural industry.
Agricultural Air Compressor Uses
While there are many uses for compressors on your farm, some of the compressors available may be more accommodating for some applications than others. By picking the right tool for the job, you ensure maximum productivity, energy efficiency and longevity in your farming equipment.
When considering a compressor for your farm, consider the energy demands required, the horsepower needed and how often you will be utilizing the device. Like other farming equipment, buying a product that is high-quality, can perform the task when needed and will last for decades is important.
Quincy compressors can be utilized in a variety of applications. When considering your application, also consider if the compressor installation can be stationary, or if a portable option may be more advantageous in certain situations.
Water Pumps – Water is essential to crops, livestock and sustainable pastures. Sometimes compressed air is needed to bring this vital resource to specific areas to optimize growth. By ensuring less downtime and longevity with your compressor, you ensure your livestock and crops have this essential ingredient for life.
Crop Sprayers – Many crop sprayers utilize compressed air, and a reliable compressor is essential in the daily operations of your farm. These types of automated crop sprayers require a large amount of air.
Product Conveyors/Pneumatic Material Handling Machines – Many product conveyors utilize compressed air. Quincy compressors are designed for both intermittent and continuous use. Pneumatic material handling machines are common in the food industry and require a steady supply of compressed air to function properly.
Dairy Machines – Like many automated agricultural machines that utilize a large amount of compressed air, dairy machines are essential. Quincy compressors are designed to handle the continuous and demanding requirements for farms of all sizes. Energy efficiency, in addition to reliability, is essential when selecting a compressor utilized in the dairy industry.
Tractors and Vehicle Tires– One of the most common uses of an air compressor on a farm is to inflate tractor and other vehicle tires on your farm. Whether you need to inflate your ATV tires quickly for the transport of hay to livestock over a large piece of land, or have a large tractor tire that needs inflated, a portable air compressor can be a vital component to your farm. Compressors make this task easy, and will help maintain safety and reliability on your farm equipment. Truck-mount options are also available.
Greenhouse Ventilation – For some growers, getting clean air and proper ventilation to industrial greenhouses can be a challenge solved with compressed air. For long-term use, energy efficiency is needed to maximize the economic benefits of utilizing compressed air for ventilation. Quincy compressors are built for the challenge, and will last for years.
Silos – Compressors can be used to power systems that transport excess grain and food into silos for storage.
Winterization of Irrigation Lines – Sometimes the harsh winter weather can impede irrigation lines. Farmers can utilize compressed air to clear irrigation lines of excess water in order to prepare for winter. Not only does it save on costly repairs, it can also be used to protect and add longevity to vital infrastructure that will last for years to come.
An Affordable and Dependable Compressed Air Solution
Minimizing operating costs is essential for survival in today's highly competitive agriculture business climate. A Quincy Compressor is not only economical to purchase, but it is also economical to own. Quincy offers the most CFM per brake horsepower, which ensures more air while consuming less energy.
The Quincy QT, QP and QR-25 series of reciprocating air compressors are built in Bay Minette, Alabama and have been meticulously designed for maximum productivity, efficiency and longevity. They have been proven through generations of light industrial applications and are available with extended warranties like the No Bull Warranty and True Blue Warranty programs.
The Quincy QP is a mid-range pressure-lubricated air compressor for agriculture. Specifically designed for more demanding 175 PSI applications, the QP features heavy-duty cast-iron construction along with a pressure lubricated system that provides smooth, continuous operation. The combination of affordable pricing and long lifespan enables the QP to offer a cost-effective agricultural compressed air solution.
Recommended Products
To learn more about our recommended air compressors for farming applications, please click on the individual product descriptions below. Quincy offers some of the best air compressors for agricultural use in the industry with economical, trustworthy, reliable products that are built to last.
Quincy QGS (4152008420, 4152008421, 4152008420, 415200842, 146510-522, 146510-534)For the demanding compressed-air needs of any farming operation, the QGS can meet the challenge with its innovative rotary-screw design. The QGS is a compact model featuring quiet operation, and provides maximum installation flexibility for use in multiple locations on your agricultural property. In addition, the QGS is designed for a 100 percent duty cycle, and also includes a high-efficiency intake filter and a long-lasting V-belt drive.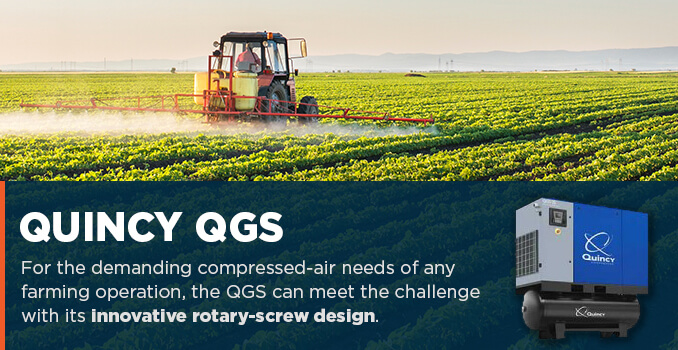 Quincy QR-25(Consult dealer for size and options)For heavy-duty, high-demand agricultural applications, the Quincy QR-25 offers a highly advanced 1-25 horsepower air compressor series that provides reliable and time-tested performance. In addition, the QR-25 is pressure-lubricated in all critical areas, runs at slower speeds and features durable cast-iron construction for longer life and less downtime.
Quincy QP Series (351CS80VCB, 371CS80VCA, 3103DS12HCA, 353DS1HCA, G313H30HCE, G314K30HCE)With 5-15 horsepower, the Quincy QP series is designed for tougher 175 PSI applications. The QP heavy-duty, cast-iron compressor has an oil pump for pressure lubrication to the crankshaft, bearings and connecting rod up to the wrist pins. The pressure-lubricated system allows for smoother continuous operation. Coupled with an attractive price, QP balances cost-effectiveness with longer life to maximize your investment.
Quincy QT(251CP80VCB, 251CS80VCB, 271CS80VCB, P2101CS12VCB, P2103DS12HCB, 2153DS12HCA, G213H30HCB, G214K30HCD)When it comes to energy consumption, the Quincy QT is an industry leader with the most cubic feet per minute brake horsepower, ensuring more air while consuming less energy in the production process. The unique valve design provides the highest volumetric efficiency available, and features a one-piece aluminum head, optimizing the strength and allowing for heat dissipation.
Quincy Single Stage Series (Q12120P, Q12126VP, Q13160VC)The Quincy Single Stage series offers versatility for both commercial and family farming applications, and is a perfect addition to any operation. There are both stationary and portable models available. Depending on the model, a single stage air compressor can provide a pressure between 110 and 135 psi, while two-stage compressors can deliver up to 175 psi. The Quincy Single Stage series compressors feature a cast iron cylinder, crankshaft and valve plate for strength and durability.
You can realize major cost savings when you run a completed compressed air system assessment for your agricultural air compressor. Check it out:
Full System Assessment for a Cost-Effective Operation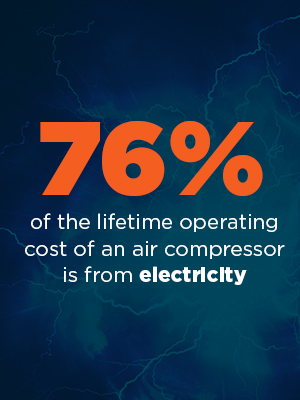 Improve your bottom line through energy assessments and upgrades that look at all areas of your compressed air system. Depending on the needs of your farm, you may spend a significant amount on energy consumption. By analyzing energy use on an annual basis, you can benefit from improved efficiency in various areas.
Considering that around 76 percent of the lifetime operating cost of an air compressor is from electricity, a complete compressed air system assessment will produce a number of options from eliminating air leaks to major system upgrades. By making some or all changes from a system analysis, the savings in energy can give you an attractive long-term return on investment.
Here is a brief list of some areas related to your compressed air system that could help you reduce energy costs on your farm.
Our Customers Say It All
Quincy provided the equipment choices we needed within our available budget. This is our 2nd Quincy unit that we have in our facility. I'm sure it will not be our last.
– Brian
Just a first-class piece of equipment. Works correctly out of the box. Well known reputation for quality machinery.
– Jim
Quality of a product and the excellent customer service. My first compressor was damaged due to shipping. Quincy was there to help and I received a replacement shortly after. Thank you!
– Clark
Pneumatic tools and accessories
Proper maintenance and operation of air tools is one of the simpler ways to improve efficiency. Changes could include:
Buying new tools that are appropriately sized for the application – not oversized and using more air than needed.
Ensuring operators are trained properly on efficient tool operation
Cleaning and adjusting tools properly for the application on a regular basis
Installing local pressure regulators adjusted to the lowest pressure needed for the job
Having dedicated storage at the end-use equipment to prevent pressure loss system wide
Implementing a preventive-maintenance plan to regularly check hoses and quick-disconnect fittings that are a common source of air leaks
Inappropriate end use
Eliminating wasteful applications of compressed air can offer quick savings with little expense. Some typical inappropriate uses are:
Unregulated and unnecessary blowoff
Cleaning work areas with compressed air
Leak detection and repair
Unplanned leaks in your compressed air system could be wasting a significant amount of air. Up to 30 percent of air produced has been attributed to leaking systems in industrial facilities that don't perform regular leak detection and repair checks. In one furniture factory, 55 leaks were detected with 90 to 95 percent of leaks happening in the pneumatic circuits – not in the lines.
Air storage
Short surges in air demand can be efficiently handled by properly sized air storage. This will reduce the frequent occurrence of wasting air through compressor unloadings. With pressure regulators and adequate storage – for an oil-flooded compressor: 4 gallons of storage for every 1 cfm of compressor capacity – you will be in the position to run a lean production line.
Equipment and controls
Upgrading your compressor or air system equipment may have you thinking about the major cost. While the price of new equipment and installation is certainly a considerable investment, it just may be the route you need to take for an efficient system. Even though you may have high upfront costs, the biggest expense of compressed air is mainly from the electricity needed to operate your compressed air system.
If you have an older system, you may not be getting the benefits of energy saving features like:
Automatic sequencing
Multiple stages of compression
Part-load controls – variable speed drive, turn valves, load/unload
Getting a thorough compressed air system assessment done will give you a plan to reduce your costs and have a more dependable production facility. Ideally, you'll be able to use existing equipment more efficiently and implement practices and procedures that will reduce unnecessary demand.