QP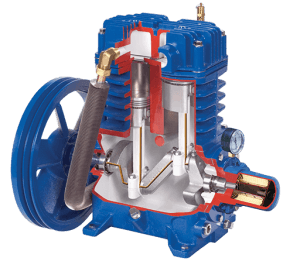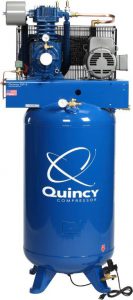 QP
QP 5-15 hp Industrial Duty Compressors
The Quincy QP series is designed for tougher 175 PSI applications where traditional splash lubrication just won't measure up. The QP is a heavy-duty, cast-iron compressor that features an oil pump for pressure lubrication to the crankshaft, bearings and connecting rod up to the wrist pins. This advanced pressure lubricated system allows for a smoother, more continuous operation. Coupled with an attractive price, the QP balances cost effectiveness with longer life to maximize your investment.
At a Glance
Fully pressure lubricated
Cast-iron crankcase, cylinder and flywheel
High efficiency intercooler
Positive displacement oil pump
Pro Unit
"Standard" configuration Units

Ball Valve Tank Drain
Auto Start/Stop 5-10HP
Dual Control 15HP

Shorter Lead Time-Stock Units
Extended Warranty Available

Two-Year Package and
Three-Year Pump vs. One-Year on configured units

Easier to Order – Preassigned Part Numbers
Up Close
5-15 hp, 175 psig maximum
Two Stage
Oil filter and pressure gauge
Automotive style inlet filter/silencer
Max Unit
"Fully Loaded" Units

Air Cooled After Cooler
Electronic Drain
Low Oil Protection
Vibration Isolators (Horizontal units only)
Auto Start/Stop 5 to 7.5HP
Dual Control on 10-15HP

Extended Warranty Available

Two-Year Package and Three-Year Pump vs. One-Year on configured units

Easier to Order – Preassigned Part Numbers
An Advanced Solution for Industrial Compressed Air
The QP series of industrial duty compressors has been engineered from the ground up to deliver exceptional performance. Cast iron cylinders offer rigidity, while an aluminum head provides effective heat dissipation, leading to an overall more efficient machine. Industrial-class bearings have been selected for their long service life. An oversize oil reservoir and high-efficiency fin and tube intercooler minimizes the risk of overheating.
Overall, the QP reciprocating piston compressor is the product of advanced design put into action. The unit's fan-type cast-iron flywheel and counter-weighted crankshaft have been electronically balanced to ensure smooth, trouble-free operation, shift after shift. A proprietary stainless steel valve design delivers some of the highest volumetric efficiencies on the market. Together, these and other features deliver a machine that can be counted on for up to 15% longer life than a splash lubricated compressor, with no compromise in power or performance.
Built Tough for Dependable Service
At Quincy Compressor, we know that, whatever industry you're in, reliable performance from an air compressor is essential. Sudden breakdowns and extensive maintenance requirements can easily eat into your productivity, costing you money and jeopardizing project goals. That's why we've engineered our industrial duty compressors to be more dependable, even in the most demanding applications.
The QP series of reciprocating piston compressors features an advanced lubrication system that keeps oil flowing to critical parts, eliminating the risk of metal-on-metal contact that can quickly shut down work and reducing wear on sensitive components. As a result, not only do you avoid costly damage, you also enjoy extended service intervals that keep your crew working better for longer.
Choose the Compressor That's Right for You
The QP reciprocating piston compressor is available in multiple configurations to suit a wide range of commercial needs. Choose from several different tank, engine and accessory combinations for a complete compressor air solution. Our standard configuration — the Pro — is a durable platform featuring an ODP slow-speed motor with overload protection and a ball valve tank drain.
Upgrade to the Max package and add features such as an electronic drain tank, low oil pressure shutdown, air cooled aftercooler and more. Both Pro and Max configurations are available with a one- or three-phase, 5, 7.5, 10 or 15 HP motor. Download the free product brochure for more information, or speak with a Quincy Compressor representative directly for assistance.
Backed by a Warranty You Can Trust
Like all Quincy industrial duty compressors, the QP series is backed by some of the best warranty coverage in the business. The NO BULL Extended Warranty is available on the PRO and MAX configurations. Buy the compressor, buy the associated extended warranty kit and double the package warranty to two years and the pump warranty to three years. The extended warranty kit includes all you'll need for your compressor's regular maintenance during the next three years.