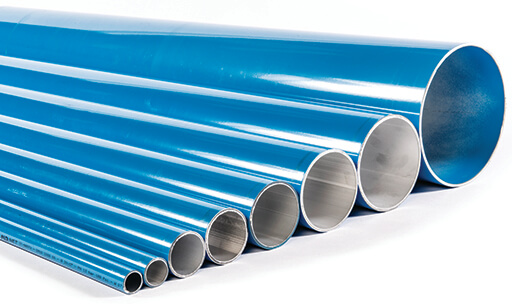 Air System Piping
AIRnet is an advanced piping system that offers ease of installation, reliable performance, and substantial energy savings over traditional piping materials. Total cost of ownership is dramatically less expensive than traditional systems where leaks and corrosion over time can impact system efficiency, air quality, and system reliability.
AIRnet is offered in a wide variety of sizes to accommodate virtually all installation needs and pressure requirements. AIRnet is not simply a compressed air piping system it also holds industry ratings to be ideally utilized in compressed air, vacuum, and inert gases applications. AIRnet is a viable solution to accommodate a wide variety system requirements.
When compared to traditional piping installations AIRnet displays a dynamic advantage in installation time and cost. The AIRnet system is designed to provide maximum airflow and reliable performance. Backed by a 10-year product warranty and unparalleled customer support. AIRnet is stocked in large quantities at our US distribution center ensuring product availability.
Pipes 20 (3/4″) – 25 (1″) – 40 (1 1/2″) – 50 (2″) – 63 (2 1/2″) – 80 (3″) – 100 (4″) – 158 (6″) MM
| | | |
| --- | --- | --- |
| Applications | Compressed Air and Vacuum | Standard |
| Additional Gasses | Nitrogen, Helium, Argon, Neon, Xenon, and Krypton | |
| Material | Extruded aluminum alloy 6063 T5 | ASTMB241 |
| Safety Factor | 4 for all diameters (burst pressure) | |
| Working Pressure | Max 232 psig | Calculated according to ASME B31.1 |
| Working Temperature | -4°F to 176°F | |
| Vacuum Level | 0.189 psia (29.5 HgV) | |
| Dew Point | Lowest allowable pressure dew-point is -94°F | |
| Outside Treatment | Polyester powder paint (QUALICOAT certified) | |
| Inside Treatment | Chrome free conversion treatment | |
| Colors | Blue RAL 5012 and Green RAL 6018 (only 3/4″-1″) | |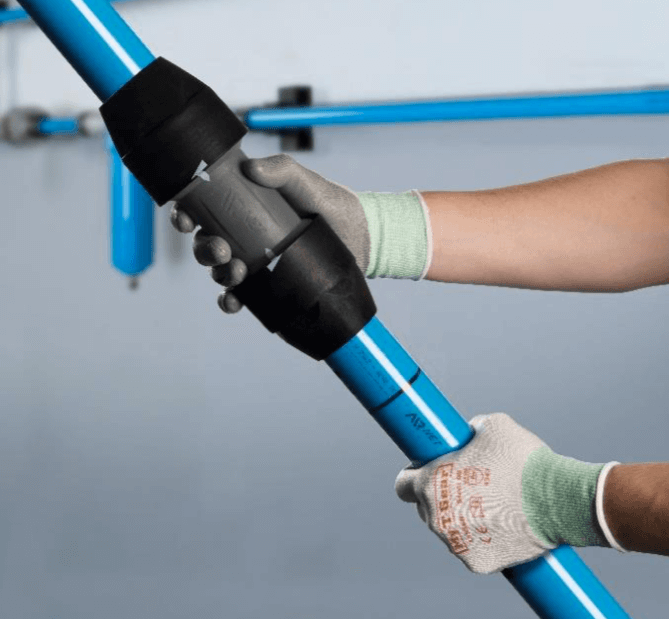 AIRnet is Reliable, Safe, and Maintenance Free
Sustainability
Optimized inner body design minimizes flow resistance and pressure drop in the fittings
Low friction factor and seamless connections minimize pressure drops in the pipe network
Superior sealing technology ensures a leak free system and maintains performance over time
Durable and corrosion resistant materials offers a maintenance free system
Safety
Safety factor of 4 for all diameters (burst pressure)
Camera control and automatic assembly guarantee zero defect manufacturing
Plastic components and pipe clips comply to UL 94 HB and UL 94 V-2 for flammability
Torque indicators ensure sufficient torquing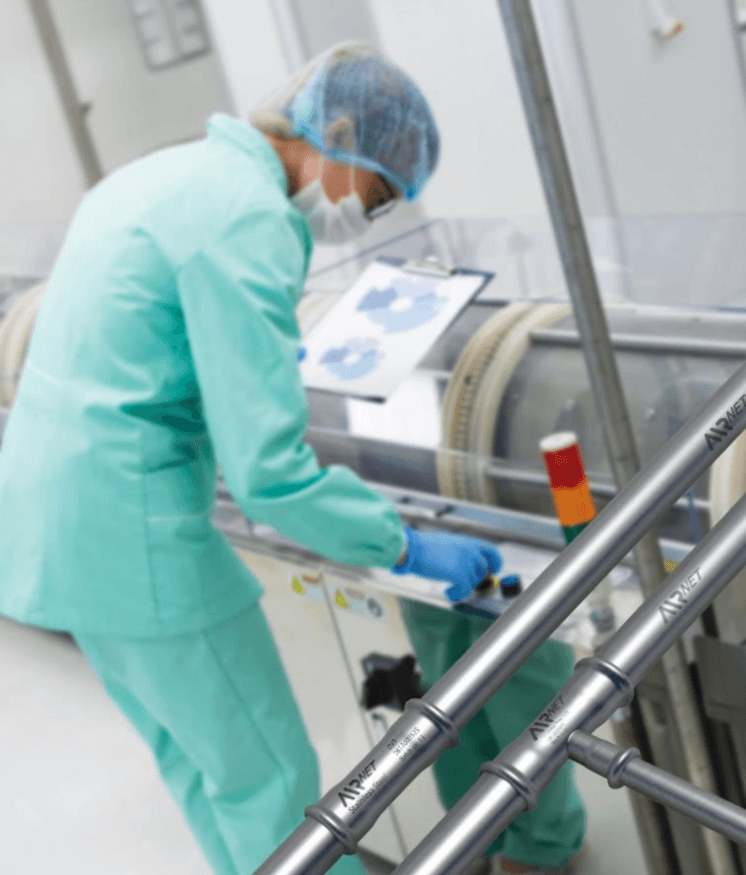 AIRnet Stainless Steel
AIRnet will launch the new Stainless Steel line in 2018. This new addition provides additional options to the medical and food & beverage manufacturers where air quality standards must meet the highest levels of purity.
Quincy is excited to introduce the new AIRnet Stainless Steel line in multiple sizes. The product is available in both 304L and 316L Stainless Steel. The press fit technology combined with the FKM sealing material ensure a leak proof system that can withstand harsh caustic conditions and still deliver premium performance.
AIRnet is a durable lightweight option that is modular to allow for increased design options on an existing system. Quick and secure connections ensure a leak proof system that is watertight up to 4X's the working pressure. This combined with the internal surface coating allows the system to operate at lower pressures and still deliver the needed supply at the point of use.
Product Range
Pipes SS304L: D15 (1/2″), D28 (1″), D42 (1 1/2″), D54 (2″), D76 (2 3/4″), D89 (3 1/2″), D108 (4″)

Pipes SS316L: D15 (1/2″), D28 (1″), D42 (1 1/2″)

Applications
Compressed Air, Nitrogen, Vacuum…
Material
Stainless Steel AISI 304L 1.4301

Stainless Steel AISI 316L 1.4404

EN10088

ASTM A666

Safety Factor
4, Burst pressure > 64 Bar (>928 PSI)
Working Pressure
16 Bar (232 PSI)
Working Temperature
-20°C to 120°C (-4°F to 248°F)
Vacuum Level
20 mbar (0.29 PSI) abs
Dew Point
Lowest allowable pressure dew point is -70°C (-94°F)
Treatment
Annealing

AIRnet Resources
For large scope projects Quincy Compressor has the capability to develop 2D or 3D CADD design drawings to represent your system and ensure accurate bill of material generation. For more information please email us at AIRnet@quincycompressor.com.
Please download our AIRnet product brochures to see our full product line as well as, useful product and assembly information. For additional product information or to find an authorized dealer in your area contact Quincy Compressor or email us at AIRnet@quincycompressor.com. We aim to ensuring that you gain better understanding of the key features and benefits of AIRnet.
Let us explain how AIRnet can help you!