ECONTROL+ allows you to monitor 10 compressors regardless of brand with our new central controller. Capabilities of the ECONTROL+ expand beyond the compressors to include, dryers, PDP sensors, flow meters, and inline filters. This provides full visibility of the compressor room. The ECONTROL+ is also embedded with ICONS which can remotely monitor the health of all your connected equipment maximizing uptime and productivity reducing unplanned down time and expenses.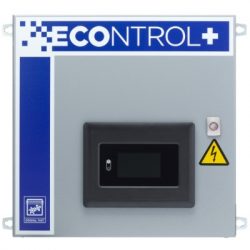 Benefits of ECONTROL+
Synchronized Preventative Maintenance Visits – Saves you money by reducing the number of service interventions
Lower Energy Costs – Reduced pressure band significantly reduces energy consumption (7% for every 14.5 Psi).
Reactiveness to Breakdowns – Compressors adapt to make sure there is no down time.
Ease of use – Customer can monitor the status of all machines from one controller screen.