Single Stage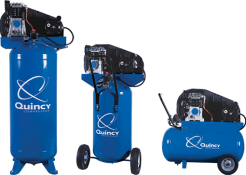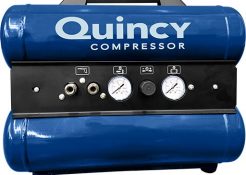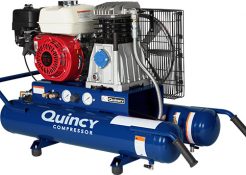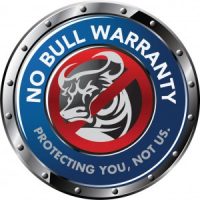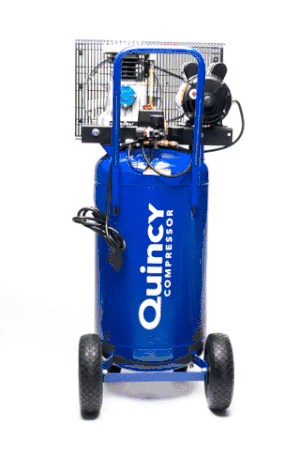 Single Stage
Single Stage Units Stationary & Portable Compressors
A single-stage air compressor works by drawing air into the compressor's cylinder, where it is then compressed with a single stroke of a piston and sent to a storage tank. This differs from a two-stage air compressor where, after the initial compression, the air is delivered to another high-pressure piston via a specially designed intercooler tube for a second compression. Depending on the model, a single stage air compressor can provide a pressure between 110 and 145 psi, while two-stage compressors can deliver up to 175 psi.
At a Glance
Single-stage
Start/stop pressure switch
Cast iron cylinder & crankshaft
Aluminum head
Fully enclosed belt guard
Up Close
4 to 12.4 acfm @ 100 psig
110 to 145 psi working pressure
ASME safety valves
Manual tank drain
One-Year Warranty
Quincy Single Stage Key Features
As the title indicates, single-stage air compressors work by pulling air into the machine's cylinder and compressing it with one piston stroke. The compressed air then travels to a storage tank for future use in manufacturing and industrial operations.
Quincy Compressor is your best source for single-stage air compressors designed for maximum productivity and efficiency. We were the first company to manufacture fully pressured and lubricated reciprocating models more than 80 years ago, and we've continued to set the industry standard for quality, performance and reliability.
Our selection includes stationary and portable air compressor models equipped with numerous advanced features:
Innovative stainless steel valve design for maximum strength and durability
Electronically balanced cast-iron flywheel that increases airflow for improved cooling efficiency
Graphite cylinder and gasket heads for enhanced torque retention and sealing integrity
High-quality bearings for maximum product longevity
Extra-large oil-reservoir to maintain low oil temperature
Our single-stage air compressors have numerous industrial applications. Use them for spray painting, providing compressed air to woodworking shops, manufacturing plants and auto repair facilities.
Durable Construction and Powerful Performance
We offer an assortment of single-stage reciprocating piston models to meet a wide variety of needs. Products are available that can deliver pressure from 110 to 145 psi. You'll find various tank sizes for our portable models to serve specific compressed air storage requirements. You can also choose a stationary Quincy 60-gallon air compressor.
We manufacture these compressors in the USA to meet the highest standards for quality and durability. With rugged materials like cast iron and stainless steel, you can feel confident that your equipment can meet any challenge.
Single-Stage/Splash Lubricated/Electric Technical Specs
| | | | | | | | | | |
| --- | --- | --- | --- | --- | --- | --- | --- | --- | --- |
| Model | HP | Style | Max PSI | ACFM @ 100PSI | Voltage | Phase | Tank Size | Tank Config. | Weight lbs. |
| Q12120PQ | 2 | Portable | 135 | 7.1 | 115V | Single | 20 gal. | Horizontal | 155 |
| Q12126VPQ | 2 | Portable | 135 | 7.1 | 115V | Single | 26 gal. | Vertical | 165 |
| Q13160VQ | 3.5 | Stationary | 135 | 12.4 | 230V | Single | 60 gal. | Vertical | 261 |
| G15H8WQ | 5.5 | Portable | 145 | 9.5 | N/A | N/A | 8 gal. | Wheelbarrow | 143 |
| Q1214TS | 2 | Portable | 135 | 4 | 115V | Single | 2 x 4 gal. | Hand Carry | 72 |
Explore Your Quincy Single-Stage Air Compressor Options
The Quincy single stage reciprocating air compressor lineup includes:
Q13160VQ: This Quincy 60-gallon air compressor is a stationary 3.5 hp model that can deliver 12.8 cfm at 90 psi and 14.6 cfm at 40 psi. The belt-driven pump features aluminum construction and a cast-iron sleeve. This is a splash lubricated single stage air compressor system with oil lubrication. The low RPM ensures a quiet, cool operation, and the aluminum head enables the compressor to operate efficiently at lower temperatures. Other key features include easy-to-read pressure gauges and ASME safety valves.
Q12126VPQ: The Q12126VPQ is a portable 26 gallon 2 hp single stage reciprocating air compressor with a 135 psi capacity. This 115 volt vertical air compressor is equipped with an oil-lubricated pump and a cast iron pump housing and is designed to provide in excess of 10 thousand hours of pump life. The Q12126VPQ delivers 8.3 cfm at 40 psi and 7.4 cfm at 90 psi. This model is available in electric-powered versions and also includes low RPM for cool, quiet operation.
Q12120PQ: Another portable single stage air compressor option, the 20-gallon Q12120PQ is ideal for smaller do-it-yourself and commercial applications. It also offers the lowest price of the Quincy single stage air compressor line. Its air delivery capabilities are 8.3 cfm at 40 psi and 7.4 cfm at 90 psi. Other features include an oil-lubricated, belt-driven pump with aluminum construction and a cast iron sleeve, low RPM and easy-to-read pressure gauges.
G15H8WQ: The G15H8WQ is a wheelbarrow, gas driven single stage reciprocating air compressor. It is run by a 5.5 HP Honda engine. This compressor delivers 11.1 cfm at 40 psi and 9.5 cfm at 90 psi. The splash lubricated pump features aluminum construction for heat dissipation and a cast-iron sleeve.
Q1214TS: The Q1214TS is a Twin-Stack, portable air compressor. This splash lubricated pump is run by a 2 HP direct 4 Pole Induction Motor. The air delivery is 4.4 cfm at 40 psi and 4 cfm at 90 psi.
Maintaining Your Single-Stage Air Compressor With Genuine Quincy Parts and Fluids
You want your compressor to have a long life span with minimal mechanical issues. Regular maintenance is essential for keeping these hardworking machines in peak operating condition and maximizing their durability.
Quincy Compressor carries all the parts and fluids you'll need to make upgrades and provide timely service. These genuine Quincy Compressor products can ensure the best results when servicing your air compressors. Our extensive distributor network is also available to support your maintenance and repair efforts.
Your Compressor Comes With Warranty Coverage
You can protect your Quincy single-stage air compressor investment by taking advantage of our comprehensive warranty coverage. These products come with a standard one-year factory warranty that gives you peace of mind.
If you want extra protection, consider purchasing our cost-effective "No Bull" plan. This warranty doubles the package program to two years and increases the pump warranty to three years. You'll save up to 15% on the cost of purchasing each component separately. You can get the coverage at the time you buy your new compressor.
Explore Your Single-Stage Compressor Options Today
Take the next step to improving compressed air performance in your manufacturing operation. Contact a Quincy Compressor distributor near you to get help choosing the best stationary air compressor for your applications and budget. We can also provide a fast, no-obligation quote and arrange a convenient delivery.