Reciprocating: Single Stage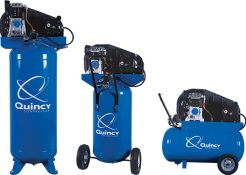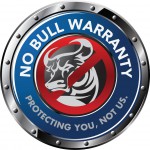 Single Stage Units 2 & 3.5 hp Stationary & Portable Compressors
A single-stage air compressor works by drawing air into the compressor's cylinder, where it is then compressed with a single stroke of a piston and sent to a storage tank. This differs from a two-stage air compressor where, after the initial compression, the air is delivered to another high-pressure piston via a specially designed intercooler tube for a second compression. Depending on the model, a single stage air compressor can provide a pressure between 110 and 135 psi, while two-stage compressors can deliver up to 175 psi.
Quincy Compressor Offers the Best Single Stage Air Compressor Products
Quincy Compressor's Single Stage series is the perfect compressor for commercial applications and do it yourself (DIY) projects around the home or garage. Single Stage series compressors feature a cast iron cylinder, crankshaft and valve plate for strength and durability. The aluminum head and design of the fins help to dissipate heat to keep the compressor running as cool as possible for longer life. Single Stage piston compressors are 100% factory tested at full pressure and shipped with ISO-150, SAE 40 weight lubricant.
At a Glance
Single-stage
Start/stop pressure switch
Cast iron cylinder & crankshaft
Aluminum head
Fully enclosed belt guard
Up Close
7.1 to 12.4 acfm @ 100 psig
110 to 135 psi working pressure
ASME safety valves
Manual tank drain
One-Year Warranty
Single-Stage/Splash Lubricated/Electric
| | | | | | | | | | |
| --- | --- | --- | --- | --- | --- | --- | --- | --- | --- |
| Model | HP | Style | Max PSI | ACFM @ 100PSI | Voltage | Phase | Tank Size | Tank Config. | Weight lbs. |
| Q12120PQ | 2 | Portable | 135 | 7.1 | 115V | Single | 20 gal. | Horizontal | 155 |
| Q12126VPQ | 2 | Portable | 135 | 7.1 | 115V | Single | 26 gal. | Vertical | 165 |
| Q13160VQ | 3.5 | Stationary | 135 | 12.4 | 230V | Single | 60 gal. | Vertical | 261 |
Explore Your Quincy Single-Stage Air Compressor Options
The Quincy single stage reciprocating air compressor lineup includes:
Q13160VQ: This Quincy 60-gallon air compressor is a stationary 3.5 hp model that can deliver 12.8 cfm at 90 psi and 14.6 cfm at 40 psi. The belt-driven pump features aluminum construction and a cast-iron sleeve. This is a splash lubricated single stage air compressor system with oil lubrication. The low RPM ensures a quiet, cool operation, and the aluminum head enables the compressor to operate efficiently at lower temperatures. Other key features include easy-to-read pressure gauges and ASME safety valves.
Q12126VPQ: The Q12126VPQ is a portable 26 gallon 2 hp single stage reciprocating air compressor with a 135 psi capacity. This 115 volt vertical air compressor is equipped with an oil-lubricated pump and a cast iron pump housing and is designed to provide in excess of 10 thousand hours of pump life. The Q12126VPQ delivers 8.3 cfm at 40 psi and 7.4 cfm at 90 psi. This model is available in electric-powered versions and also includes low RPM for cool, quiet operation.
Q12120PQ: Another portable single stage air compressor option, the 20-gallon Q12120PQ is ideal for smaller do-it-yourself and commercial applications. It also offers the lowest price of the Quincy single stage air compressor line. Its air delivery capabilities are 8.3 cfm at 40 psi and 7.4 cfm at 90 psi. Other features include an oil-lubricated, belt-driven pump with aluminum construction and a cast iron sleeve, low RPM and easy-to-read pressure gauges.
Warranty Options
NO BULL Extended Warranty Option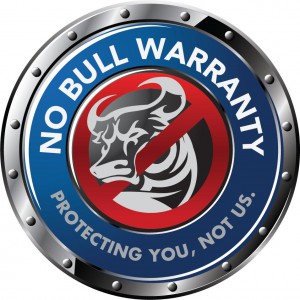 – Buy the compressor, buy the associated extended warranty kit at the same time and double the package warranty to two years and the pump warranty to three years. The extended warranty kit includes all that you'll need for your compressor's regular maintenance during the first three years. Save 10-15% more than buying items individually AND triple your warranty when you purchase, register and use this kit! Quincy's extended warranty offers this industry-leading program on all three of its single-stage models.
Standard One-Year Warranty – Every Quincy Compressor single stage product comes warranted for a full year, standard from the factory.