Total Customer Value – A Way of Life
Today's economic conditions and competition requires Quincy Compressor to quicken the pace of continuous improvement and move business products and processes to the next level. Total Customer Value (TCV) provides the tools and resources which allow each and every employee to respond to customer requirements and continually improve the operation every day.
Today, Quincy Compressor is transforming itself into a global organization, with every product receiving major upgrades, as well as undertaking an aggressive focus on cost reductions through value engineering and global sourcing.
Total Customer Value, Lean Manufacturing Techniques and a fervent commitment to employee involvement have and will continue to be the centerpiece of the improvement strategy at Quincy.
"TCV is a culture driving every employee to be responsible for waste elimination and process improvement in order to completely satisfy our customers."
– Tracy Rademan, Quincy Compressor
Each employee receives 24 hours training in Lean Manufacturing Techniques so they can recognize and help eliminate waste in their work areas.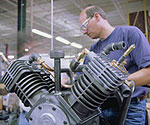 "We have focused on Continuous Flow Manufacturing (CFM) activities at the Bay Minette plant since the early 1980's. Over this time period, traditional process areas have evolved into agile value streams. Broad product mix with multiple option variables has necessitated highly flexible manufacturing systems in a strictly 'Build-to-Order' environment."
– Chris Knuffman, Quincy Compressor