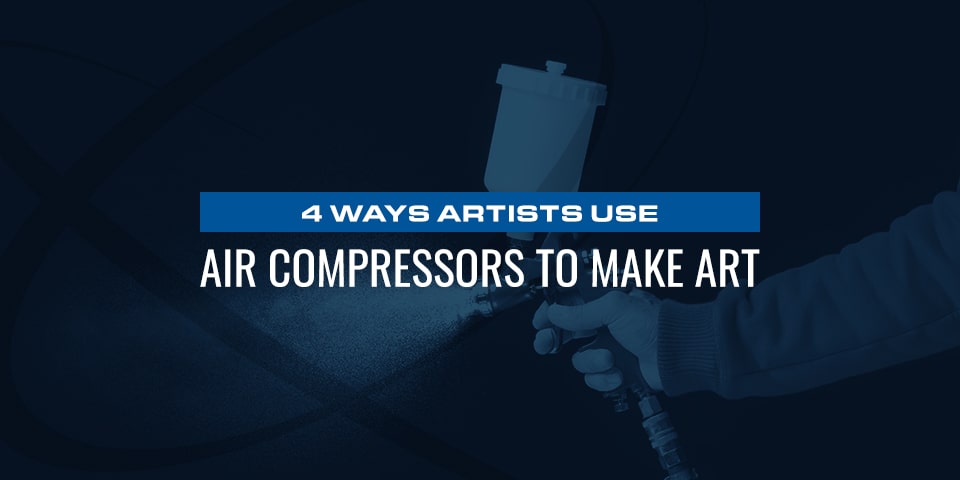 4 Ways Artists Use Air Compressors to Make Art
Compressed air is an essential power source for industrial machinery, from agriculture to factory equipment. But air compressors are also the secret weapon of everyday household tasks, like sandblasting and pressure washing.
Air compressors are especially beneficial for jobs requiring a high level of control over airflow and air pressure, like tattooing or airbrushing. You can use air compressors for art and craftwork, including painting and cleaning up your crafting area. They're also compact and light, making them easy to travel with for artists on the move.
1. Air Compressors for Fluid Art
Painters or fluid artists use air to create abstract details and shapes on the canvas using hairdryers, straws or aerosol cans. Many fluid artists turn to air compressors for better control over airflow and pressure, especially when creating less abstract shapes like petals, waves and other objects.
First, a painter will cover their canvas with a base layer of paint, which is usually white. Then, they'll drop another color onto the canvas and use their air tool to fan the shock of color into abstract shapes. The artist can move around the canvas to create elaborate designs, like swirls, flower petals, ocean waves, marbled effects and more. Once the canvas has dried, many artists outline their art with paint or markers to bring the pattern or object to life.
Fluid artists love to use air compressors because these machines are lightweight and provide perfect precision with different air nozzles and start/stop control systems.
2. Air Compressors for Tattooing
A pneumatic tattoo gun is the preferred tool for a quiet inking session. It's quieter than rotary and coil tattoo guns, making it easier for artists to chat with their clients while they work. An air compressor also offers the speed, pressure and airflow precision necessary to create detailed artworks. Air compressors also come with several accessories to achieve different ink effects and results.
A pneumatic tattoo gun is lightweight enough to be comfortable in an artist's hand for extended inking sessions. These options are compact for travel and make for easy cleanup compared to the handwashing techniques necessary for rotary and coil tattoo machines.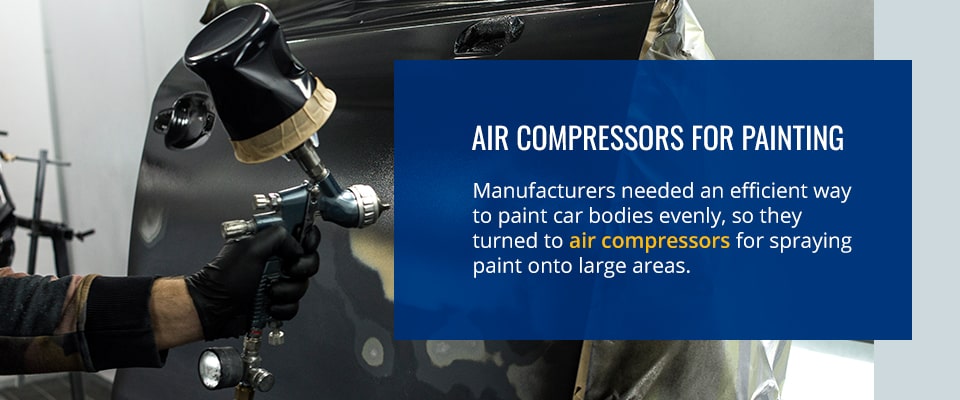 3. Air Compressors for Painting
Airbrushing or painting with an air compressor began in car paint shops. Manufacturers needed an efficient way to paint car bodies evenly, so they turned to air compressors for spraying paint onto large areas. An air compressor provides fast, even coats of paint on various surfaces, from machinery to apparel.
An air compressor is an artist's or handyman's go-to tool whenever there's a large surface area that needs to be quickly and evenly coated with paint. An air compressor can evenly cover interior and exterior walls, cars, machinery and more.
4. Air Compressors for Airbrush Art
Though airbrushing originated in car paint shops for conducting quick, efficient paint jobs, it has since expanded into an art form of its own. Unlike a paintbrush, an airbrush won't leave behind bristle strokes or air bubbles. Airbrushes are great for creating smooth shading transitions that add depth and dimension to any piece of art, whether it's pottery, a T-shirt or a cake.
Airbrush artists use different nozzles and accessories to create anything imaginable. Like fluid and tattoo artists, airbrush artists rely on air compressors for their start/stop airflow and pressure control systems. Air compressors are also easy to clean and disassemble, which is especially crucial for airbrush artists if they travel for their work or operate from a kiosk.
Try out Air Compressor Art With Quincy Compressors
As an artist who relies on compressed air as a power source, you need reliable, easily controlled equipment. Whether you're a tattoo artist, an airbrusher or another kind of artist, Quincy Compressor offers high-quality air compressors with the air pressure control and start/stop systems necessary to create complex and detailed works of art. Learn more about selecting a suitable air compressor for your unique application.
Contact your local dealer today if you're looking for a lightweight, efficient pneumatic air compressor to increase uptime.