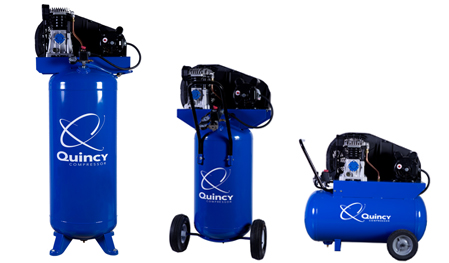 In both home and commercial applications, one of the main roles of an air compressor is to provide power for pneumatic tools. Pneumatic tools include drills, impact wrenches, riveters, sanders and more — in fact, almost any conventional powered hand tool is available in an air-powered configuration.
Manufacturing facilities, automotive shops and other environments where safety, reliability and performance are key all rely on pneumatic tools. Recent years have seen more hobbyists begin to use them as well, leading to an increase in the number of affordable air compressors for pneumatic tools available on the market today.
Benefits of Pneumatic Tools
Compared to electric units, there are a number of advantages to using air tools in your operation. Air powered tools:
Are far more convenient — They require no batteries or external power source and, as long as your compressor is operational, your team can continue working at full capacity all shift long.
Have a better power-to-weight ratio — They can deliver superior torque and more revolutions per minute than electric tools of comparable sizes.
Are lighter and easier to handle, while delivering superior performance — This is just one of the reasons they have long been the preferred choice for heavy-duty applications.
When it comes to versatility, air powered tools are the clear choice. Standardized attachments allow you to switch between devices and attachments with ease, saving time on the production floor and improving your team's productivity. Because of the smaller size of air powered tools, your team can also store more devices when space is limited.
Choosing the Right Compressor
Ultimately, air powered tools are only as effective as the compressor that's driving them. Here's what you need to know to make an informed purchase of an air compressor for pneumatic tools:
Most air tools require a pressure level of 90 PSIG to operate properly. Running at pressures below that can cause them to work inconsistently or not deliver the power expected of them.
Pneumatic air compressors are also rated by CFM, or cubic feet per minute — a measure of the amount of air they can produce at a given pressure level. A higher CFM rating means more tools can be operated at once.
The cost of running your compressor is by far the largest expense involved in using air powered tools. Choosing the most efficient unit available — so long as it provides sufficient power for your needs — is the best way to save money on an ongoing basis.
Air Powered Tools for Home Use
Pneumatic tools used to be almost exclusively for industrial purposes. In recent years, however, more hobbyist mechanics, painters and woodworkers have recognized the value of air power and made the investment in a compressor for their home.
If you're in the market for a small, portable compressor for pneumatic tools, Quincy can help. For almost a century, we've been the professional's choice in compressed air. We have a number of products available at all configurations and price points, and can match you with the right size compressor for your air tools. Find out more by contacting a sales and service locator line in your area or requesting a consultation through our Quincy Concierge program.