Benefits
Compensation & Benefits
Quincy Compressor offers a competitive compensation and benefit package. Through this package, we aim to assist our employees in all areas of life: physical, financial and personal wellness.
Base Pay
No matter what the position, the success of our employees is extremely important to us. When you join our team, your base pay is determined by your experience. We encourage career development, which is why we prefer to promote from within when the opportunity is available. We also perform annual performance reviews to ensure employees and managers are committed to continued success.
Health Care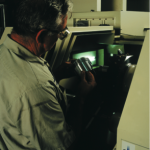 Medical – We offer a medical insurance program to all of our employees that covers preventative services and major medical procedures.
Dental – Coverage is provided for preventative, basic and major services. Orthodontic coverage is available to employees and dependents under the age of 19.
Prescription – Both acute and maintenance prescription drugs are covered as part of the medical plan. All medical plans offer the same prescription drug program. Mail-order prescriptions are also available.
Flexible Spending Accounts – Employees may set aside pre-tax dollars through payroll deductions to pay for certain anticipated health and dependent care expenses that are not covered by the company insurance   program or otherwise reimbursed. Eligible expenses included deductibles, co-payments, eye glasses and over-the-counter products.
Insurance
Life – A basic life insurance policy of one and one-half times your base salary (minimum of $50,000) is provided to all employees at no cost to the employee. Optional life insurance, up to four times your base salary, may be purchased. Dependent life insurance to protect your spouse and children may also be purchased.
AD&D – To help protect your family from the loss of income in the event of a serious injury or death, the company also provides an AD&D policy in the amount of one and one-half times your base salary (minimum of $50,000). Optional coverage may be purchased for yourself and your dependents.
Disability – If you become disabled while employed at Quincy Compressor, disability insurance exists: Short Term Disability and Long Term Disability.
Business Travel – When you travel on company business, extra protection is provided.
Miscellaneous Programs
Vacation – Vacation is earned based on the number of full months you have worked.
Holidays – Quincy Compressor currently offers 12 company paid holidays, including a paid shutdown period between Christmas and New Year's.
Employee Programs – Quincy Compressor offers a variety of programs to enhance our employee's lives through education, training and reward programs.
Retirement & Savings
401K – The 401(k) program offers an excellent way to save for retirement and other future needs conveniently and profitably. A portion of the funds set aside into the 401(k) account is matched by Quincy Compressor. You may invest in a variety of different funds, up to a total of 25% of your pre-tax income and 25% of your post-tax income.