In an effort to support the community, Quincy Compressor is donating two compressors to two local fire departments. The Perdido Alabama Fire Department and the Loxley Alabama Fire Department, which are the two closest volunteer fire stations to our facility, will receive two QT-5 air compressors as a "thank you" for keeping our community safe.
The QT-5 MAX package Air Compressor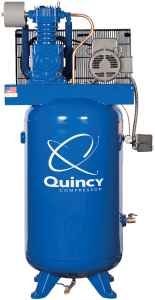 Our QT models are reciprocating air compressors with the most ACFM per brake horsepower in the industry. These compressors use less energy to produce more air than other types. They're also significantly more durable and reliable. Designed and manufactured in the United States, Quincy QT compressors have long-lasting parts and features, such as:
Technologically advanced motors
High-quality pressure switches
Aluminum heads for cooler operating temperatures
Manual ball valve-type tank drains
Cast-iron crankcase
Cast-iron cylinders
50,000-hour bearing life for increased efficiency
Thanks to these features, the Perdido and Loxley fire departments will access reduced energy consumption, lessened downtime, more reliable performance and a more affordable cost of ownership overall when they use our QT-5 air compressors.
How Air Compressors Can Benefit Fire Departments
Air compressors can benefit fire departments in several ways. For example, firefighters can use them to inflate tires on the fire trucks, complete general maintenance items and perform tasks such as sanding, painting and more. The Perdido and Loxley fire departments could find various uses from these units, improving their operations even further.
Contact Quincy Compressor for More Information
At Quincy Compressor, serving our community is at the top of our list of priorities. We believe a company that gives back will make an impact on more than just our customers. Contact us for more information about this donation, as well as the other efforts Quincy Compressor makes to give back to those who serve us on a daily basis.