If you operate a business that uses compressed air, we have the solutions you need. The Southern California Quincy Compressor location is Anaheim's direct source for sales, service and support for our complete product line.
Air Compressors in Orange County
Where there's a tough job, there's a Quincy air compressor. Our products are made to handle industrial-size applications in challenging environments. They are the first choice for businesses operating in some of Anaheim's most productive industries, including:
Oil and gas
Automotive
Construction
Manufacturing
Food and beverage
Dry cleaning and laundry
Transportation and utilities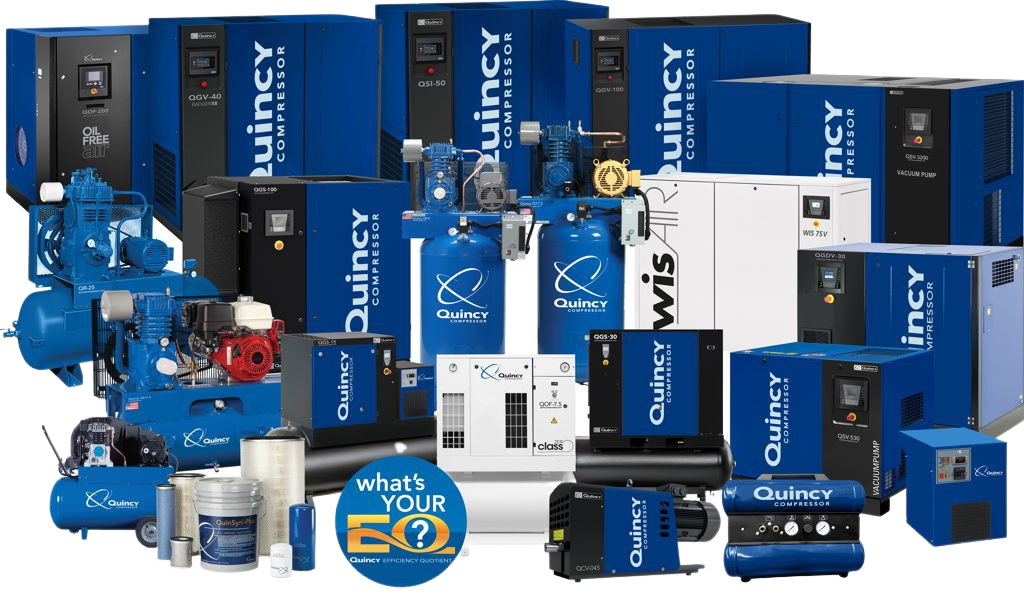 Industrial-Strength Air Compressors for Sale in Orange County
Our product line is rugged and reliable, and we have solutions to meet your needs. We manufacture an incredible lineup of compressed air and vacuum solutions that serve the market with exceptional power and performance.
At the Quincy Compressor serving Anaheim, we have a team of experienced, knowledgeable representatives who take the time to listen to your goals and requirements. They'll work to help you determine which of our systems provides the optimal choice for your business and budget.
The full catalog of dependable products we offer includes:
In addition to our new air compressors in Orange County, we also have all the products you need to get more from your system and keep it in peak condition. Browse our inventory of genuine Quincy parts and fluids, AIRnet air piping systems and energy-efficient system upgrades to learn more.
Air Compressor Repair in Orange County
When you use Quincy compressed air systems for your business, you benefit from high-quality machinery made in the USA. You also get 24-hour on-call air compressor repair in Orange County and the Anaheim area from our trained technicians.
We offer several affordable service plans that put your equipment's ongoing care in our hands, including preventive maintenance and rapid air compressor repairs in the Orange County region. Our team can help you select which program will provide you with the greatest value.
Available service plans for Quincy air compressors in Orange County include:
Fixed Price: Our Fixed Price Services are tailored to your unique needs to provide you with all-in-one maintenance and repair solutions at a set cost.
Parts Guardian: Parts Guardian plans keep you supplied with the Genuine Quincy parts necessary for scheduled maintenance, delivering components on time and at a locked price.
Extended Guardian: With an Extended Guardian plan, you'll get an additional five-year warranty plus equipment restoration and revitalization services along the way.
Preventive Guardian: The Preventive Guardian plan will help you take advantage of up to 16 more days of lifetime system production through affordable and proactive care.
Get in Touch With the Southern California Compressor Experts
Talk to our team to learn more about our products and services. We'll guide you through the entire process to ensure your system meets or beats all your expectations and delivers a solid return on your investment.
Use our contact form to connect with our Anaheim-area location, or call 888-788-6678.