Countless businesses of all sizes in farming and agriculture, manufacturing, the automotive sector, food and beverage, and other demanding industries rely on compressed air systems. At the Quincy Compressor store near Arlington, Texas, we help them meet and overcome challenges of any complexity with sales, service and support for our entire product line.
Quincy compressors provide heavy-duty power and reliable performance. They are a lasting investment designed to last for years and come backed by some of the most extensive warranties available throughout the industry. Our team will help you find a cost-effective solution that matches your needs and ensures you experience maximum uptime.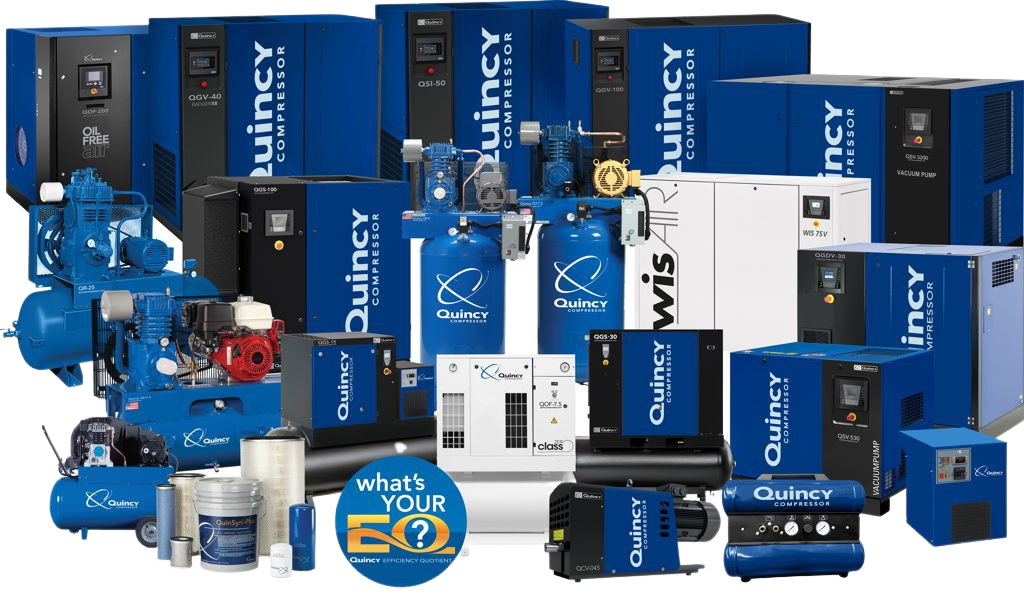 We Have an Extensive Selection of Air Compressors Available in Arlington, Texas
With over 100 years of experience, we know what businesses need. We over-deliver with a diverse range of type and model compressors that are up for any task. The full Quincy product line includes:
Your Quincy air compressor company location outside Arlington, Texas, also carries aluminum system piping and genuine parts and fluids for conducting scheduled services for the different systems we produce. Our knowledgeable air experts will help you find everything you need to match all your specific requirements. Have a unique scenario? Talk to us about a custom design.
Your Partner for Expert Air Compressor Repair Throughout the Arlington Area
If there's a Quincy system powering your productivity, we'll help you keep it working in optimal condition with professional maintenance services and repairs. Our technicians have the training and skill to work on our entire line and always use genuine parts and fluids. You can request mobile assistance anywhere in the area 24 hours a day.
We also offer a selection of preventive maintenance agreements that make it easy to stay on top of system scheduled care while sticking to a budget. Our maintenance plans offer significant advantages, including more uptime and cost savings. Browse our compressor care options or ask the experts at the Quincy Compressor near Arlington to learn more.
Speak to a Quincy Compressor Representative in Texas
Our products and services are ready to go above and beyond for your business, and our team is happy to show you what we can do for you. Reach out to us today to get started using our contact form, or call 214-688-1677.