Quincy Compressor recently acquired the Midstate Air Compressor location in Berlin. We are a dedicated air compressor supplier that works with multiple industries, including aerospace, food and beverage, manufacturing and energy. Our quality systems can meet the demands of any operation.
If you are looking for air compressors in Berlin, CT, Quincy Compressor is here to help. We carry a comprehensive line of air compressors and other industrial equipment. Now, we can offer our services to the Berlin area and help businesses improve or replace their air compressor systems.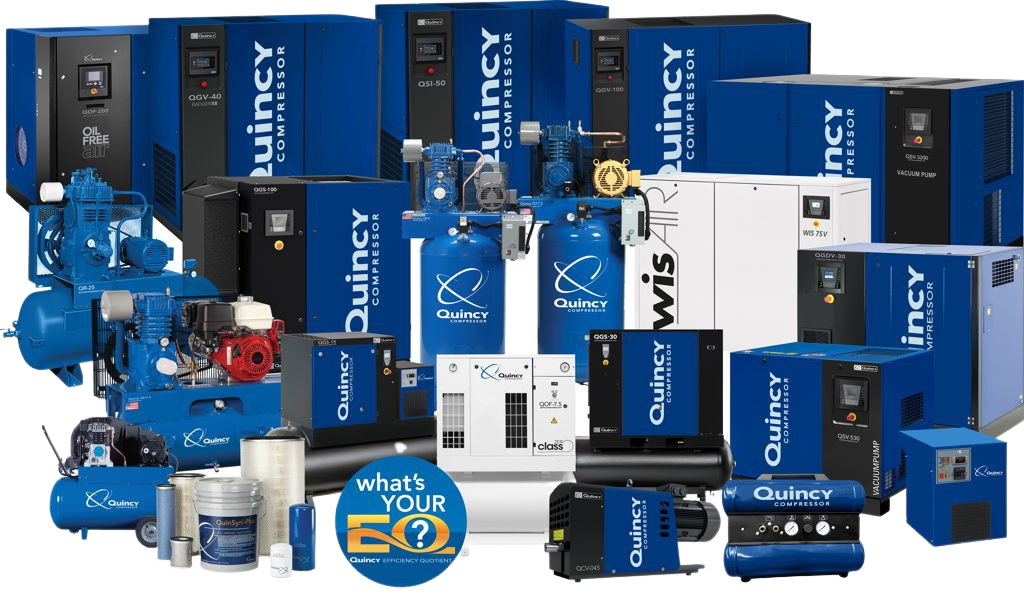 Types of Air Compressors Available in Berlin, CT
Each air compressor we offer caters to unique applications based on your industry's needs. We have a few styles of air compressors available for purchase, including:
Rotary screw compressors: These machines create positive air displacement using two spiraling screws and usually use oil-flooded systems.
Reciprocating/piston compressors: A reciprocating compressor has a piston and a crankshaft to compress the air into a chamber.
Oil-free compressors: The lubricated gears and parts are isolated from the air chamber in these oil-free options, which do not contaminate the compressed air with oil.
Additional Products for Sale at the Quincy Compressor, Formerly MidState Air Compressor, Location
In addition to our air compressors, we carry a variety of other sturdy industrial equipment that works efficiently with our air compressor units. Our available equipment includes:
Vacuum Pumps
Quincy Compressor vacuum pumps create a sturdy vacuum. We carry vacuum pumps for removing wet or dry gases from any area. Models like the QSV are great for maintaining a set vacuum level in one space while providing the lowest lifecycle cost possible.
Air System Piping
Our air system piping is an innovative alternative to traditional piping materials. AIRnet piping solutions are ideal for compressed air, vacuum and inert gas applications. Plus, you can use AIRnet piping in various systems, including your existing equipment.
AIRnet provides lower installation time and costs, as well as a 10-year warranty on all orders.
Air Treatment Products
Our air treatment solutions can improve the air quality throughout or in parts of your building.
We have three categories of products:
Our air treatment products are effective solutions when your business needs to create a comfortable space.
Natural Gas Compressors
A natural gas compressor increases a gas's pressure by reducing its volume. Our gas compressors are ideal for industrial manufacturing, pipelines and natural gas processing plants. The pressurized gas can flow freely within pipes, and you can transport it easily from one location to another.
We have nine QRNG models available to suit diverse industries. Let us help you find a suitable natural gas compressor for your applications.
Directions to Our MidState Air Compressor Location
Quincy Compressor, formerly Midstate Air Compressor, is located at 1492 Berlin Turnpike, Berlin, CT, right across from Sage Park. If you head South on Berlin Turnpike, we are on the right side of the highway.
We're proud to take over for a company recognized for providing high-quality, fast, and reliable air compressor sales and service at an affordable price. In addition to being the compressed air authority in the region, we offer dedicated 24-hour service support along with our trusted industry performance, maintenance programs, and a full selection of industrial air compressor parts.
Get Directions
Why Choose Quincy Compressor in Berlin, CT?
Since 1920, we have provided quality air compressor supplies to customers in all industries. Our inventory now includes rotary screw and oil-free air compressors as well as corresponding parts. We are here to help you keep your business running with high-quality air compressors.
Our decades of experience have taught us how to better serve every client. When you work with us, you get:
Dedicated service: We offer 24-hour service support through our qualified partners. We are here to help whenever you need us.
Lasting warranties: Our industry-leading warranties are available for a wide variety of products. We require no service contract and have multiple lengths available to keep your equipment working smoothly.
Legendary performance: We have been trusted in the market for a century. We only provide the best air compressors to each industry.
Quincy Compressor can get you all of the air compressor supplies you need. Get started today by visiting Quincy Compressor in Berlin, or by contacting us online to speak with a representative.