If you're looking for compressors built for commercial use, you have a local source right next door. At Quincy Compressor, we have a direct location here in the local area. We carry one of the largest assortments of industrial air compressors for sale in Carrollton, Texas, and the surrounding community. Our team of experts will help you improve productivity and efficiency with the products and services you need at an accessible cost.
Air Compressor Solutions for Every Industry
At Quincy Compressor, we manufacture products built for the biggest challenges in commercial and industrial environments. If there's a need for power and performance, there's a Quincy system providing a reliable solution — we have models suited for the area's most demanding industries, including:
Plastics
Painting
Plumbing
Oil and gas
Natural gas
Dry cleaning
Woodworking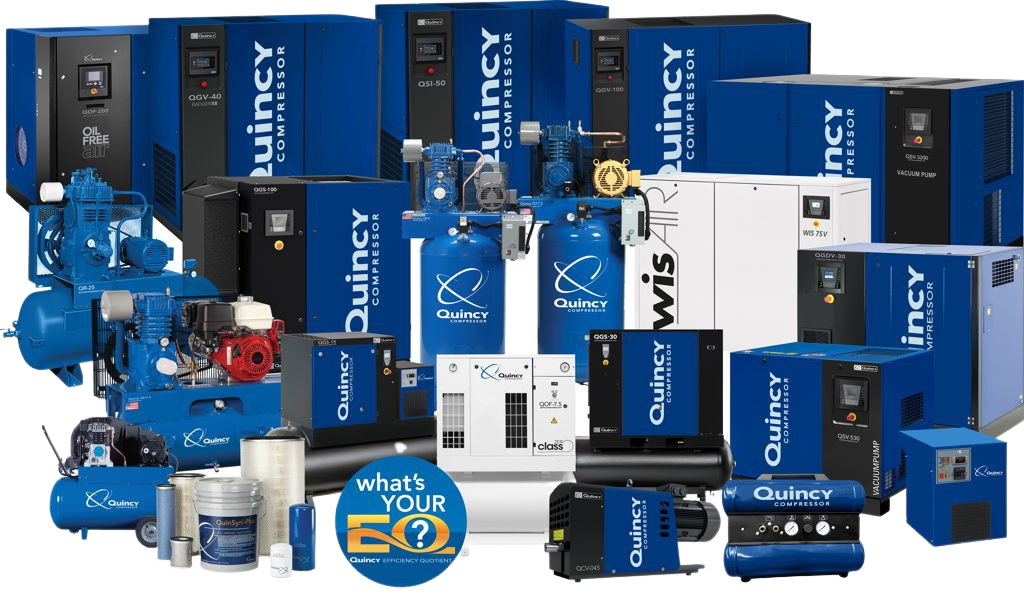 Air Compressor Sales
Our team has the skill and expertise to take your requirements and help you find the right type and model unit, or assist you in designing a customized system to meet unique project and facility specifications.
The air compressors we have available for Carrollton companies include:
Air Compressor Service in Carrollton, TX
With our compressor systems, you also get access to ongoing support. We provide our customers with 24-hour air compressor repair in Carrollton, Texas, and the surrounding cities. Our technicians are trained to work on the entire Quincy product line. You can rely on us to get your business back online with professional service and genuine parts and fluids.
We also help you avoid unexpected downtime by working to ensure your system maintenance is performed on time through a series of affordable maintenance agreements. Our service plans make it easy to get the parts you need. We also offer the option to have a trained technician take care of your ongoing maintenance for you.
The Advantages of Partnering With Quincy Compressor
Working with Quincy Compressor for your Carrollton, Texas, business needs has significant advantages. Quincy's American-made systems are a product of over 100 years of continued innovation and will deliver industry-leading power and performance you can count on for years. Our reliable systems also come backed by impressive warranties for your added peace of mind.
When you partner with our team, you'll gain the benefit of our systems and expertise. Our representatives know our product lineup and how our systems operate in the real world. We'll connect you with everything you need to take full advantage of the compressors we offer and the support we provide. From help selecting the right machine to service plans that keep it at its best, the Quincy team is committed to helping your business succeed.
Connect With an Expert
Our goal is to make it as simple as possible to get the solutions you need. Talk to our team today about your goals, and we'll show you what makes us the leading air compressor company in Carrollton, Texas.
You can contact our regional location by dialing 214-688-1677 or using our form.