A dependable source of compressed air is vital for countless applications, and Quincy Compressor is your reliable partner for the products and support you need. Our Corona-area location provides convenient and professional sales and service throughout the local area. We offer world-class products and industry-leading solutions that are cost-effective and built to last.
Solutions for the Toughest Applications
Quincy compressors are made in the USA using quality parts and precision processes. Engineered and built for industrial use, these machines are available in a wide range of different styles and configurations to match virtually any need.
Industries we supply with air compressors in Corona, California, include:
Agriculture: Our products are perfect for venting silos and spraying crops.
Manufacturing: Quincy compressors are ideal for powering pneumatic machinery.
Laundry: We have industrial compressors for operating laundry presses in dry cleaning.
Oil and gas: Our compressors are essential for countless applications in the oil and gas industry.
Food and beverage: We manufacture systems used in a range of production and packaging processes.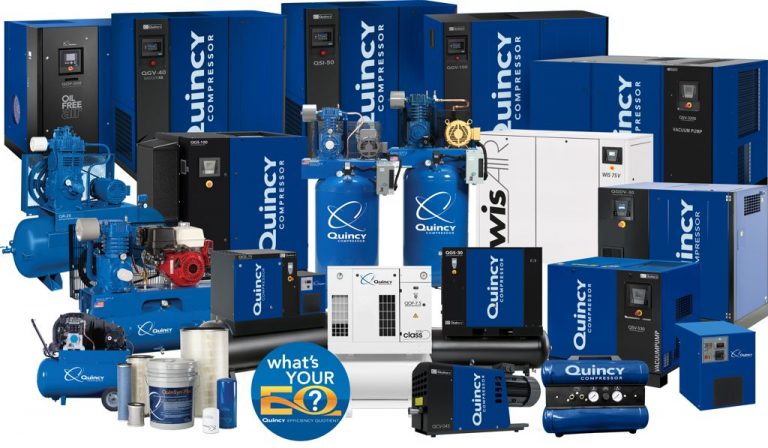 Industrial Air Compressors in Corona, California
Quincy systems are known around the world for performance and longevity — and you can find the complete selection for sale here in your local area.
We are a manufacturer direct location. Our representatives have the training, knowledge and skill to help you find the right system in the right configuration and ensure it's set up correctly. Let us know what you want to achieve, and we'll help you get there.
Products the local Quincy team can connect you with include:
24-Hour Air Compressor Repair in Corona, California
When you partner with Quincy Compressor, you have the option to enroll in one of our manufacturer-supported parts and service plans. With a service plan, you'll enjoy 24-hour on-call support from our repair technicians if you have any issues. These cost-effective plans also offer other benefits like worry-free equipment maintenance and pre-ordered parts — all at set prices you can plan around.
Available options include:
Fixed Price Services
Parts Guardian Plans
Extended Guardian Plans
Preventive Guardian Plans
Each service plan offers distinct advantages for your business and budget. Your Quincy Compressor representative in Corona will work with you to see which best provides for your purposes.
Tell Us What Industrial Air Compressors You Need in Corona, CA
Quincy is your local air compressor company in the Corona area. Our team of experts is standing by to help you use our products to become more profitable, productive and efficient. Let us know what you need, and we'll deliver solutions built around your specific requirements.
Call 888-788-6678 to reach our Corona-area area team today, or send us a brief message using our contact form.
What Our Customers Say About Quincy
Entire transaction from start to end was very smooth. Everyone was very helpful. Overall outstanding service.
– Haroon, California