Quincy Compressor has a long history of helping companies of any size become more productive and efficient and produce a higher quality product. Our solutions meet the rigorous demands of the area's most prominent industries, including:
Brewing.
Aerospace.
Automotive.
Manufacturing.
Climate control.
Energy exploration.
Amusement parks.
Food and beverage.
If you use compressors to make your business run, Quincy Compressor outside Fort Lauderdale has you covered. We are a manufacturer-direct location and your home for local sales and support. You can trust our team to have the skill, knowledge and experience to help you find a system that meets your specific needs.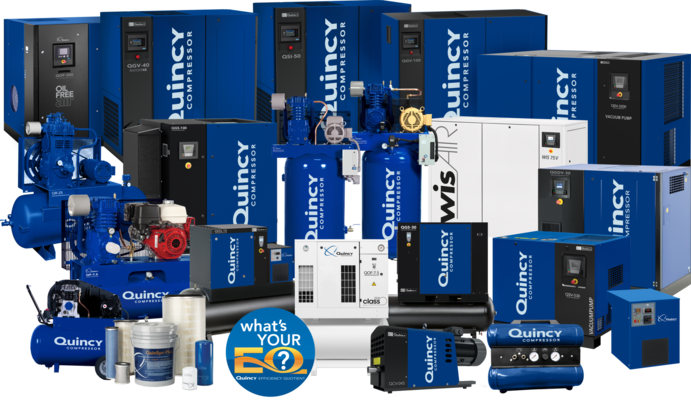 Shop an Extensive Selection of Industrial Air Compressors Near Fort Lauderdale
Quincy engineers and manufactures innovative air compressor systems in the USA using over 100 years of experience and superior raw materials. You can depend on these machines to deliver consistent performance in light-, medium- and heavy-duty applications and last for years for an excellent return on investment.
As a direct location, we offer the complete line of Quincy air compressors for sale. We also have a selection of accessories and upgrades and offer turnkey installation services. If you have a special request, we'll sit down and design a customized air system that matches your specifications.
The complete catalog of available products includes:
Other products we offer include solutions for treating end-user air output, aluminum system piping and more. There's also the option to enroll in our Quincy On The Air (QOTA) machine-as-a-service program, where you get all the compressed air you need for a reliable monthly rate with no capital investment.
Your Local Partner for Air Compressor Maintenance and Repair in Fort Lauderdale
Quincy compressors are made to last for years. Performing scheduled services on time, replacing worn components and making skilled repairs when necessary will ensure you get the maximum performance and best return on your investment.
We provide you with access to everything you need to take care of your machine with solutions including:
Parts: Our parts team has what you need to keep your Quincy compressor in peak condition. We keep a massive selection of genuine parts and fluids on hand and will help you determine everything you need to complete your desired service.
Maintenance: Our maintenance service plans simplify equipment care by reducing your workload and streamlining the process. Advantages can include automatic parts deliveries, on-site technician support and extended product warranties.
Repair: We also provide expert air compressor repair in Fort Lauderdale, where we'll dispatch a trained technician to your location, equipped with genuine parts. This service is available 24/7/365 to help limit downtime, regardless of your operating schedule.
Get in Touch With Our Team
Contact the Quincy Compressor near Fort Lauderdale to learn more about the systems and services we offer. You can get in touch with us by using our contact form, stopping by our store location in Miami or calling us at 855-978-4629.