Quincy compressors have a long history of powering some of the most important tools and equipment in commercial and industrial situations. Today, our product line is stronger than ever, and we have a direct location serving Frisco capable of connecting you with all our latest innovations and expert care.
There Are Good Reasons to Partner With Quincy Compressor in Frisco
Partnering with us provides you with a single source for new systems, compressor accessories and expert support. We are your direct line to everything the Quincy brand has to offer. Our experts will help you meet all your needs today and moving forward.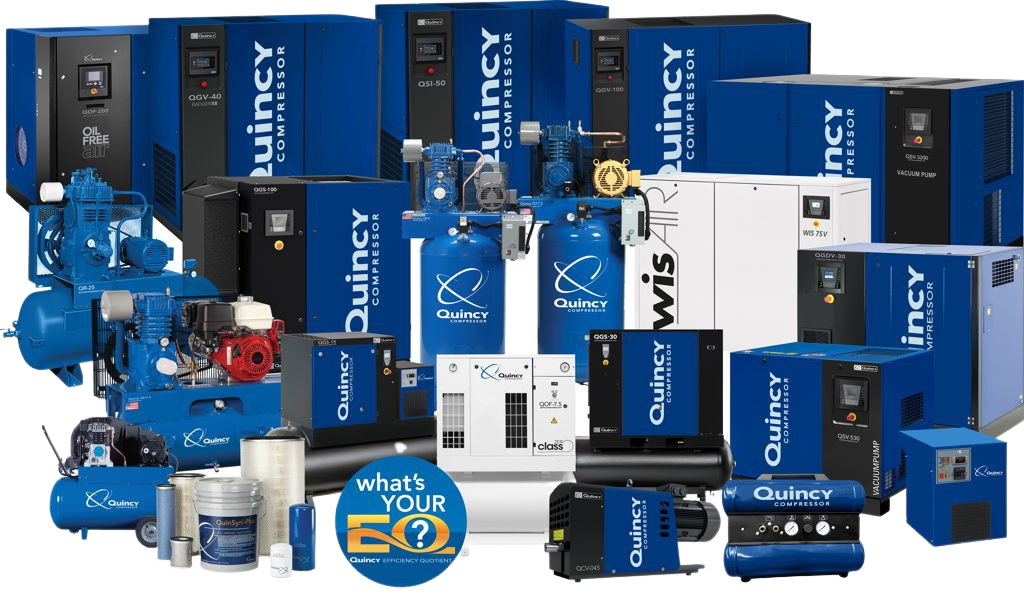 Industrial Air Compressors for Sale in Frisco
We manufacture compression systems built for heavy-duty use. Each is made in the USA using precision processes and quality components to ensure consistent, reliable performance. They're also supported by comprehensive warranties, with coverage extending up to 10 years on select systems.
Our products are a top choice for companies working in any industry where uptime is critical, including manufacturing, pharmaceutical, food and beverage, and agriculture. We'll find the right match for you with a broad product inventory that includes a variety of standard and application-specific designs:
Custom designs are available as well, and we offer installation on any model. Our location also carries products designed to support your compressor system, including air treatment products, aluminum system piping and parts and fluids.
Mobile Air Compressor Maintenance and Repair
If you operate a Quincy system, trust your ongoing care to the people who made it. We offer 24-hour air compressor repair in Frisco, Texas, and the surrounding area to help you overcome unexpected challenges and get back online. Our technicians use only genuine parts and service our machines according to exact specifications.
The best way to prevent unplanned downtime is to ensure your compressor gets the scheduled services it needs on time using the right parts and fluids. We simplify staying on top of these needs by offering compressor maintenance plans.
Several agreement levels are available. Each offers benefits you can take advantage of no matter how big your business is or how much you use your system, including savings on administrative costs and parts, extended equipment life, extra warranty protection and over two weeks of additional uptime per year.
Contact Quincy for Air Compressors in Frisco, Texas
With our air compressor company in Frisco backing your business, you'll get access to the largest selection in the area, plus expert service and support. Let us know a little bit about your applications, and we'll provide you with a custom quote on a capable system.
You can reach us at 214-688-1677 or by using our contact form.