When businesses in Gatesville need compressed air and vacuum solutions, they turn to Quincy Compressor. Our company has over 100 years in the industry and is your partner for the products and services you need at a cost-effective rate. We have a direct location serving Gatesville, Texas, that can provide you everything you need and help you get the most from your investment.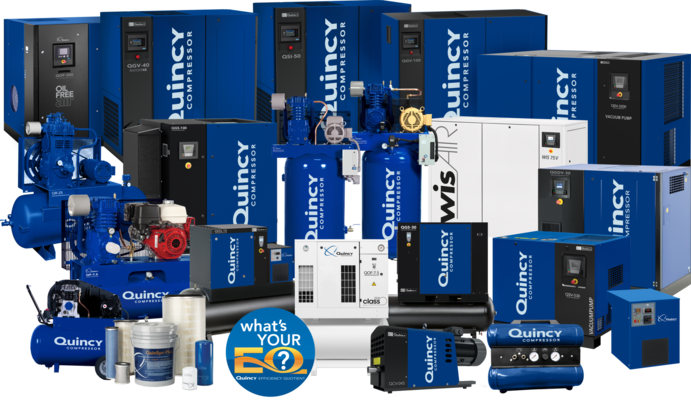 Browse Quincy Air Compressors in Gatesville, Texas
We are proud to serve the area's commercial and industrial sectors with a massive selection of heavy-duty air compressors and the knowledge to guide you through what each has to offer. You can also work with us to build a custom setup designed to meet your specifications. Full air compressor installation is available by request for businesses throughout the Gatesville area.
Our location is your home for a full list of durable, reliable and rugged machines, including:
Quincy compressors are American-made and backed by dependable support. We offer some of the best and most comprehensive extended warranties, with up to 10 years of protection available on select systems and components. We also have additional products for sale, including replacement parts, system upgrades and compressor accessories. Find out more by browsing our product line or consulting with one of our experts.
Enroll in a Maintenance Plan and Save
There's a lot to gain from partnering with Quincy for air compressors in Gatesville, Texas. In addition to our incredible selection and industry expertise, our team helps ensure that you enjoy consistent and reliable performance with a series of affordable maintenance plans you can purchase with your machine.
Our Fixed Price and Guardian plans make it simple to provide your compressor with the ongoing service it requires. Enrolling in one will provide you multiple benefits, including paying less for parts, avoiding unexpected downtime, extending compressor life span and fitting more operating hours into your annual schedule.
Get Compressor Repair When and Where You Need It
At Quincy, we are your partners in productivity. Our compressors power essential equipment and critical systems, and we know how important they are to your facility. When you call us for repair, we'll help you minimize unplanned downtime by promptly dispatching a technician equipped with the skill and training to bring your machine back online using genuine Quincy parts. Contact us day or night for round-the-clock air compressor repair in Gatesville, Texas.
See What a Quincy System Can Do for You
If you're ready to learn more about the Quincy line of products or the services we provide, contact our team for expert guidance through the ordering process. We'll show you what our products can do, explain what we do to support them and help you make the right selection.
Contact us today to work with the leading air compressor company serving Gatesville, Texas. We can also provide you with a quote and answer questions over the phone. Dial 254-776-5122 to learn more.