Give your business the benefit of manufacturer-direct support from one of the oldest and most trusted names in the industry. Quincy compressors deliver power, performance and dependability — and we offer expert sales, service and repairs throughout Grapevine and the surrounding area.
We provide companies of all sizes with the solutions necessary to become as productive and efficient as possible. Our products are everywhere there's a tough job or strict specification, with models suited for a wide range of roles in today's most demanding industries, including:
Agriculture
Automotive
Natural gas
Manufacturing
Pharmaceutical
Food and beverage
Standard oil and gas
Partner With a Leading Air Compressor Company
At the Quincy Compressor direct location serving Grapevine, Texas, we have everything you need to take full advantage of our global products and solutions.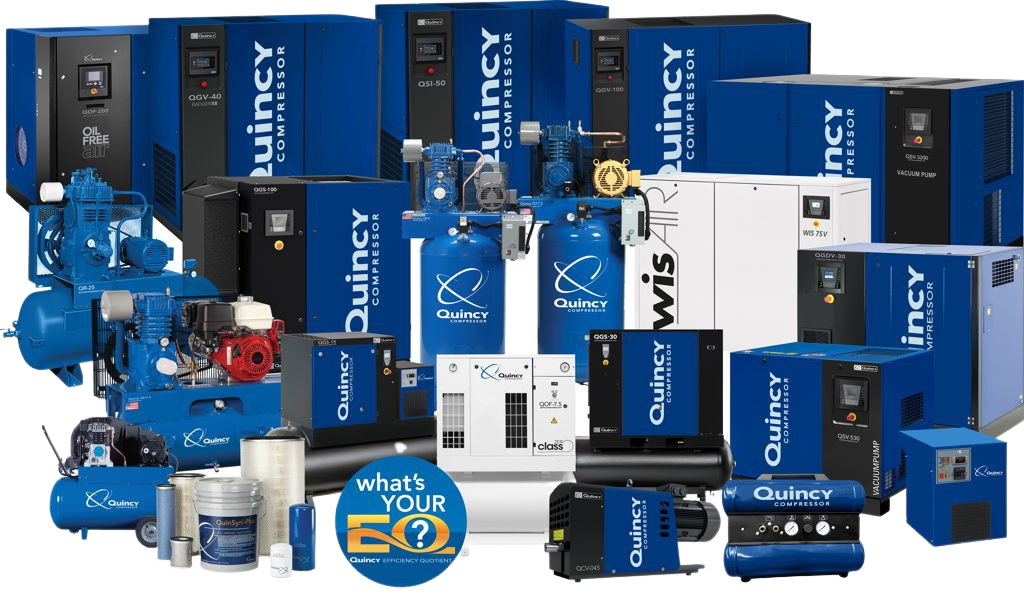 New Compressor Systems in Grapevine, TX
We have a huge selection of air compressors in the Grapevine area, including application-specific models made for conquering some of the most challenging obstacles out there. If you have a unique set of circumstances and need a custom solution, we'll design and install a system that matches all your specifications.
The Quincy products we can connect you with include:
Our air compressors and vacuum systems are made in the USA. We stand behind the products we produce and back them with some of the best warranties on the market. Talk to our team for assistance narrowing down your options.
Expert Maintenance and Repairs
When you work with our team, you'll have support from the same company that built your system. Our air experts are dedicated to helping you get peak performance day after day, year after year. If you experience unplanned downtime, we'll get you back up and running fast with 24-hour air compressor repair throughout the Grapevine area, using only genuine parts and fluids.
As a Quincy Compressor direct location, we also offer comprehensive maintenance agreements designed to make things easier on you and your budget. Your representative will help you compare the benefits of our Fixed Price, Parts Guardian, Preventive Guardian and Extended Guardian plans to determine which best fits your operations.
Some of the top advantages you stand to gain through enrollment include:
A set price: Pay the same cost for parts throughout the agreement's duration.
Extra uptime: Get up to 16 additional days of system uptime annually.
Professional care: Have maintenance performed by Quincy technicians.
More protection: Add up to five more years of protection to your warranty.
Yearly savings: Save on operation, administrative and maintenance costs.
Partner With Quincy Compressor for Your Business in Grapevine, Texas
Would you like to learn more or get a quote? Our team is ready to assist. Let us know the details about your facility, processes and what you're looking to achieve, and you can count on us to guide you toward a solution you can depend on to perform.
We're happy to help over the phone or through email. Call 214-688-1677 to get in touch or head over to our contact form.