If you are looking for a new industrial compressor, it pays to go straight to the best. Quincy compressors are legendary for power, performance and reliability — and have been for over 100 years. We manufacture a massive selection of rugged and versatile machines, including custom and specialized systems, for the area's most demanding industries, including:
Oil and gas
Automotive
Dry cleaning
Manufacturing
Climate control
Food and beverage
Our expert representatives can match your business with the right system based on your needs and budget. We can also provide you with a turnkey installation to simplify the process and ensure everything operates as designed.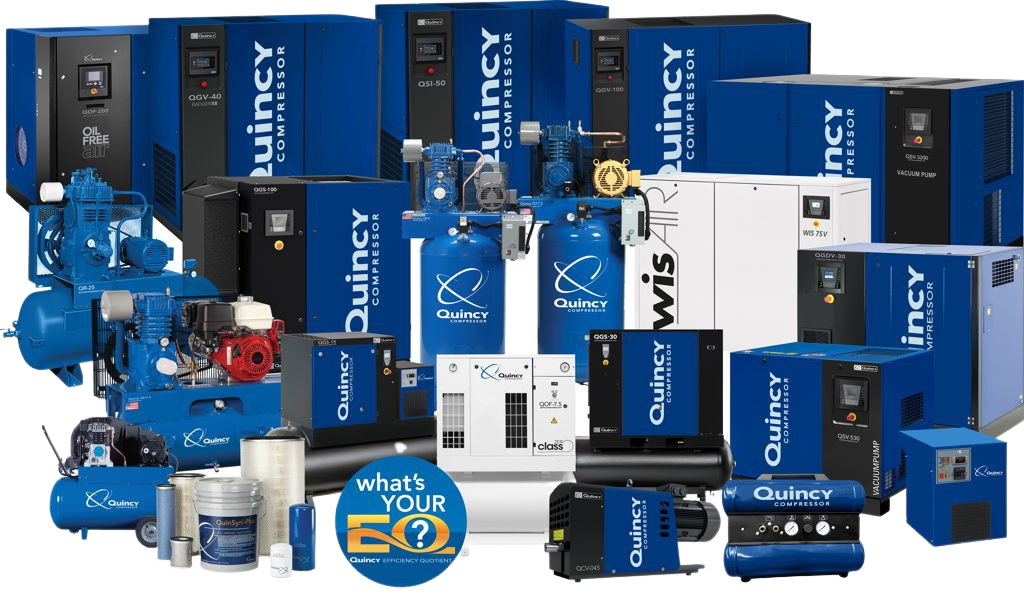 Powerful Industrial Air Compressors for Sale in Haltom City
Quincy products are in a class all their own. They are manufactured in the USA, built with quality materials, assembled with precision processes and backed by excellent warranties. They will deliver everything you need and more while providing you with reliable service and an excellent return on your investment.
There is a Quincy system for virtually any application, and our experts know how to take your requirements to recommend the best products and services to meet your needs. If you have a special request, we will custom-build a solution that does the job and delivers the features and benefits you require.
Products we manufacture and have available through the Quincy Compressor direct location serving Haltom City include:
Expert Air Compressor Repair in Haltom City, Texas
Our Tarrant County team provides support for the systems we offer with 24-hour compressor repair. If your system goes down, we will send a trained and equipped technician to your location day or night to get your unit back online. Our techs always follow all recommended methods and procedures and use genuine Quincy parts and fluids, ensuring the best results while keeping your product warranties intact.
In addition to providing expert repair, our team will help you keep the need for it to a minimum. We make it easy to stay on top of your scheduled maintenance, helping you avoid downtime, get more life from your system and maximize your unit's power output. We have several affordable plans to select from, each offering excellent benefits like added savings, more warranty time and up to 16 days of extra uptime per year.
You can count on our team to help you choose the right one for your budget, with a list of options that includes:
Learn More About Sales and Service for Quincy Air Compressors in Haltom City
If you're looking for a new compressor, need service or repairs, or have a question, please let us know. We are one of the most experienced names in the business and a leading air compressor company in Haltom City, Texas. Our team is happy to help you discover all the different ways our products can help you save money and produce more.
Dial 214-688-1677 to connect with our Tarrant County location or send us a message through our form.