If your business uses compressed air to power tools and equipment, partner with the best in the business to get the best results. At Quincy Compressor, we provide solutions to the area's leading industries and work with companies of all sizes. Our experts know how to match you with the right type and model system based on your particular needs.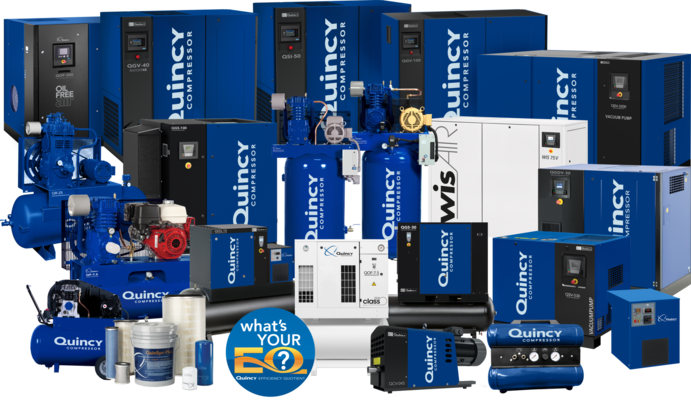 Browse the Industry's Best Air Compressors
Our direct location is your home for our full line of industrial air compressors in Hillsboro, Texas. We also offer custom-tailored systems for unique situations and provide start-to-finish installation services by request. Give us an idea of what you need to do, and we'll guide you through the different options at your disposal.
Some of the more popular systems in our legendary product lineup include:
We also carry a selection of other products and accessories designed to help your business become more productive and efficient while keeping costs low. Talk to our team at the Quincy Compressor serving Hillsboro to learn more about our vacuum pumps, air treatment systems, energy-saving products and other advanced solutions.
Why Use a Quincy System?
Quincy systems have over 100 years of innovation in their design and are manufactured in the USA to the highest quality standards. They perform better than the competition, and you can depend on them to last whether you use your compressor occasionally or need something built for continuous operation. Our products also come with peace of mind since they're backed by some of the most comprehensive extended warranties in the industry.
Air Compressor Service
Adding Quincy products to your list of equipment will give your business significant advantages. We help ensure you keep enjoying them by providing you with the services and supplies necessary for appropriate ongoing care:
Parts: We have an extensive in-stock inventory of all the genuine Quincy parts and maintenance fluids required for your compressor's scheduled services. Let our team know which type and model system you have, and we'll help you get everything you need.
Plans: Running a business of any size means numerous demands on your attention. We help you regain your focus through the different maintenance plans we offer. Our team can take over your system's services to help you get more uptime, reduce expenses and increase the life span of your compressor system.
Repairs: The more vital your system is to your business operations, the more important it is to keep unplanned downtime to a minimum. We help our customers achieve that goal by providing mobile air compressor repair in Hillsboro, Texas, with service available 24 hours a day.
Connect With the Leading Air Compressor Company Serving Hillsboro, Texas
There are countless good reasons why so many companies use Quincy compressors. Talk to our team today to learn about the different ways our products and services will benefit you.
Request a custom quote for a new Quincy air compressor in Hillsboro, Texas, using our contact form. You can also call 254-776-5122.