If you're looking for a new air compressor, want to improve your system or need service, you have a partner right here in the local Irvine area. Quincy Compressor is one of the most recognized names in the business. Our products are durable, rugged and suitable for use in the most demanding industries, including oil and gas, automotive, food and beverage, manufacturing and the construction trades.
Your Irvine-area Quincy Compressor center has everything you need to take maximum advantage of our systems, including genuine parts, 24-hour mobile service and access to our entire product line.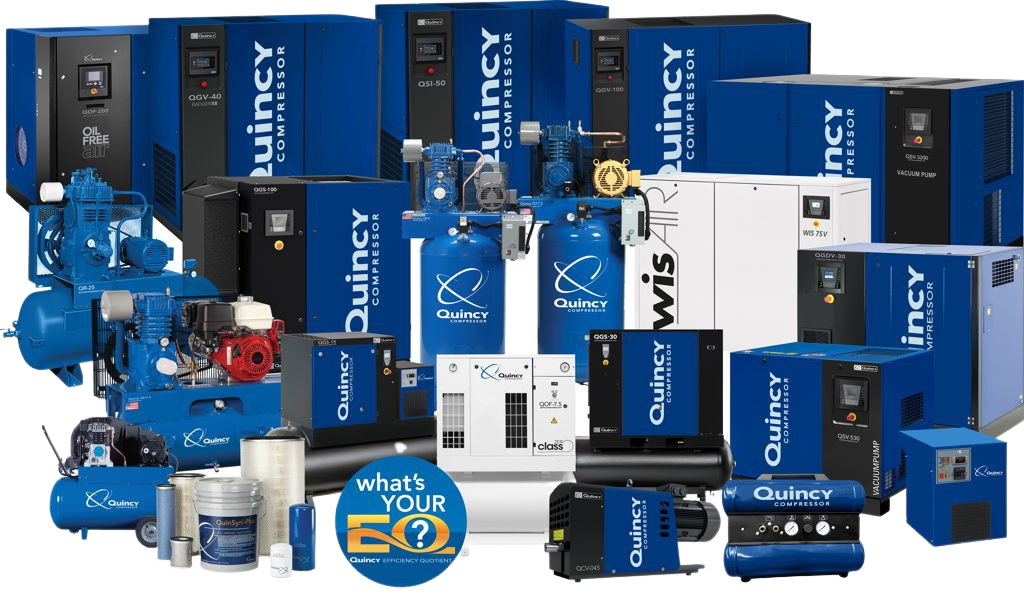 New Air Compressors for Sale in Irvine
We manufacture air compressors capable of meeting any demand. We also include the latest design and technology advancements to make our products even more productive, efficient and powerful than ever before. Our team will help you determine which type and model will provide the most benefit for you.
Quincy Compressor outside Irvine, California, is your home for a wide selection of different compressor types to suit any commercial or industrial application, including:
We are the leading air compressor company serving the Irvine, California, area, and our compressors are made in the USA with precision care and quality parts. We also carry multiple system accessories and a selection of energy-efficient, environmentally friendly compressor upgrades. Talk to a representative to learn more.
Your Partner for Air Compressor Repair in Southern California
With 100 years of experience and counting, Quincy is your partner for all your compressor service and maintenance needs. If you want to simplify things, you can have us take care of everything for you by enrolling in one of our simple and cost-effective equipment care programs.
Our Irvine-area location carries the genuine Quincy parts and supplies necessary for keeping up with your maintenance schedule. We'll help you keep your system working at its best with 24-hour on-call repair services from trained technicians and a name you can trust.
Get in Touch
Talk to us to learn more about the products we carry and the services we provide. We'll help you narrow down the right solutions and make sure you have everything you need to enjoy peak operating power.
Contact Quincy Compressor today for questions, quotes and service requests. You can also connect with us by dialing 888-788-6678.