Looking for a new industrial air compressor? Whether you have a light-duty application, need a system built for heavy-duty and continuous use, or require a solution somewhere in between, we have it covered. Quincy Compressor is the worldwide leader and your local partner for premium products and services in Killeen, Texas.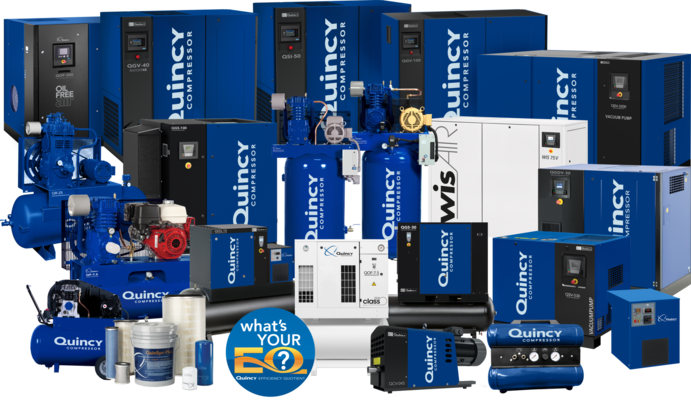 Browse Air Compressors for Commercial and Industrial Use
At Quincy Compressor, we manufacture systems for virtually every application. Our complete line of rugged products includes:
We also carry a selection of green and efficient products, like system piping, variable speed compressors, digital system management devices and much more. Ask our representatives about the different ways we can help you optimize your machine.
The Premier Air Compressor Company Serving Killeen, Texas
When you incorporate Quincy products into your commercial business or industrial facility, you benefit from ongoing support from the industry's top experts.
Air Compressor Maintenance
Quincy systems are designed for simple serviceability, and taking care of yours is easier than ever with superior customer support from our local team. We carry the parts and fluids you need to perform scheduled maintenance services, and we also offer plans designed to simplify your system care. Our representatives will help you explore the different advantages our Fixed Price and Guardian plans have to offer and which option will provide you with the best value.
Air Compressor Repair
At Quincy Compressor, we know the challenges and mounting costs associated with unplanned downtime. If your air compressor goes down, you can count on us for a rapid response with 24-hour on-call air compressor repair in the Killeen area. Our technicians are trained to work on all our systems and use only genuine parts. If we see a developing issue, we'll let you know and offer a solution for an on-the-spot fix.
What Are the Benefits of Partnering With Quincy Compressor?
When you work with our local team, you're partnering with an industry-leading manufacturer. Our company has over 100 years of experience providing superior products and services to businesses of all shapes and sizes, including those in demanding industries.
Quincy compressors are engineered for success, beginning with innovative design and continuing through manufacturing, which we perform entirely in the USA using premium parts. We have the skill and knowledge to take your requirements and match you with a productive, efficient and cost-effective solution.
Partnering with us offers even more advantages, such as:
The best extended warranty coverage in the business.
Systems that deliver legendary performance and durability.
A team of experts dedicated to helping your business succeed.
Cost-saving solutions designed to help you improve your bottom line.
Get a Quote for Quincy Air Compressors in Killeen
Work with the leading air compressor company operating in Killeen, Texas. A new Quincy system can help you take advantage of more uptime, create a lower carbon footprint, consume less energy and lower your annual costs. Learn how today by speaking to one of our representatives.
Message us to get started, visit our brick-and-mortar location or call 254-776-5122.