Whether you use air compressors around the clock or need them occasionally, Quincy Compressor has an affordable solution to meet your needs. We are the leading manufacturer of commercial-strength systems and your local partner for comprehensive sales and support in the Lawrenceville area. Browse our offered products and services to see what we can do for you.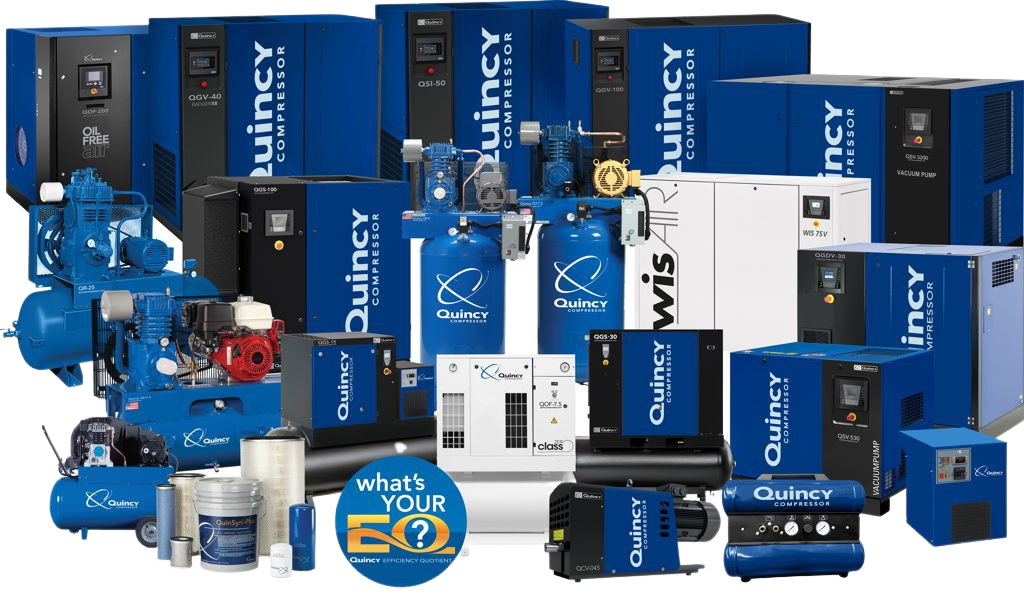 We Are the Leading Source for New Air Compressors Near Lawrenceville
Quincy Compressor has a long history of producing innovative systems capable of overcoming challenging demands. For over 100 years, our machines have supported businesses of all sizes across multiple industries, including agriculture, automotive, manufacturing, painting, pharmaceutical and more.
Our inventory includes a system suited for your needs, plus unit upgrades and accessories to create your optimal configuration. Available products include:
A knowledgeable air expert will help you determine which compressor is best suited for your commercial processes. We can also arrange for delivery and professional installation for added simplicity and convenience.
Explore An Alternative to Purchasing
If you need compressed air but want to hold off on investing, we have an affordable solution. Quincy-On-The-Air is an innovative program where we supply the equipment and the maintenance care. Billing is proportionate to your use of compressed air. You'll pay a low monthly rate based on your usage, so you always know how to budget.
Support Your Air Compressor With Genuine Parts and Service
We are the authorized Quincy store location serving the regional area — and your source for air compressor service in Lawrenceville, Georgia. You can depend on us for all the supplies you need for proactive system care and equipment repairs.
Solutions we can match you with include:
Parts: Performing scheduled services on time using recommended parts is easy when you partner with our team. We have genuine Quincy parts and fluids for your air compressor at competitive prices, plus the knowledge and resources to help you narrow down specific part numbers. Want to simplify things? Ask about a Parts Guardian plan.
Service: Gain the advantage of expert system care. Enrolling in one of our service plans will provide you with the necessary parts and expert technician support. We'll establish and follow a regular schedule to keep your system in peak condition. Our technicians will also inspect your unit for signs of wear and make recommendations for avoiding downtime.
24-Hour Compressor Repair Service Is Available
Emergencies happen. If your compressor goes down, make our store your first call. We provide 24-hour air compressor repair in Lawrenceville for compressors of all sizes and designs. You can depend on our professional mobile technicians for expert, fast and accurate solutions.
Get in Touch
The first step in boosting your productivity and efficiency with a Quincy system is to reach out to our team — and we make it easy with several ways to get in touch. Visit our nearby store location, contact us using our form or call 855-978-4629.