If you are in the Middletown, CT, area, and your business requires a reliable compressed air or vacuum solution, contact us at Quincy Compressor, formerly Scales Industrial. We supply a full line of air compressors in Middletown, CT, and surrounding areas to meet your needs. We can provide air compressors and air compressor parts for Middletown, CT, businesses in industries like the food and beverage industry, automotive, oil and gas and more.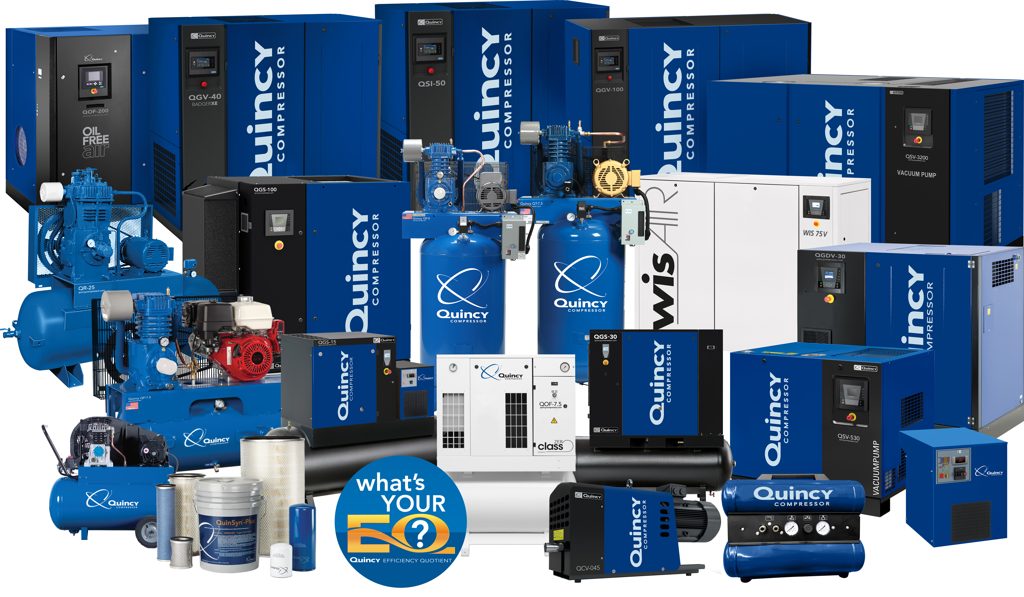 Types of Air Compressors Available in Middletown, CT
At Quincy Compressor, we understand your need for air compressors in Middletown, CT, suited to your particular applications and environments. Different companies may prefer different types of air compressors for reasons such as type of industry, amount of use and cleanliness requirements. We have all types of air compressors, including:
Equipment Available at the Quincy Compressor, Formerly Scales Industrial, Connecticut Location
At Quincy Compressor, we provide top quality products capable of delivering uncompromising reliability and performance in the most demanding applications. When it comes to air compressors in Middletown, CT, we offer a complete selection. You'll find a variety of options in each product category to ensure an efficient fit.
In addition to air compressors, we also carry a broad range of other products for sale. Our selection of vacuum units includes rotary vane and liquid ring models. Our air treatment solutions range from dryers and filtration to oil/water condensate separators and breathing air purifiers. From compressor controls such as sequencers and panels to process cooling and engineered products, we're your one-stop-shop for everything you need.
Directions to the Scales Industrial Connecticut Location
The Scales Industrial Connecticut location is now Quincy Compressor. You can find us at 34 Industrial Park Place, Unit B in Middletown, CT. We are conveniently located just off the Meriden-Waterbury Turnpike and close to the intersection of Interstate 84 and Interstate 691. When you visit us in Middletown, you'll get the same excellent quality, service and selection you've come to expect from Scales Industrial for over 50 years.
Get Directions
We offer comprehensive design, installation, sales and service of industrial compressed air solutions and other state-of-the-art industrial technologies. We're proud to continue the legacy of a company that has been a consultant to many leading U.S. utility providers. Quincy Scales Industrial is among the most prominent innovators in compressor controls and cost-effective compressed air system solutions in the region.
Additional reasons to choose Quincy Scales Industrial in Middletown, CT include:
Cutting edge technologies, equipment, maintenance programs and energy management systems
System analysis and upgrades, preventive maintenance, turn-key installations, troubleshooting and repairs
An extensive selection of new factory-original replacement parts and premium aftermarket solutions
Why Quincy Compressor Middletown, CT Is The Right Choice for Your
At Quincy Compressor, you'll get great air compressor products to suit the needs of your business and also the benefit of working with a team that knows and loves the air compressor business, spread out among local partners that understand your personal air compressor needs. We offer 24-hour support too, so you'll never have to worry if you have any concerns about your air compressors or air compressor parts.
In addition to top of the line compressed air equipment and services, we also provide industry-leading warranty protection plans for a wide range of products. We offer extended warranty plans for both reciprocating and rotary screw units. You select the policy that makes the most sense for your business, including service agreements and options in advanced fluid sampling and analysis. It's our goal to help you get the most value and best performance from your air compressor purchases in Middletown, CT.
We're a global leader when it comes to air compressors — one that you can always count on to provide you with the highest quality products for your business. Our success is your success.
Get in Touch with Your Middletown, CT Quincy Compressor Sales and Service Provider Today
We're happy to help you find the perfect Quincy Compressor air compressor for your business right now. To order a new air compressor, receive replacement air compressor parts or get advice on the right air compressors for your business, contact your local representative by calling 800-627-9578 or filling out a contact form today.