Gain the advantage of world-class products and support from an industry leader. Quincy Compressor has over 100 years of experience designing, manufacturing and servicing industrial compressors, and we provide service to the Oakland area with a direct location near you.
We manufacture our products in the USA using quality materials and strict processes to ensure the highest quality. You can trust these systems to perform up to your expectations for the long term — and we make sure of it by backing them with some of the best warranties available on any compressor system from any manufacturer.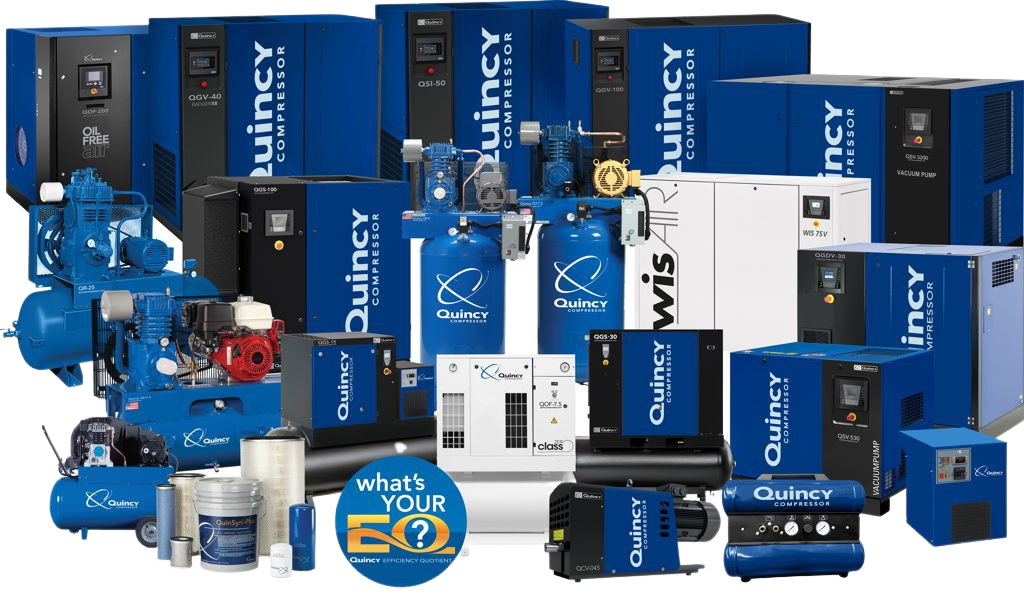 A Massive Selection of Industrial Air Compressors in the Oakland Area
Quincy compressors are known worldwide for being the toughest, most powerful and most reliable systems — and we have solutions made for virtually any application. If you have a unique challenge you need to overcome, our team will help you design a custom configuration that meets your needs and assist you through a turnkey installation.
Our catalog includes a diverse array of air compressor systems with multiple variants and job-specific models. Our team can help you determine which matches your requirements to provide optimal performance and deliver the best value. We'll also show you all the ways you can upgrade or modify your system to achieve even more.
The full selection of products we offer through this location includes:
We Provide Air Compressor Repair for Oakland Businesses
At the Quincy Compressor location serving Oakland, California, we provide everything your air compressor might need. Our team performs 24/7 compressor repair and offers multiple comprehensive and cost-effective service plans designed to simplify your equipment management, control costs and ensure maximum uptime.
The available Quincy service plans include:
Parts Guardian: Get the genuine Quincy parts your system requires, according to your maintenance schedule and at a set price.
Preventive Guardian: Request professional maintenance services and proactive care from a Quincy technician for even more benefits.
Extended Guardian: Benefit from maintenance services, repairs and parts at an affordable cost, plus an extra five years added to your warranty.
Fixed Price: You'll get customized air compressor repair for your Oakland-based company, built around your system, production schedule, facility and site conditions.
Genuine Quincy parts are produced to the same exacting standards as our machines and purpose-built for Quincy systems. Our technicians only use genuine parts and fluids to give your equipment exactly what it needs to keep running strong, keeping your warranty intact and ensuring your system delivers peak performance.
Get in Touch With the Professionals
Quincy is the premier air compressor company in Oakland and your partner for the sales, service and support that your business needs. Our team is standing by to help you utilize our products and services to their highest potential and accomplish your goals.
Contact or visit your nearby Quincy Compressor location to learn more. You can reach us through our form or by dialing us directly at 888-881-6678.