Quincy Compressor is a world leader in compressed air and vacuum system product solutions, and you have a local team standing by to help you take advantage of everything we have to offer. Our location near Ontario, California, is fully equipped to provide you with sales, service and ongoing support for our entire product line.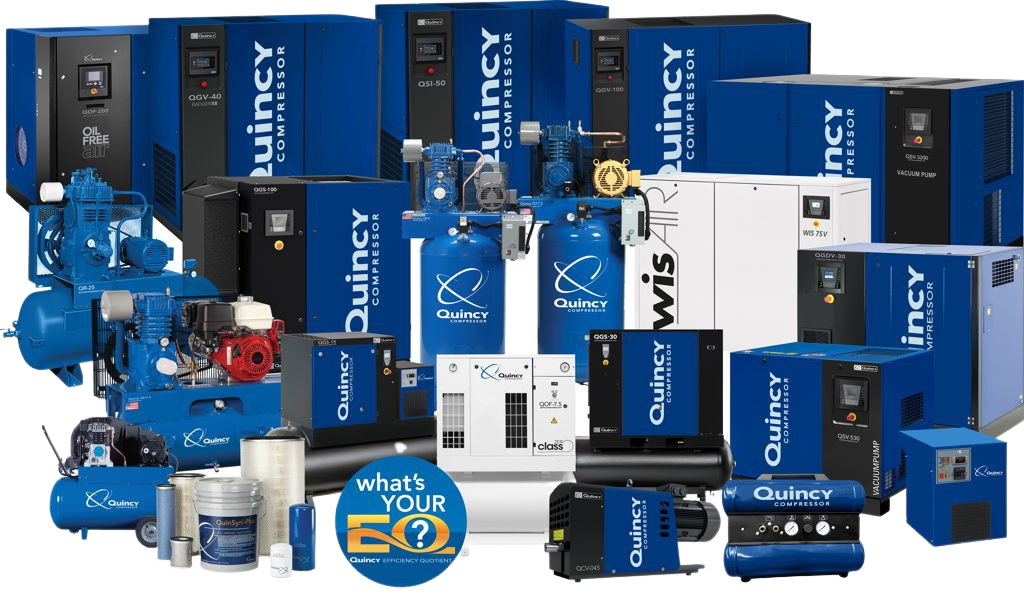 Quality Air Compressors in Southern California
Southern California is home to multiple major industries — and we have solutions fit for all of them. Our catalog hosts industrial-strength air compressors suited for use in challenging jobs and demanding industries, including food and beverage, oil and gas, automotive, manufacturing and more.
The right compressor for the job depends on a long list of different variables, including how much power you need, your available budget and what kind of space you have. Our knowledgeable representatives will help you determine which provides the greatest overall value and benefit for you.
Our full product lineup includes:
Air Compressor Repair Throughout Ontario
When you use Quincy compressors for your business, you gain the advantage of 24/7 mobile support from our team. You also gain the benefit of expert service from trained technicians. Our mobile technicians use genuine Quincy parts and fluids. They perform all maintenance and repairs according to our approved manufacturer's standard.
Getting a service plan is easy, and we have several value-driven maintenance solutions and Guardian Plans built to serve your needs. One of the skilled representatives on our team will help you get aligned with the right one to ensure you're getting the best performance and the most from your investment.
Why Partner With Quincy Compressor for Sales and Service?
When it comes to industrial compressors, nothing compares to having manufacturer support in your own backyard. Our Southern California direct location is within a short drive from Ontario, and it's where you'll find the industry's best selection and customer service. We'll help you find what you need regardless of your application or business size.
You'll also get the advantage of:
Dependable product warranties.
Quality air compressors and parts.
Cost-effective products and services.
Connect With Us
If you're looking for an air compressor company in Ontario, California, come and see the experts at Quincy Compressor. We have over 100 years of experience. Let us put it to work for you.
Call 888-788-6678 to get in touch or connect with us online.