Quincy compressors offer significant advantages. These systems are legendary for performance, consistency and durability — and you have a manufacturer-direct source here in the local area. The Quincy Compressor location serving Pembroke Pines is where you'll find our entire product line, plus a professional team of knowledgeable air experts who will help you find the right system and keep it in excellent condition.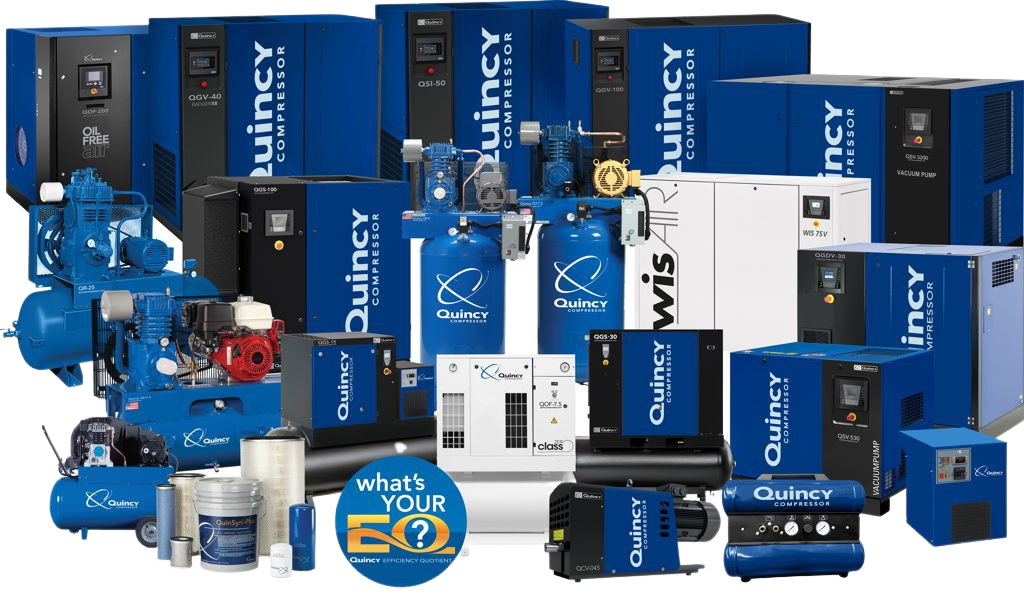 Looking for Heavy-Duty Commercial Air Compressors Near Pembroke Pines?
If you run a business in Pembroke Pines and use air compressors, we have a system that will work for you. Our product lineup includes types and models fit for a wide range of applications — from mobile units for shop use to stationary installations that can tackle the most heavy-duty jobs.
The Quincy product line includes systems that can meet virtually any demand. For everything else, we offer custom design and installation services. Systems in our regular production line include:
Our air compressors are made in the USA in an ISO-9001-registered facility and supported by impressive product warranties. Other products are also available that can optimize your system, including aluminum system piping and products for purifying the end-user air output. You can also have our experts manage your system's installation for convenient, turnkey delivery.
Support Your System With Expert Air Compressor Service in Pembroke Pines
With proper maintenance, you can keep your air compressors in Pembroke Pines in peak condition and enjoy years of reliable and consistent performance. Our Miami store has multiple solutions that make it easy to care for your unit.
Compressor Parts for Sale
We carry parts for practically all Quincy system models and have the maintenance fluids and supplies necessary for you to complete in-house repairs and scheduled services. Talk to our parts team about what you need to do, and they'll help you get everything you need on the first trip.
Expert Maintenance Services
Several maintenance programs are available through our store location that make it easier to budget and perform services. Plans range from solutions that supply you with regular parts deliveries to all-inclusive parts and service plans that will add extra years to your product warranty.
24/7 Compressor Repair Services
Partnering with us means having the support you need if your compressor system goes down. We provide service coverage across the local area with mobile technician support available 24 hours per day. Quincy technicians are trained to work on our systems and always use genuine parts in their work.
Get a Quincy Compressor in Pembroke Pines, Florida
Stop by our Miami store location to meet our team, browse our product catalog and get assistance finding what you need. We'll show you the advantages you can unlock through our systems and services that will help you become more productive, efficient and profitable.
Message us using our contact form to ask for quotes and get more information. For telephone assistance, please dial 855-978-4629.