Does your business use compressed air? Partner with the experts and get the power and performance you're looking for from a local provider. Quincy Compressor is one of the oldest names in the business. We have over 100 years of experience manufacturing and servicing a long list of legendary compressor systems, and we have a direct location here in the Plano area.
Quincy compressors can be found in many demanding applications, with models suited for: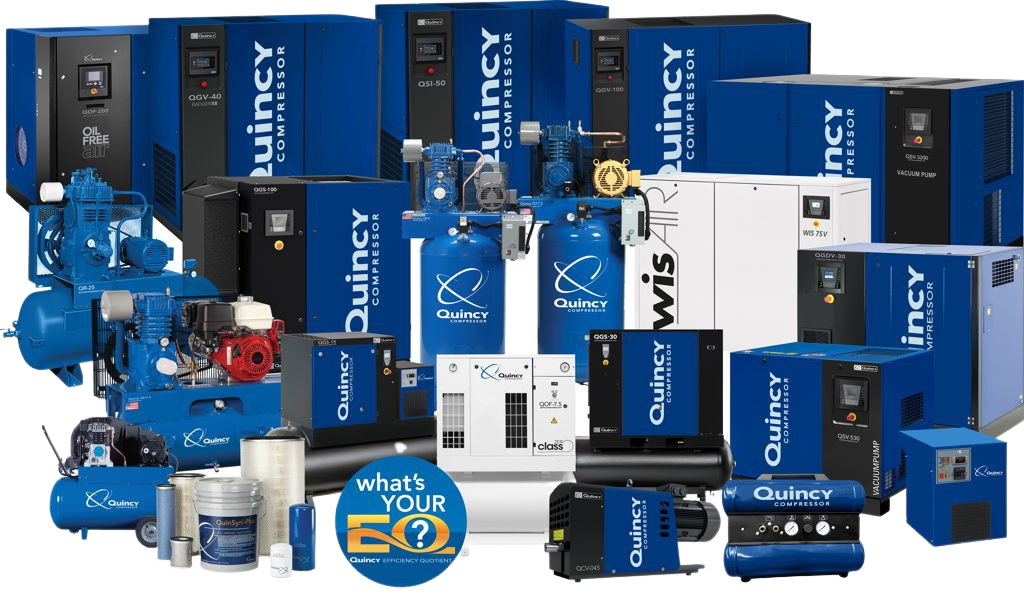 Manufacturer-Direct Sales for Quincy Air Compressors in Plano
Our Tarrant County location is your home for the entire Quincy product line. These systems are made in the USA, and we have models designed to tackle virtually any job you can imagine. If yours requires special features or a unique design, we'll work with you to create something customized to meet your needs.
Industrial air compressors and products we have available for sale include:
Air Compressor Repair in Plano, Texas
Air compressors are responsible for powering vital systems. We know you can't afford to have yours go down, and we help you stay up with 24-hour compressor repair throughout Tarrant County. We also offer a selection of maintenance and service plans, with cost-effective options designed to meet specific needs.
Maintenance plans available through the Quincy Compressor serving Plano, Texas, include:
Parts Guardian: With Parts Guardian plans, you get all the parts you need to perform maintenance services on time and at a set price.
Preventive Guardian: With Preventive Guardian plans, a Quincy technician will perform system maintenance services for you with expert care.
Extended Guardian: With Extended Guardian plans, you get the genuine parts you need, ongoing expert care and a five-year warranty extension.
Fixed Price Services: With Fixed Price Services, you'll have a plan tailored to your compressor and business for the ultimate in performance and value.
Request an Estimate
Contact us today to start working with a global air compressor company without leaving Plano, Texas. We'll show you what our products and services can do to help you grow and succeed.
Call 214-688-1677 to request an estimate or get in touch by filling out our form.