At Quincy Compressor, we know how vital your industrial air compressor systems are to keeping your business moving. That's why we provide everything you need to get the maximum performance and reliability, all under one roof and right here in the local Riverside area.
Our products are made to handle challenging environments and demanding applications. They are common across all the area's most prominent industries, including agriculture, oil and gas, food and beverage, automotive and countless others.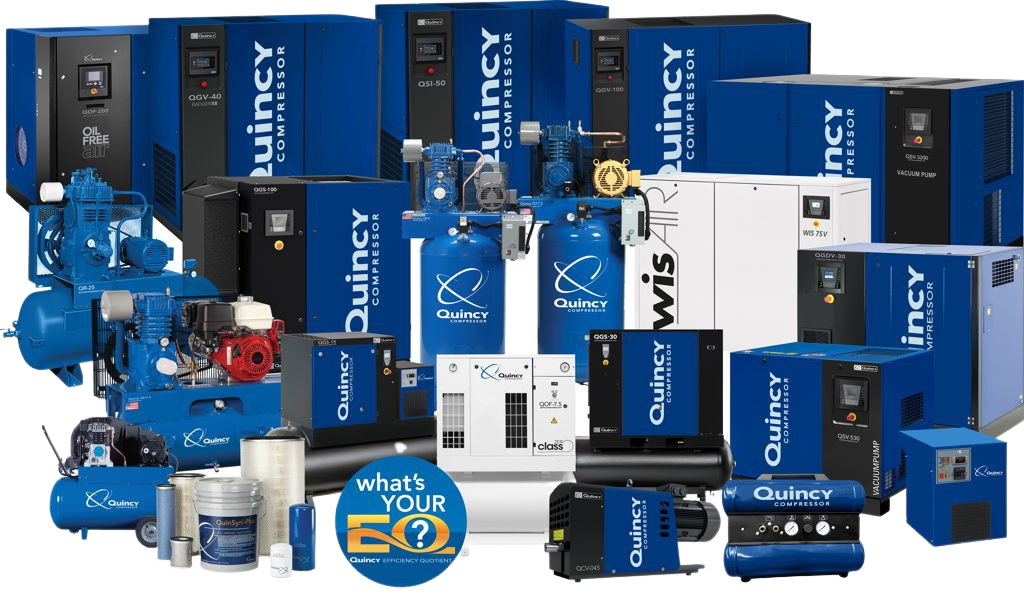 Industrial Air Compressors in Riverside
Our Southern California location is your home for new air compressors in Riverside and the surrounding area. We have a massive range of heavy-duty, industrial-strength units available and the knowledge to help you find the right type and model.
Quincy systems are high-quality products made in the USA and designed to last. The complete product catalog includes:
We're also your home for an advanced variety of energy-efficient compressor upgrades, aluminum air system piping and all the maintenance parts and fluids necessary to take the best care of your system.
Air Compressor Repair in Riverside, California
Our products come with the benefit of cost-effective maintenance and service plans designed to prevent unplanned downtime and ensure you're getting top performance. We have several to choose from, and each provides distinct advantages according to your budget and operational needs. You'll also have access to 24-hour on-call repair services from trained technicians who only use genuine Quincy parts and fluids.
The Leading Air Compressor Company in the Riverside Area
Quincy is an established leader in compressed air and vacuum solutions. We have over 100 years of continuous industry experience and the products and support solutions to help you overcome virtually any challenge. We're continually developing new compressors, accessories and technology to help you get more performance and a better return.
Partnering with us offers advantages regardless of the size of your business or industry you serve, including:
Quality: We manufacture our compressors and parts in the USA following exacting standards.
Support: Our compressors come backed by excellent manufacturer warranties in case you need them.
Service: We'll keep your business up and running with 24-hour mobile compressor services throughout Riverside.
Talk to a Knowledgeable Air Compressor Representative in Riverside
Quincy Compressor is the top source for air compressors in Riverside County, and our team is committed to helping you find the solutions you need. Let our representatives know what you're looking for and we'll match you with a cost-effective solution that meets your goals.
Fill out our contact form or call 888-788-6678 to get in touch.