At Quincy Compressor, we know how vital the systems we make are to your business. We have over 100 years of experience working with companies of all sizes and in most major industries in the Roseville area, including farming, manufacturing, pharmaceutical, woodworking, automotive and many more. Our team knows how to take your needs and translate them into a cost-effective solution that meets or exceeds your expectations.
Sales, Service and Support for Air Compressors in Roseville, California
We have everything you need under one roof. The Quincy Compressor location serving Roseville is your manufacturer connection and the place you'll find genuine products, parts and support for the lifetime of your machine.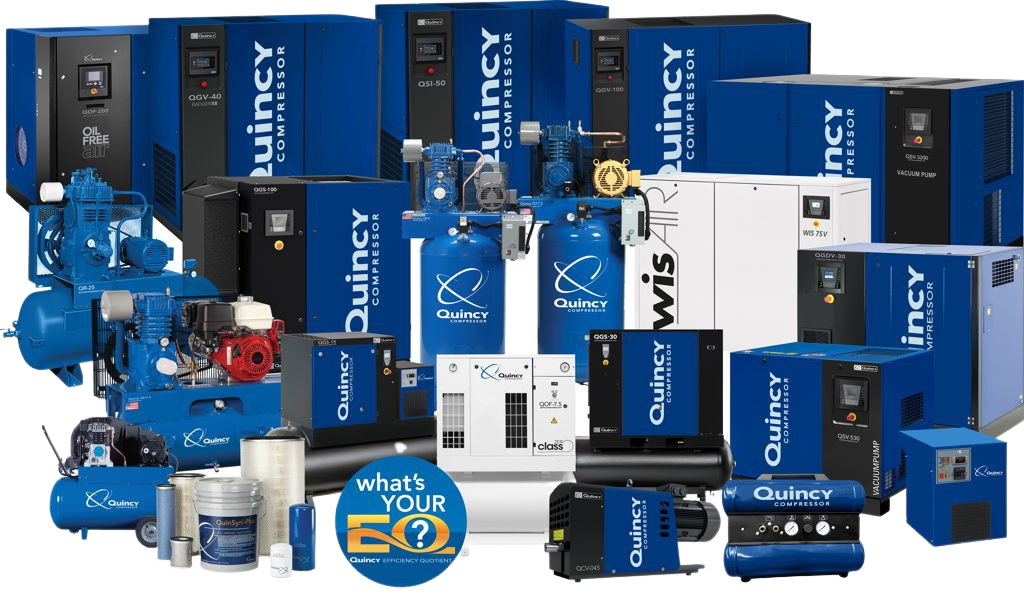 Industrial Compressors and Vacuum Systems for Sale
With over 10 decades in the industry, we've designed and built countless systems for customers across the commercial and industrial sectors. Our experts can recommend the right air compressors for your Roseville business from our product catalog or help you customize a system from the ground up to meet unique specifications. We'll also see your new system through the installation process to provide a turnkey solution.
The complete Quincy lineup of heavy-duty air compressor systems includes:
The products we offer are reliable, built to last and made in the USA. Plus, they come backed by some of the most dependable and comprehensive warranties you'll find from any manufacturer in the business. Talk to a representative about finding the right solution for you.
Request Expert Air Compressor Repair in Roseville
When you partner with Quincy Compressor, you also get expert repair and maintenance service from a local provider. We make it easy to keep your system operating in peak condition and ensure you experience maximum productivity with 24/7 support and a selection of affordable service plans designed to meet your needs.
The plans that we offer deliver multiple measurable advantages that you can begin benefiting from quickly:
Parts Guardian: Cost-saving plans that simplify your maintenance routine and make it easier to budget.
Preventive Guardian: Premium plans that will help you get up to 16 more days per year of system uptime.
Extended Guardian: Comprehensive plans that feature the above benefits plus a five-year warranty extension.
Fixed Price Services: Customized maintenance and repair services that put our techs in charge of caring for your equipment.
There are many more reasons why adding a service contract to your purchase makes excellent sense. We'll walk you through each plan to help you determine which best meets the demands of your organization.
Contact a Local Expert
We are your local air compressor company in Roseville, and our team has the skill to help you take care of business. Reach out to us today to start a conversation about what we can do for you.
Dial 888-881-6678 to connect with a representative. You can also use our contact form to send us a message.