Quincy air compressors are known worldwide for delivering the performance needed for challenging applications. They are rugged machines built for heavy-duty use and made in the USA using quality parts and components.
As the leading air compressor company in San Antonio, Texas, we have experience working with customers from all the area's most demanding industries. Our team will take your requirements and provide you with an air compressor solution targeted to meet all your needs.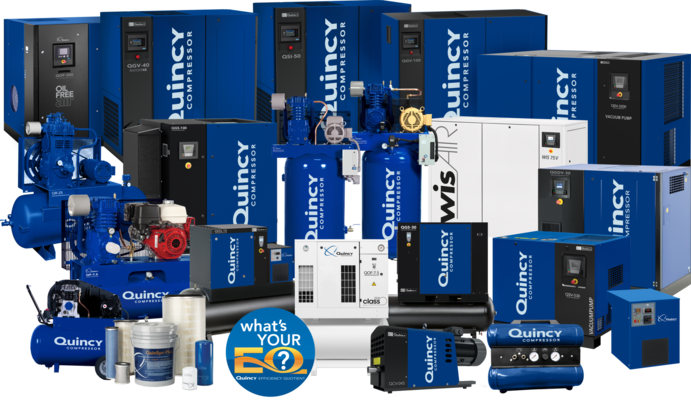 Air Compressors in San Antonio, TX
If your business needs compressed air to get to work, we have a solution that will fit the bill and stay within your budget. The full line of air compressors we offer for businesses in the San Antonio area includes:
At the Quincy Compressor direct location serving San Antonio, we also carry a selection of additional products designed to help you achieve higher productivity and a better bottom line. Talk to us to learn more about our vacuum pumps, air system piping, air treatment products, and green and efficient solutions.
Air Compressor Repairs in San Antonio
Quincy compressors are made to last. You can help ensure yours provides the best lifetime value for your investment by performing scheduled services on time and using genuine parts. As your local partner, we make it easy by providing you with multiple avenues to get what you need.
The team at our location outside San Antonio has a massive in-stock inventory of air compressor parts and fluids, plus the skill to help you find what you need. We also offer convenient maintenance service agreements and provide 24-hour air compressor repair services near San Antonio. You can count on us to provide you with monetary savings and maximum system uptime.
Request More Information
Reach out to us today to request a quote and get more information about Quincy air compressor sales and professional repair for your San Antonio business.
You can reach us using our contact form or by dialing 830-606-1240.